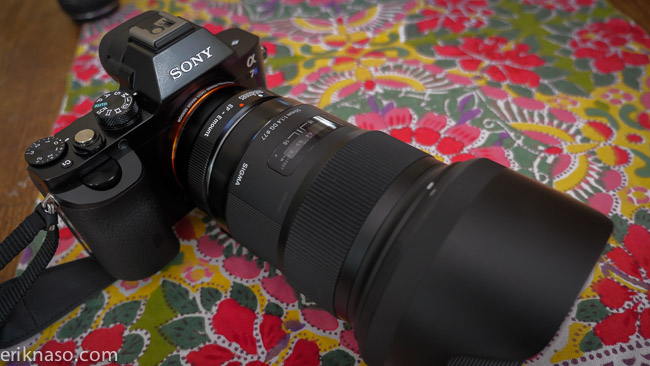 I've had the Sony A7s for about a month and It's a fun camera with some great features, but I just can't seem to get comfortable with it and a few things just frustrate me. Please understand that this is all my opinion and if you disagree with them that's fine. I'm not a fanboy just a guy who loves cameras. I paid full price for the Sony A7s with the Metabones adapter. That comes to $2900.00. To me that seems like a lot of money. More on this later.
I'm lucky to also have the GH4 and had the GH3 and GH2 before it and I liked them. Panasonic kept making each camera release better and better. Since I'm going to keep the GH4 and that decision was made before I had the A7s I started to ask myself if the A7s is a camera I need?
So why on earth am I writing this? Maybe it's like therapy. I'm talking it out trying to get a handle on how I feel. Sounds a little crazy but what the heck!
Here are the reasons why i'm on the fence with the A7s. I'm not going into every feature I like since this isnt a review. I'm actually still working on that. This is only covering the stuff that gets in my way and makes it hard for me to want to keep the camera. Don't get me wrong. The A7s has some really nice features so dont get mad at me for having issues with what I feel are weaknesses. 😀
First and foremost. The price. It has to be worth it. I'm in for $2900 and can't shoot 4K yet. Yes I actually bought the A7s more for video than for stills but if the camera was great at stills with the lenses I have then that would sway me. I love the full frame look especially with stills. Full Frame with video is cool too but S35 is still my preferred sensor size. Focusing is easier at wide apertures. The crazy strong shallow depth of field can be interesting but sometimes too much with full frame.
Lenses
Camera bodies come and go but lenses can last forever. I have a pretty decent collection of Canon EF mount lenses that go with my 5D, 70D, C100 and C300. I'm a Canon EF mount guy when it comes to lenses. In order to use my EF lenses I purchased the electronic enabled Metabones EF to E Mount adapter for $399. It works well if you don't use auto focus. For video I can live with that. Stills is another issue.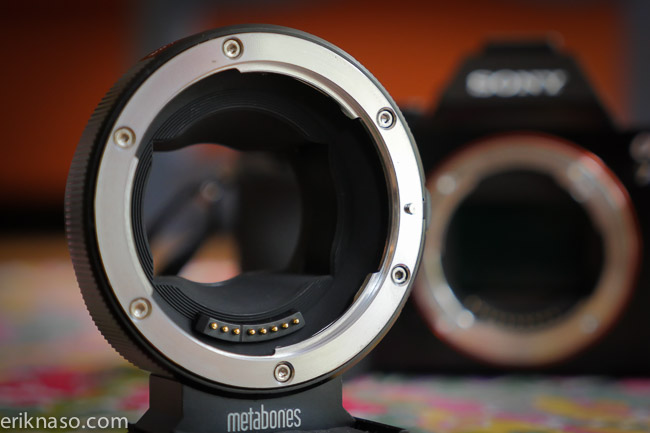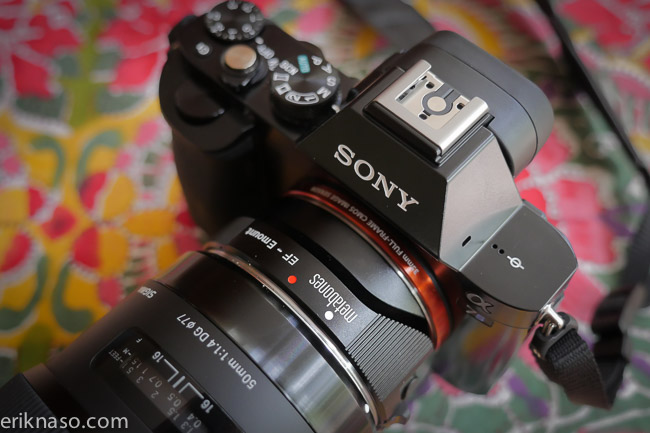 With the Metabones adapter the camera hunts like crazy before it locks in. I can focus manually faster and if the subject is moving forget it. This makes the A7s as my walk around camera a deal breaker. One more thing about the Metabones adapter is it looses contact with the camera and the lens a lot. The screen goes black and you have to take the lens off or at least unlock and retwist it back. This gets very annoying after it happens several times and it does happen frequently. I'm not sure if this issue can be fixed by the user with some kind of firmware update. On a side note I'm hoping Metabones will release a Canon EF to Micro Four Thirds adapter for the GH4. If they do I sure hope it will work better than this one does. Even with the issue I feel it's worth having so I can use my EF lenses with the fun reset twist action.
With some of the issues using EF lenses I was thinking about purchasing native Sony lenses. I started looking into them and the reviews are pretty good and people say the autofocus is too. Now I already have issues with the price of the camera with the Metabones adapter. Now I'm looking at throwing a couple more grand at it with lenses? This isnt going to be pretty. Okay lets take a look.
The Sony Vario-Tessar T* FE 24-70mm f/4 ZA OSS Lens is $1200. That's pricey and it's only f4. I'm sure it's a great lens, but it will only work with the A7s making it an expensive one camera lens just for the A7s. That takes the price up way past my sanity can handle! I was thinking and hoping I could make the A7s a great walk around full frame camera since it's very light and compact but again it comes to lenses. The only Sony lens that would fit the bill would be the Sony Sonnar T* FE 55mm f/1.8 ZA Lens that retails for $998 or the Sony Sonnar T* FE 35mm f/2.8 ZA Lens $798. Here we go again…$$$! I would prefer the 35mm for candid stuff but the 55mm isnt a deal breaker focal length and it's fast for creative bokeh. To take full advantage of auto focus on the A7s I feel you need to use native lenses with it. For me thats a big price increase. I don't know how well autofocus works with third party lenses that are native E Mount. With third party Canon mount lenses it's hit and miss so I would think the same goes here.
Video
The Sony A7s is a 4K capable camera but doesn't record internally like the GH4 and it has a 29 minute record limit. Sony says it's due to possible overheating issues.
If I want to shoot 4K then I have to spend  another $2k for the Atomos Shogun or even more for the Odyssey 7Q. I didn't even factor in media for either.
So lets re-tally up how deep I'm getting. $2900 for camera and Metabones adapter with the $2K 4K recorder comes to $4900. See where I'm going? Now the A7s is going to cost me more than $5000 including extras like media for the recorder to get it in a place that would work for me. Heck I didn't even include the other $2000 for a couple of Sony E Mount lenses. If I did I'm now over $7000.
Slog2 is interesting but it's just too flat. The image needs a lot of grading. I like log shooting. Do it all the time with the C100 and Canon C300. Works great but the Slog2 on the A7s isn't as easy to edit. I suggest using a LUT in post or FilmConvert. This will help a lot. I also recommend changing the saturation to around +5 to +8 in the camera profile when using Slog2. Really helps a lot.
When using Slog2 the camera defaults to ISO 3200. I dealt with it by using Hoya ProND filters but if you expose a little under the image is noisy. Sony recommends shooting two stops over in Slog2. Thats a tough call depending on the lighting situation. Blowing highlights can be an issue and you can't recover them. After all the codec is only 8 bit 4:2:0.
120 fps isn't good. It's Soft. Also don't try it with Slog2. The noise is that RGB type. Ugly. Not that organic filmic type. With a baked in look you can get better results just avoid "having" to grade the image.
Rolling shutter is very bad in full frame mode. It isn't as much of an issue in APS-C mode. If I was going to shoot run and gun the A7s in full frame mode would be a big problem. Controlled movement isn't to bad but overall shooting handheld could be an issue.
Features That Drive Me Crazy.
I cant get the A7s to white balance correctly when using the Slog2 profile. That is my preferred picture profile with the A7s. It just doesn't work. I get an error and the balance is green. If I want to shoot in Slog2 then I have to dial it in. Not my preferred method.
Secondly you can't white balance the camera when you're in VIDEO MODE. This makes no sense! The only way to get a Custom White balance is to switch the camera to M and then go to Custom WB. Perform the WB and save it in one of the presets and then switch back to VIDEO MODE. This is just annoying. Sony needs to fix this.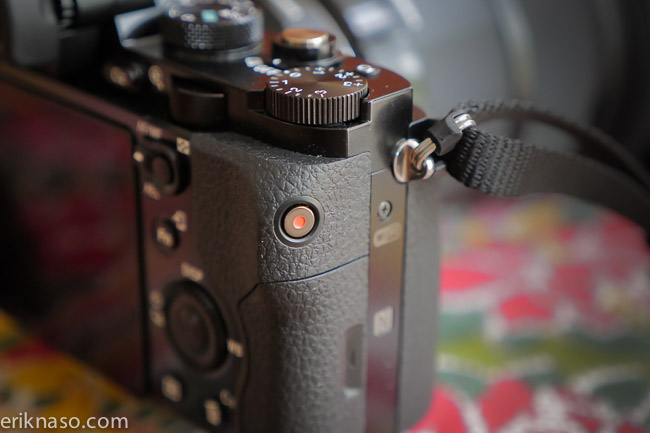 The video record button is a big issue with me. It's this tiny flush button on the right side of the camera that you have to find then use your thumb to trigger record. It's awful. After a while your finger starts hurting from the awkward angle and overuse from button hunting. A good fix would be to have the shutter button trigger the video record in video mode and the little record button becomes a custom function.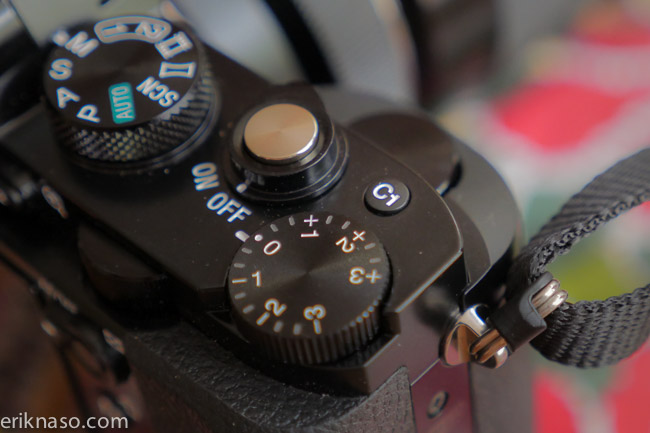 The punch in feature is nice but the default setting is for C1. This button is in a place thats hard to get to and my muscle memory just never took over.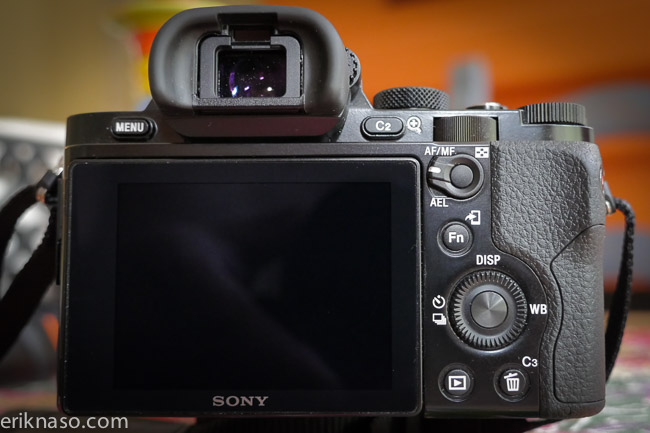 I fixed this by changing the magnification button to C2 and put the focus mode to C1. Makes sense since that's the zoom in feature to review pictures in playback mode. You even have the magnifying glass icon next to it to remind you. This should have been the default setting to begin with.
When the camera has a small lens on it like the Canon 40mm STM Pancake the body is easy to hold. Put any other lens with length or weight and it's not so easy anymore. The retro design is nice to look at but not very practical. The newer DSLR design or even the GH4 is much better in the hand with all lenses.
The battery doesn't last very long. I have four and will use them all in a short day of shooting. I suppose I'm spoiled from the Canon Cinema EOS cameras as well as the Panasonic GH4. Those cameras have the best batteries I have ever used.
The LCD screen does not articulate. I miss this a lot. No self shooting. Side shooting. All you get is tilt up and a little tilt down. Once you have a screen that flips all over the place you can't go back. 70D and GH4 are very nice that way.
These are the things that bug me about the A7s. Maybe they aren't a big deal to you and thats great. But if I had to pick one reason for returning the A7s it's price. It's hard to justify what it does for the amount of money I have to spend to get it the way I want it.
The A7s has one feature I like a lot. And thats the low light capability. It's amazing but I don't really need that feature all that much and to me it's the best feature the camera offers. Outside of seeing what the camera looks like in 4K I still have a hard time justifying the cost for the camera. The A7s is a hybrid. I want to use it as one. Not just for video or only for stills. I want both and the price goes way up to get the A7s to be a workhorse hybrid camera.
Sony needs to rethink the overall design of the A7s and redo it. The body needs an upgrade and needs to move away from the retro look of the Alpha line with a truly ergonomic body. It needs to be able to cool the sensor for longer recording lengths.
The cool thing is how amazing these new cameras are. The A7s and GH4 are truly revolutionary cameras that do so much more than what we have seen in the recent past. If you thought the DSLR/Hybrid was dead think again. These two cameras sealed their existence and will be followed up with even better next versions and cameras from the other guys.
Here are a few test I did with the Sony A7s
Sunset Cliffs. Sony Alpha A7s 120fps and Full Frame from Erik Naso on Vimeo.
Downtown. Sony A7s In APS-C Mode and S-Log2 from Erik Naso on Vimeo.
News update Shot With Sony Alpha A7s from Erik Naso on Vimeo.
Follow me on Twitter @eriknaso and check out my page on Facebook.
Thanks for coming by! Please help support my site by using the links on this page or bookmark these from my favorite retailers, B&H, Adorama, Zacuto, Amazon.com & Think Tank Photo. Using the links cost you nothing extra, but it helps offset the cost of running my blog. Thanks again for coming by eriknaso.com!
Filed in: 35mm Lens • 4K • A7s • Atomos • Featured Post • Mirrorless • Sony
Tagged with: A7s • Alpha • EF Adapter • Metabones • Sony • Sony A7s
I'm a broadcast DP In San Diego. I enjoy sharing what I'm working on and testing new equipment. This blog is also part of giving back. I've learned so much from so many people.