I have a shoot that I want to use both the Canon C100 and the Panasonic GH4 together but I dont want to match these two cameras in post. I think it's best to get the GH4 to match the C100 in camera as close as possible and tweak them in post insead. I got a good start from the settings the Delivery Men used. I tuned the GH4 and pulled out my color chart. In order to make this a quick process I mounted my GH4 on top of the C100 with a very undersized ball head. DONT DO THIS! I'm not so smart sometimes. Below are the initial settings I got from Joe Simon
Cinelike D
Contrast to – 5
Sharpness to -3
Saturation to -2
Hue 0
Highlights and Shadows Set To -5 highlights and +2 shadows
Luminance Levels 0-255
I brought the clips into Premiere Pro CC and compared them. First thing I noticed was the saturation was still to high on the GH4 and can you believe it was actually flatter than the C Log on the C100. I made a quick grade to try and match the C100 and I got really close. Color was pretty good but again saturation and contrast needed adjustment on the GH4.
After adjusting the settings one more time I'm really close! The only difference is the GH4 is still to flat. I don't want to go overboard. Also notice the aqua chip. Fourth down from the right. It's more accurate than the C100 is.  With the C100 it almost looks like the same light blue chip.  Below are the settings I used in the sample above.
Cinelike D
Contrast to – 2
Sharpness to -3
Saturation to -4
Hue +2
Highlights and Shadows Set To -5 highlights and +2 shadows
Luminance Levels 0-255 – Wider Luminance gives more color. Not available in MP4 or AVCHD
Hue isn't one I messed with before but it does seem to help by going +1 or +2. It shifts the red a tad more Violate/Magenta. Looks closer to the C100 to me.
What I've Learned
The Highlights and Shadow setting does some strange things to skin. It's smoothing the detail and has a very unnatural look to it. However, when you don't use the Highlights and Shadow adjustment it's really hard to match Clog. So increasing the master pedestal is a better option when shooting people. I think contrast is also doing strange things to skin so I'm avoiding that setting too. With all the settings when altered noise is increased, so choose wisely young jedi….
Matching Clog wasn't going to be easy but I think  matching WideDR could be a better way to go and that's the next profile I'll try to match. Some color correction is going to be needed so don't expect to have any two different cameras match perfectly.
WideDR and Cinelike D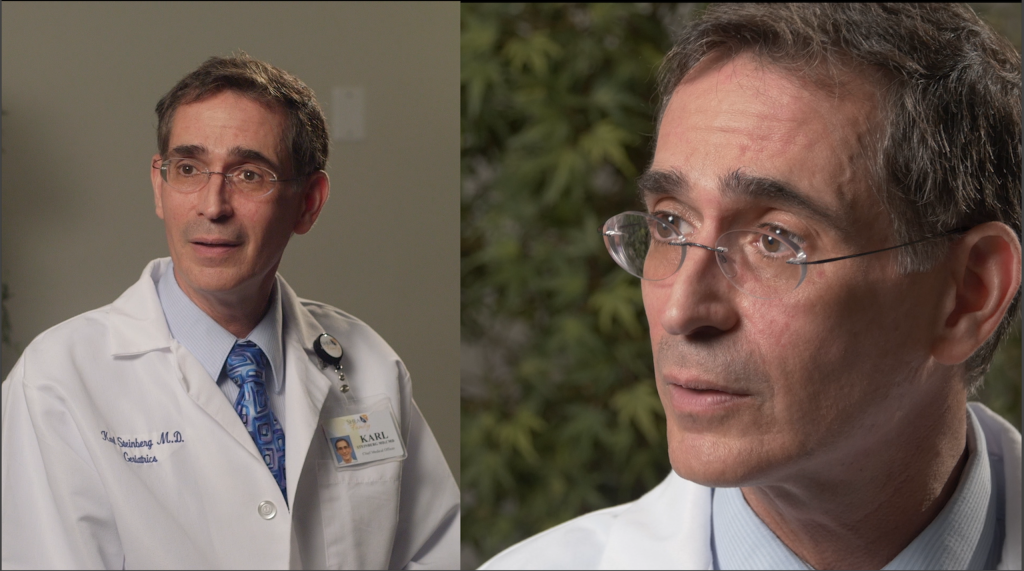 The frame grab above is a two camera shoot with the C100 and GH4. I think they match pretty well. As you can see the C100 skin tone has a little more red in it. With a little color correction they cut very well together. Here are the settings I used.
Canon C100
WideDR
No other changes to the profile
Panasonic GH4
Cinelike D
Contrast to 0
Sharpness to -2
Noise Reduction -2
Saturation to -3
Hue +1
Highlights and Shadows 0
iDynamic LOW
Luminance Levels 0-255 – Wider Luminance gives more color. Not available in MP4 or AVCHD
I feel pretty good with these settings and using WideDR worked really well. As I mentioned earlier the GH4 looks best when you dont mess with the Highlights and Shadow setting or push the contrast to low. It messes with the skin texture in a bad way and adds unnecessary noise. Two things that work well to bring up the shot is iDynamic set to low or standard. Boosting the Master Pedestal anywhere around +5 to +10 works well, but remeber that will also increase the noise so if you underexpose it could be very ugly. I will update this post as I continue testing and tweaking, so come back or follow me on Facebook and Twitter for updates.
Matching The C300
I just finished editing a morning news campaign. This was a true team effort. The interviews are all shot with the C300 in Clog. I didn't shoot them. My partner had to due to the nature of the shoot. I decided to get some fresh shots of the anchors. Since I'm still not able to shoot with a heavier camera due to a shoulder surgery I decided to grab the GH4 and a monopod to get the shots. What a great setup! So easy to shoot with a monopod with such a small light camera. Below is the finished promos.
Two things worked great. A better profile and shooting in 4K. Above I was trying to match the C100 and GH4 in camera, This time I decided to not try so hard to get the GH4 to be so flat. Here is why. I wasn't looking for a stylized look. Just clean punchy images with good skin tone. I always do some color correction in post. It's just part of my workflow, so matching them shouldn't be to difficult. I also had two more cameras in this spot. The traffic anchor was shot with Panasonic HPX370 and the time lapse at the end is the Canon 70D.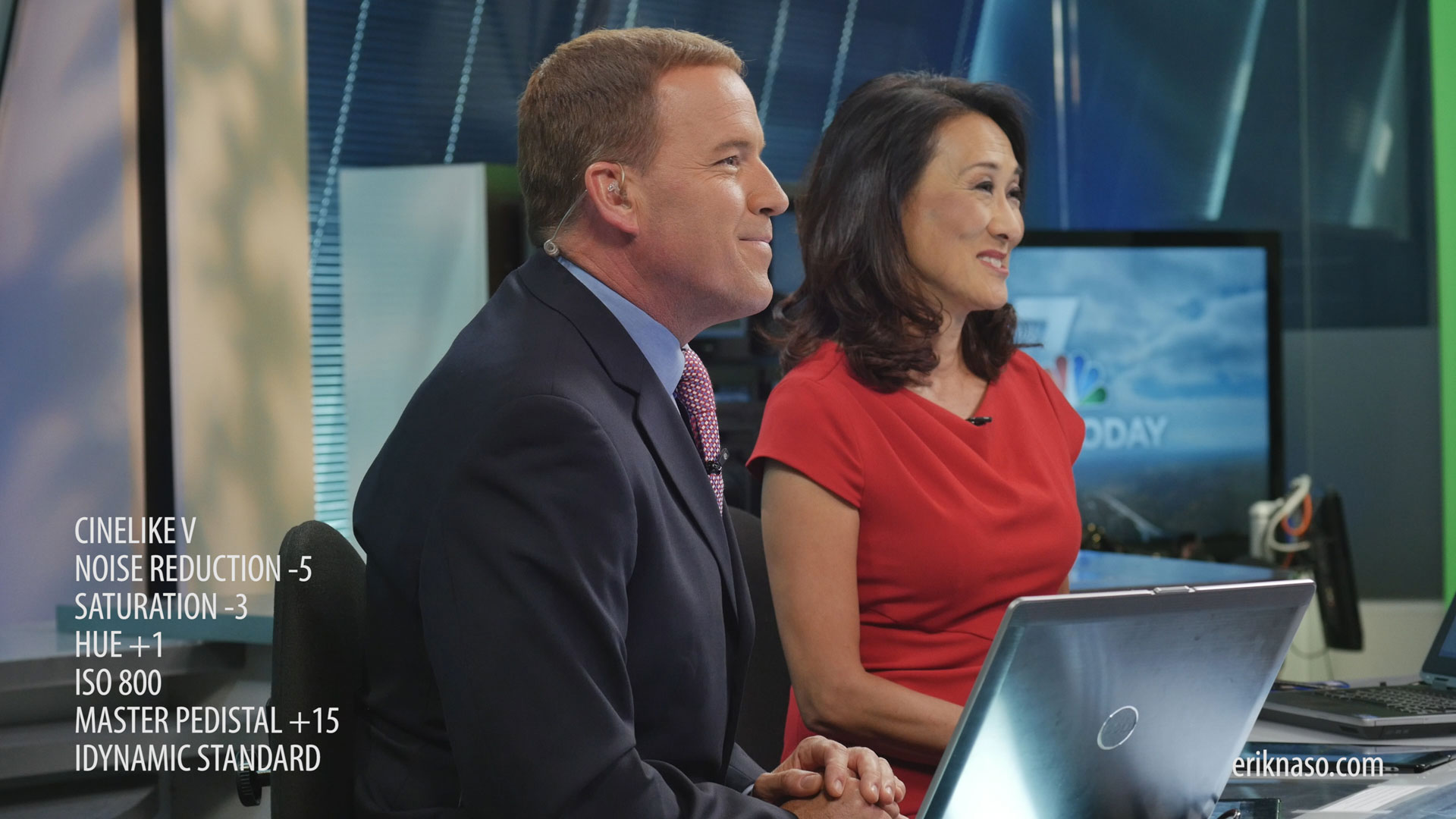 The frame grab above is ungraded with the following settings.
CINELIKE V
Noise Reduction -5
Saturation -3
Hue +1
ISO 800
Master Pedestal +15
iDynamic "Standard"
iResolution "Standard"
No contrast or Shadow Highlight adjustments on the GH4. In fact, like I mentioned earlier the Shadow Highlight adjustments do awful things to skin. Unless you like the smoothed out look. I don't. I wont be using that setting anymore. Contrast also seems to have a strange smoothing effect on skin. Capturing people is what I do 90% of the time. I have to have good skin tone and representation. I can tweak the color but I can't fix texture.
Boosting the Master Pedestal to +15 may seem extreme and I have backed it off to about +7 now. It does add noise but doesn't mess with the skin. In fact all the settings add noise when you adjust them. However, you have to balance the need to add those adjustments. I wouldn't have an issue boosting it to +15 when needed.
iDynamic is Voodoo. Good thing no chickens have to harmed to use it. It's like a light switch when you set it to "Standard" Works very well in CINELIKE V since that gamma is more punchy. Again no ill effect on skin. Are you getting how important that is to me yet?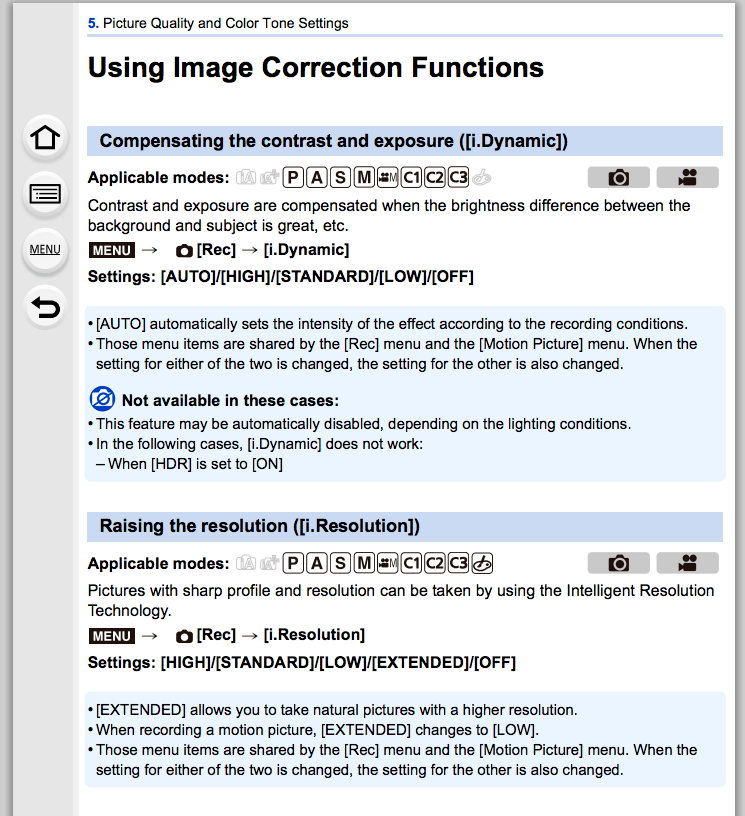 As the manual states if the contrast and brightness in a scene are high then iDynamic helps compensate for it. Making the image more even. It definitely brightens it up nicely. I think this is one of the best settings on the GH4. It gives you about a half stop or more. I set it as a preset on function 4 for easy access.
iReslolution is another hard to understand function. It does seem to sharpen but not in a bad way. It's hard to describe but at standard I don't see anything bad happening.
Last but not least. Shooting in 4K is a must if you have the GH4. The file sizes are so small for the added benefits of extra resolution and minimal if any moire. Rolling shutter does happen and in one pan over I had some. I just dropped the Rolling Shutter effect from Premiere Pro CC and it fixed it. So VERY cool! I did a lot of reframing to get the shot I wanted. Remember I was shooting during a live news cast. None of this is staged. I had to move around very carefully to stay out of the way. I used two lenses. The Lumix 12-35 and Lumix 35-100. I preferred the 12-35 because I knew I had twice the resolution to work with so tight shots really want necessary. Being able to reframe is just a joy!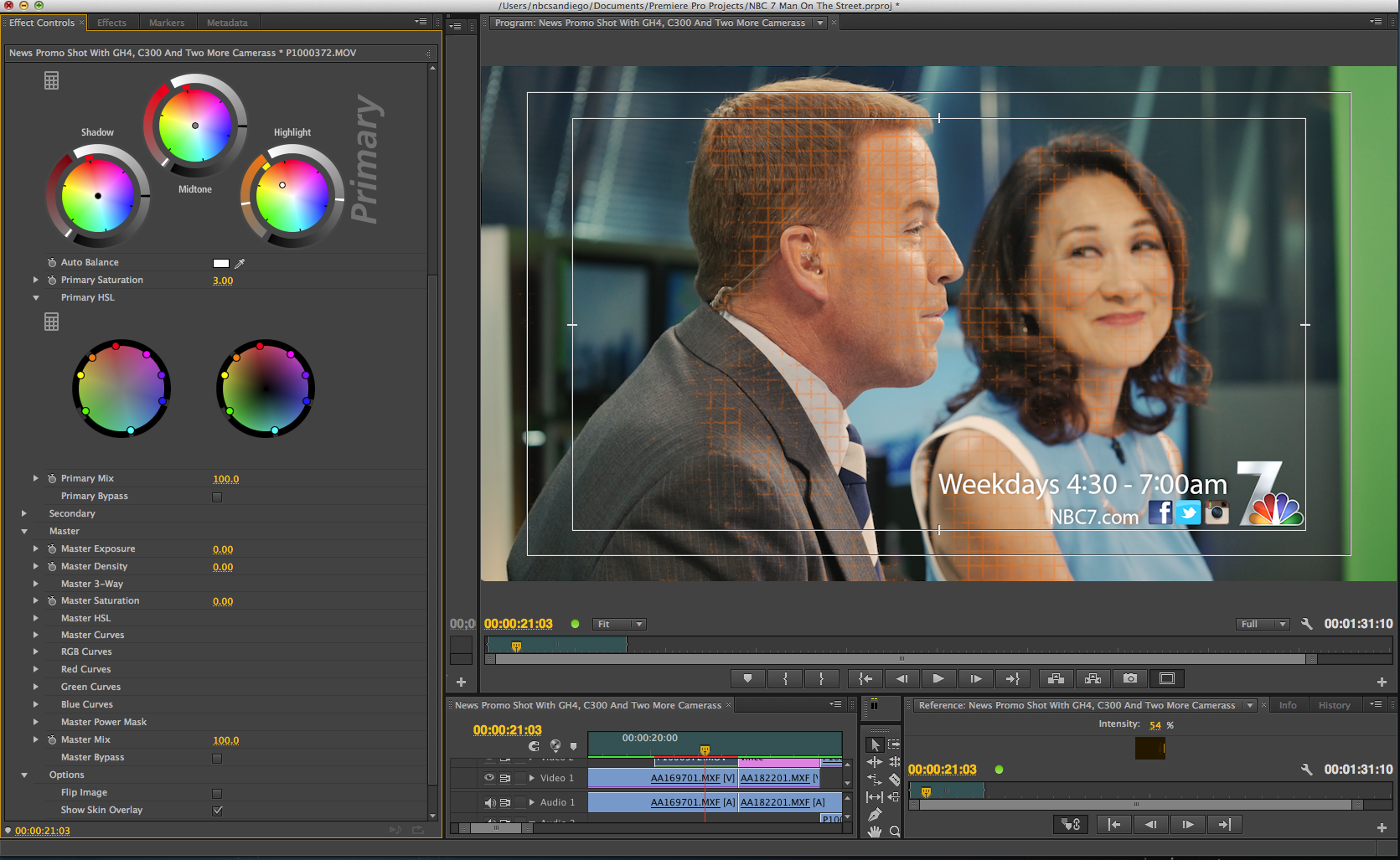 All the color correction was done with Red Giant Colorist II. I love the "Show Skin Tone Overly". Turn it on and you get a flesh tone grid that covers the face and skin when it's in the right zone. Very helpful. I basically dialed in the skin and tweaked each shot as I edited. The C log can go in so many directions, but I wanted a natural look, and I think I was able to get all the cameras to work pretty well together.
Matching two cameras from two different manufacturer isn't always going to be smooth sailing. Some post work should be done to get the best match. It's more important to get close and make the images match so it's not jarring when the viewer sees it. After all it's really about the viewer and not letting the camera and editing get in the way of telling your story or sending your message.
Follow me on Twitter @eriknaso and check out my page on Facebook.
Thanks for coming by! Please help support my site by using the links on this page or bookmark these from my favorite retailers, B&H, Adorama, Zacuto, Amazon.com & Think Tank Photo. Using the links cost you nothing extra, but it helps offset the cost of running my blog. Thanks again for coming by eriknaso.com!
Filed in: C100 • C300 • Canon • DSLR • Featured Post • GH4 • Micro Four Thirds • Mirrorless • Panasonic • Post Production • Premiere Pro • Video Editing
Tagged with: 4K • Adobe • C100 • C300 • Canon • GH4 • Lumix • Lumix 12-35 • Lumix 35-100 • MFT • Micro 4/3 • Panasonic • Premiere Pro CC • Premiere Pro CS6
I'm a broadcast DP In San Diego. I enjoy sharing what I'm working on and testing new equipment. This blog is also part of giving back. I've learned so much from so many people.