I've been looking at buying either a iMac 4K or the new Mac Pro but both are so expensive I just kept putting it off. I have two Macs right now. An aging early 2009 Mac Pro with two Quad-Core 2.26 Ghz processors model ID MacPro4,1 and a MacBook Pro Retina. Great laptop. Both get the job done but I don't like editing on the laptop all that much. I ended up making the MacBook Pro Retina my main computer. It's okay but not ideal. I like a workstation so I started looking at what I could do to upgrade it. Usually upgrades on macs are RAM, PCI cards and graphic cards. Thats pretty much it but then I came across a few interesting videos and articles on upgrading the processors. What? How the heck is that possible. Well it is and the way I did it was so easy I highly recommend it.
I found a couple of options. One was to send the tray with the processors and ram on them to a vender and they would perform the upgrade. This would run around $950 to $1444.95 plus shipping.
OWC has a Turnkey solution but they don't offer the speed bump that I was looking for. I want the BIG jump. Two 6-Core 3.46GHZ Xeon X5690.
If I was going the mail the tray in route to get  the12-Core 3.46GHZ Xeon X5690  it would cost $1444.95.

Thats a lot of money and not sure if it's worth it and the other way is way more complicated. Using the CPU's with the cap on requires much more complicated modifications Google it and you will read the stories. More on that later.
If you've ever built or worked on a computer before that helps and this way is much easier and safer. If you haven't I would recommend asking some friends that have had experience and let them help, but it really is simple.
I found you can buy the processors, but you have to do some extra stuff to make it fit. The stock ones have a cover on them that makes them taller and that causes issues. If you over tighten you could damage the chip and the board basically destroying the computer and making it really expensive to fix. Here is what I did.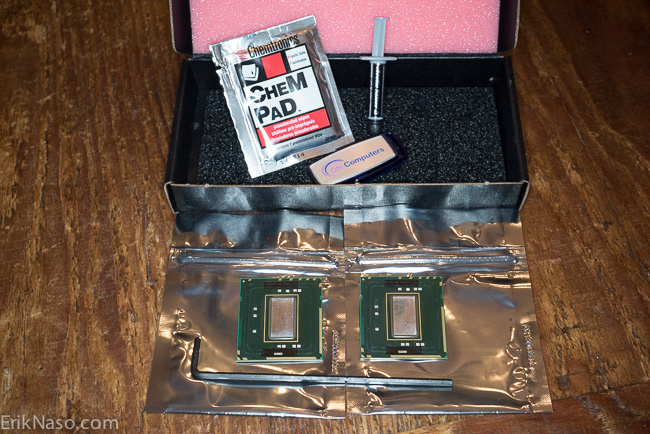 DN Computers sells a kit for my 2009 MacPro 4,1. I went for the fastest processors I could get. The 12-Core 3.46GHZ Xeon X5690 SLBVX. The kit was $549.99. From what I've read my MacPro 4,1 model happens to be a very good candidate for this upgrade. If you have this model you are in luck too!
DN Computers is offering readers of my blog a $10 discount. Use code ERIKNASO at checkout. I asked them what other options are available.
I have 2 basic CPUs that I'd recommend.  The 3.46GHZ or the 3.06GHZ.  The only reason I might suggest the 3.06 is if you're worried about the extra heat from the 3.46 (possibly if you have a really high end graphics card or run the computer in a warm/hot area), it also saves a little bit.

I do continually restock, and would be glad to do other CPUs if requested.  I only stock these two at this time:

https://www.dncomputers.com/mac-pro-2009-4-1-processor-upgrade-kit-to-12-core-3-46ghz-xeon-x5690-slbvx.html

https://www.dncomputers.com/mac-pro-2009-4-1-processor-upgrade-kit-to-12-core-3-06ghz-xeon-x5675.html

Thanks again.

DN Computers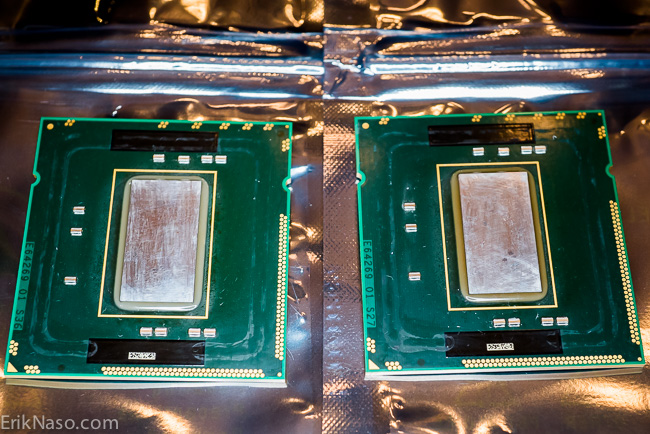 The other way is way more complicated. Google it and you will read the stories. If you ever built a computer before this way is super easy. If you haven't I would recommend asking some friends that have had experience and let them help but it really is simple.
DN Computers doesn't have the all the CPU options in stock. You will need to check with them to see what's available.
Why buy the kit? Because they prep the CPU for you by removing the IHS cap on the processor so it doesn't require any modifications during install. It's a direct CPU swap. I don't know how they get the cap off. It's not something you can do yourself.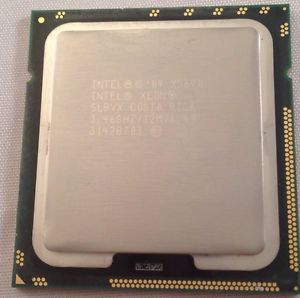 Here is the same CPU with the Intel cap on the processor.
Un order to perform the firmware update I  had to put a stock Apple video card in because with the Quadro 4000 installed the firmware update wouldn't take. Not sure why. if you don't have your original video card you can find them on eBay. I believe any stock card that shipped with your Mac model would work. After the update is done the Quadro 4000 gets reinstalled.
First step. Flashing the firmware to version MacPro 5,1. This is a must in order to get the Mac Pro to work with these new processors.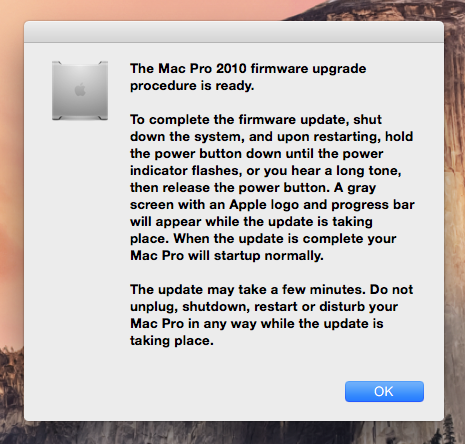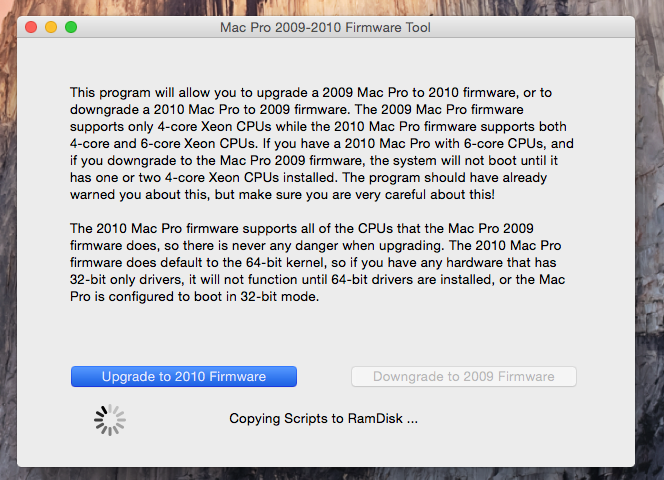 The process is simple. The kit includes a USB drive with the firmware on it. Just run it from the USB drive and follow the on screen instructions.
Unplug the computer and remove the tray that has the two CPUs and RAM installed on it. Super easy to take out.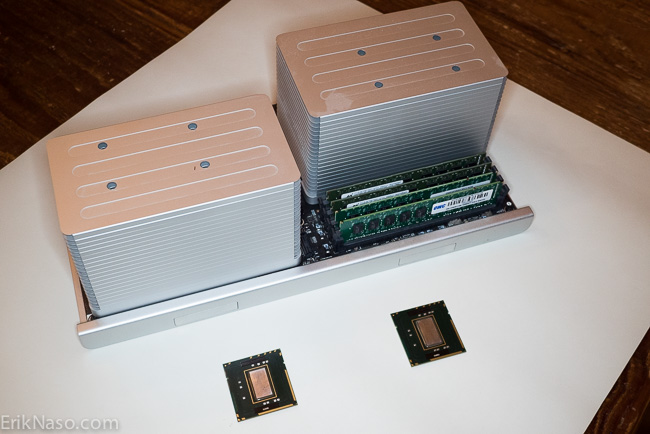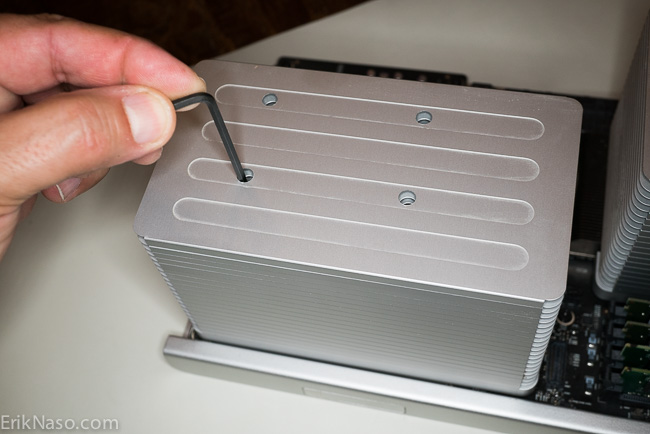 Use the supplied hex driver to remove the heatsinks. I didn't take my RAM out. Yes I probably should have but I'm careful. I did use a antistatic matt 😀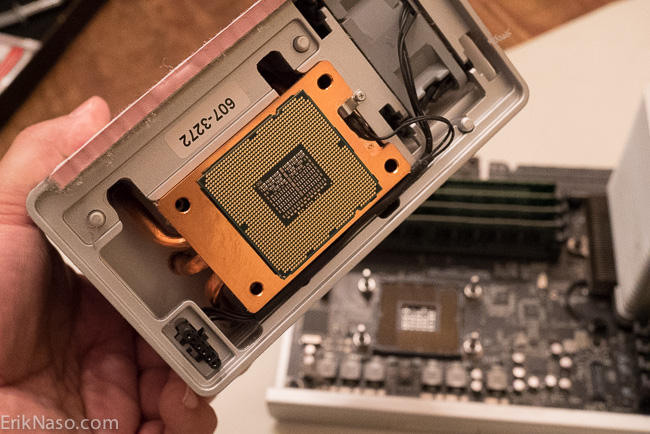 When I lifted the The CPU it was stuck to the bottom of the heatsink. DO NOT try to install the new one that way.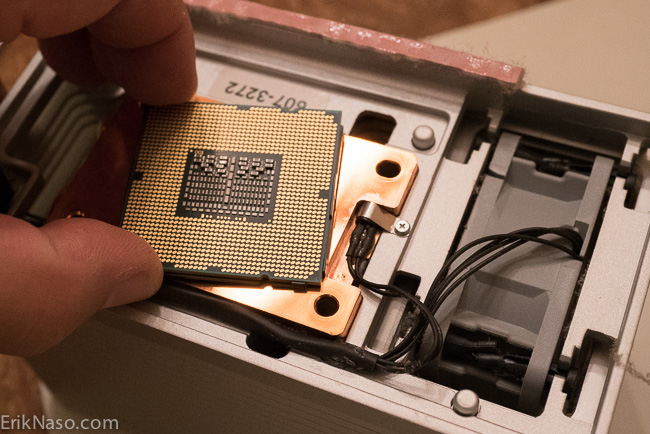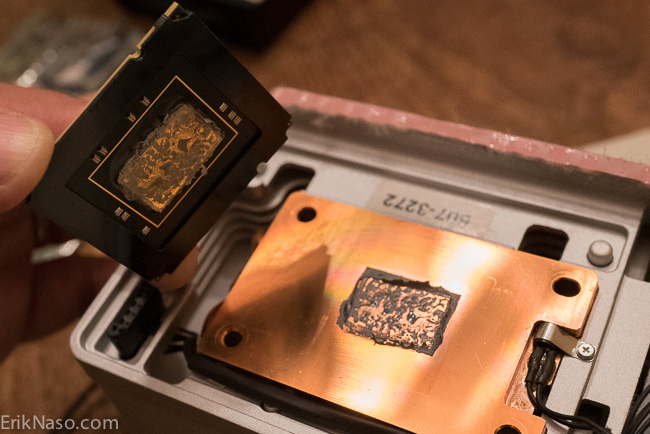 I wiggled it off carefully and put it aside.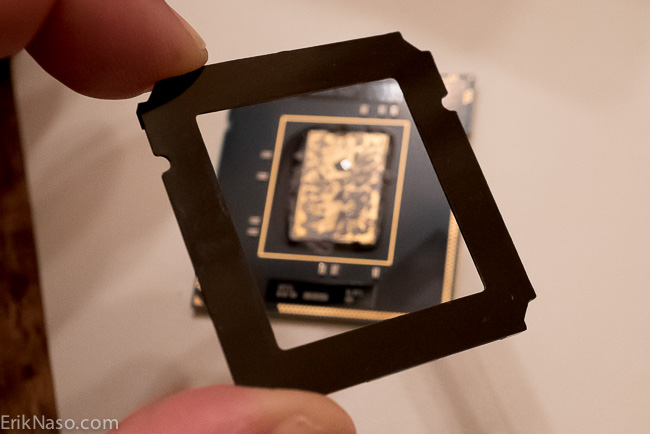 On the top of the CPU is a frame. This is a little riser I think. Put it aside and take note how it goes on. The frame has two notches so it's easy to reinstall when the time comes. Then did the same to the second CPU.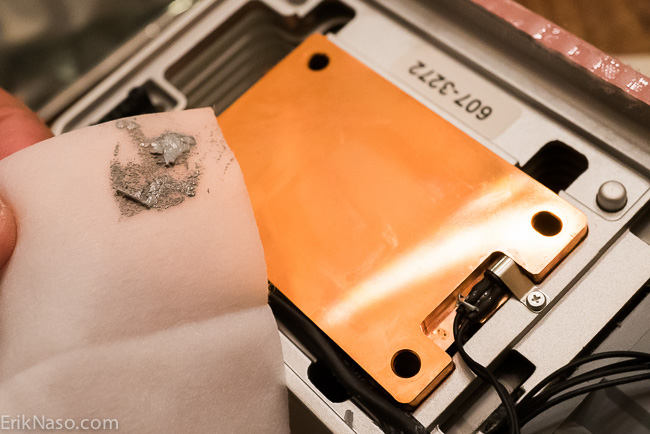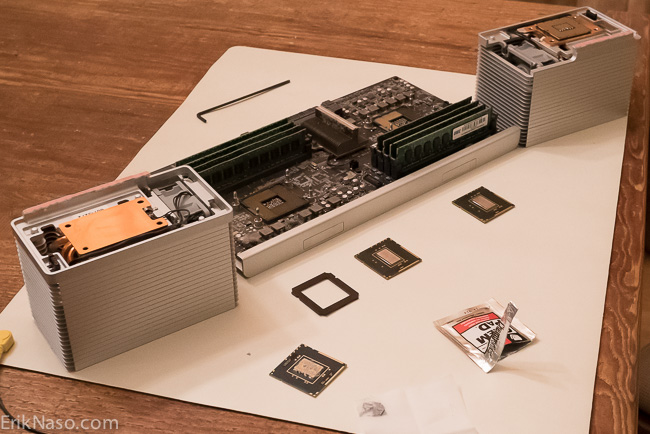 I then cleaned off the old thermal paste with the supplied pad on both the old CPU's and heatsinks. Repeat on the second CPU.
Now we are ready to put it back together!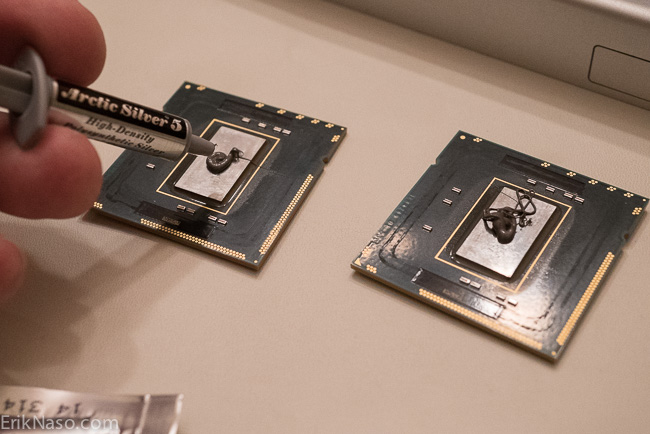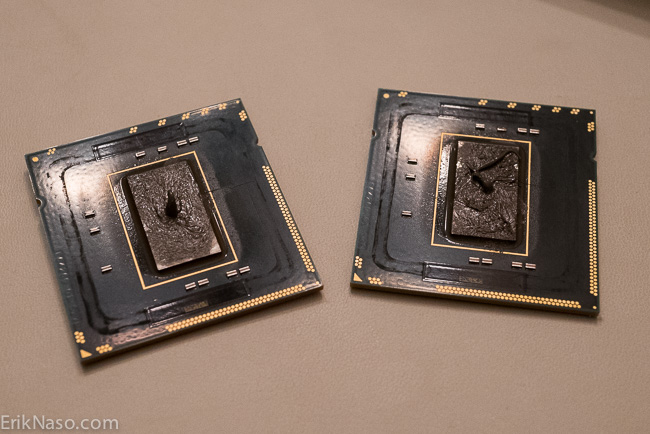 I then put a little thermal paste on each CPU and it's ready to go.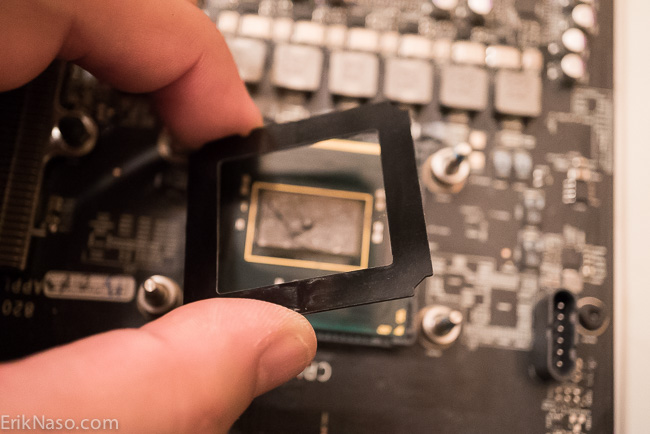 The new CPU fits perfect. Just line up the notches and it plops right in. Put the frame back and it's ready for the heatsink now.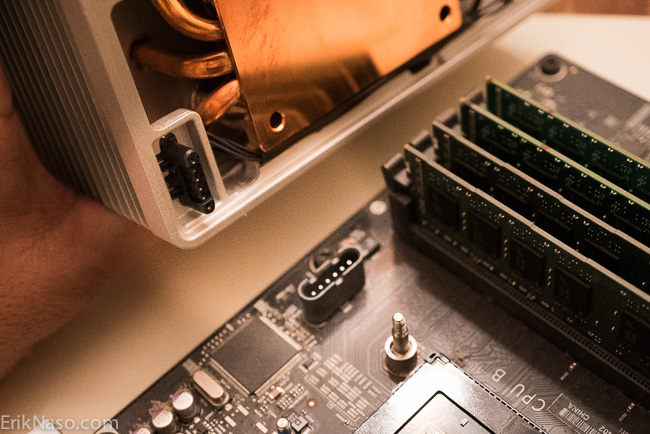 This part was where you don't want to screw up. but with these CPU's I didn't have to worry about over tightening and damaging the board or the CPU. The only thing I have to worry about is lining up the plug on the heatsink. Once it's lined up it all slides together super smooth.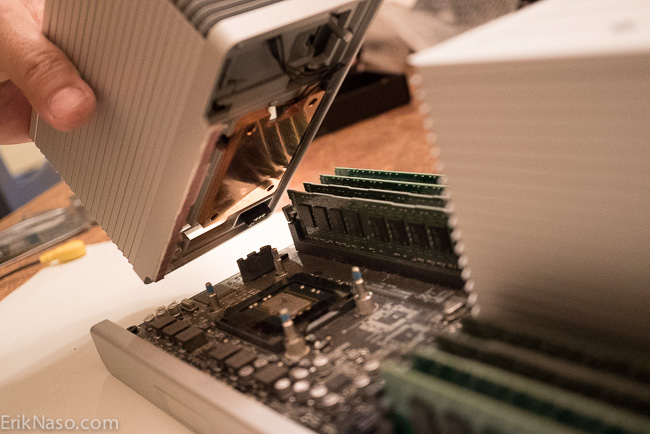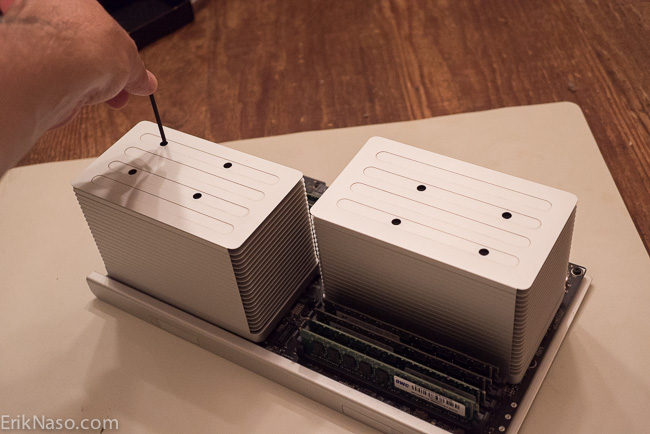 Tighten up the four hex screws on each and done. By the way the screws don't come out of the heatsink. They are spring loaded so it takes a little wiggling to set them.
With the tray ready to go I just put it back in and plugged the power cord in and powered up the Mac Pro.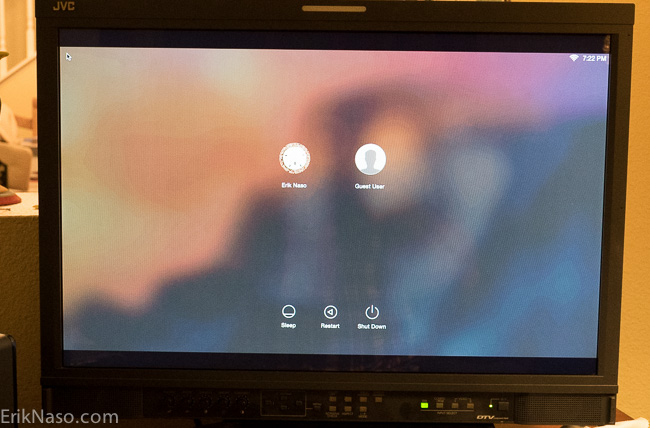 It worked!
The new system was up and running.
The new processors show up in "About This Mac" as an Early 2009 but in the "System Report" it shows it now as MacPro5,1 instead of MacPro4,1.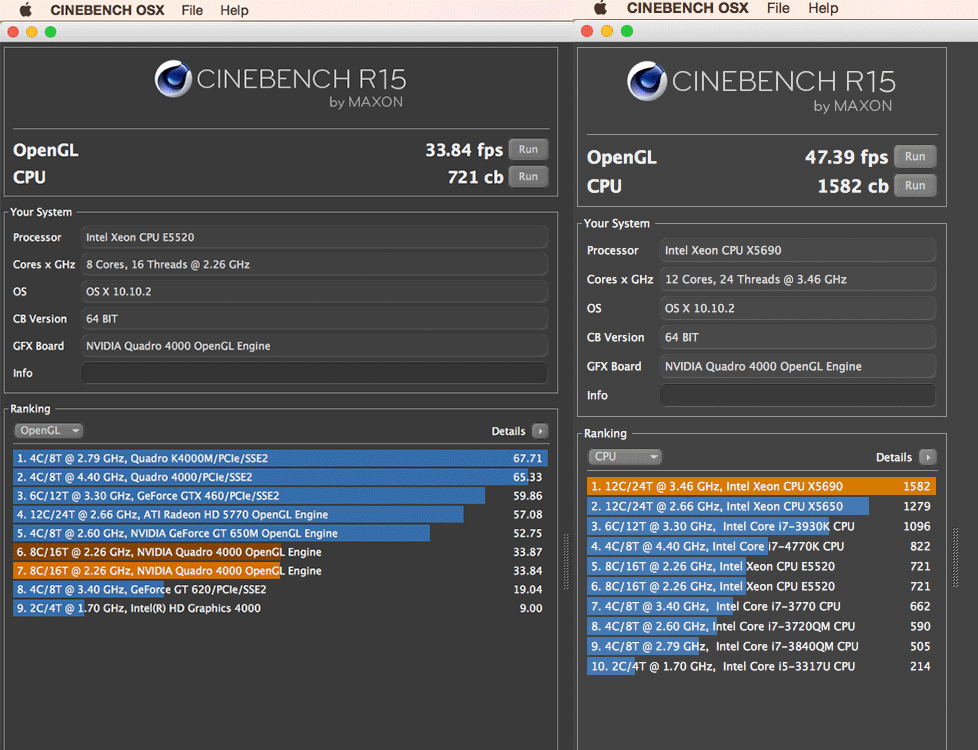 After running a few bench scores with Maxon Cinebench R15 I easily doubled the speed and added a few more frames per second too. Not bad for $550.
This was so simple and the results are well worth it. I just doubled the speed of my old Mac Pro giving me at least another year of editing with Premiere Pro CC on this 2009 Mac Pro. Now that I have the new firmware I could also upgrade the RAM to DDR3 ECC 1333MHz but I dont think I will. At least for now……
Follow me on Twitter @eriknaso and check out my page on Facebook.
Thanks for coming by! Please help support my site by using the links on this page or bookmark these from my favorite retailers, B&H, Adorama, Zacuto, Amazon.com & Think Tank Photo Using the links cost you nothing extra, but it helps offset the cost of running my blog. Thanks again for coming by eriknaso.com!
Interested in buying a new camera? Well I have a course on Lynda.com you should watch that will help you pick the right one for the job.

Filed in: Featured Post • Post Production • Production
Tagged with: Apple • Mac Pro Uprade
I'm a broadcast DP In San Diego. I enjoy sharing what I'm working on and testing new equipment. This blog is also part of giving back. I've learned so much from so many people.