Here is one good reason why right off the bat. This test footage from the new URSA 4.6K (Not the mini but same sensor) looks very good but yes there's more reasons.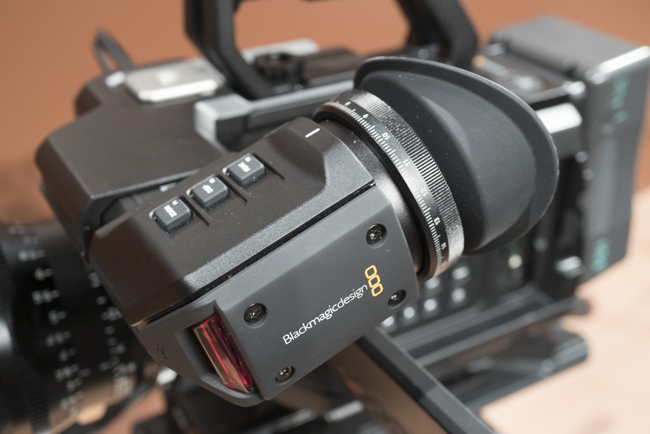 This post is from a guy who loves a real ENG camera design so if you like shooting with a mirrorless or Frankenrigging a 5D MKII kit you will hate everything I have to say. With that read this at your own risk. 😀
Trust me if it has a sensor I will use it if it aids me to achieve the shot I need. I also have never owned a Blackmagic camera for the simple reason that it was to much work to get it to work in a way I wanted. Maybe now this has changed.
I love large sensor cameras. All of them from MFT to full frame. All of them have changed the way I capture moving images, but we seem to have gone completely backwards from the roots of true ergonomics that started in broadcast news photojournalism and trickled to consumer video cameras.
A little background on me. I came from a broadcast news photojournalist background. I shot with a Sony camera and 3/4 inch deck slung over my left shoulder. The kit was a beast as far as weight, but the camera had a built in shoulder pad that was positioned perfectly for balance with a viewfinder off the left front side to line up perfectly with my eye. This was in the 80's. Even Sony Betacams had the viewfinder on the left front side of the camera. These cameras are deigned for shoulder use, but when on the tripod you stand to the left side away from the center of the tripod and wow! have a viewfinder on the side of the camera. Brilliant. Lets design all cameras just like this right?  Well that didn't happen when the large sensor camera came. Heck even before that.
I fault the miniaturization phase we went through. Tiny phones, tiny cameras. 8mm video and compact VHS cameras popped up that fit in your palm and of course the viewfinder was in the back. The early VHS cameras did go on the shoulder and had a viewfinder on the left side. It never went back to the left side again….
After 25 years of camera development the palm cameras just kept getting bigger and bigger with the same flawed design. The viewfinder was permanently put in the rear. Yes i mean in the rear! No matter how big it got it stayed in the back. And the LCD screen replaced the viewfinder position on the left.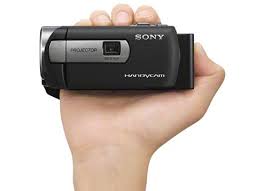 We have gone through so many camera releases over the last 25 years and finally in 2015 we actually have two cameras that are offering a viewfinder on the left side of the camera again that have s35 sensors. First off. Shame on you Sony for waiting so long. You practically invented the ENG camera. Blackmagic Design has been in the camera business for 3 years. Yeah! Three years. It took them all of three years to build a camera that looks to be what all my DP buddies and I have been wanting for a long time. A camera with a large sensor that is actually easy to operate from shoulder to a tripod. Finally.
The Sony F5 and F55 are both laid out very well. In fact they do have the design I want. The ARRI Alexa and Amira have it too but unfortunately I cant afford to own those cameras yet. Maybe some day. This leaves a pretty big gap.
Now of course I also appreciate and use small mirrorless cameras and action cameras to get the shot. We live in some crazy cool times with technology but for my A-Cam I want a real A-Camera. Not a rigged mess anymore with lacking audio inputs and a EVF stuck in the back of the camera. As for the Fs7 side viewfinder? It's much better than the horrible rear location but it's not a viewfinder. It's a loupe on a LCD screen. The image is to big and your eye has to scan a large area. Overtime that gives you eye fatigue. Yes there is a reason the image is so small in a "real" viewfinder.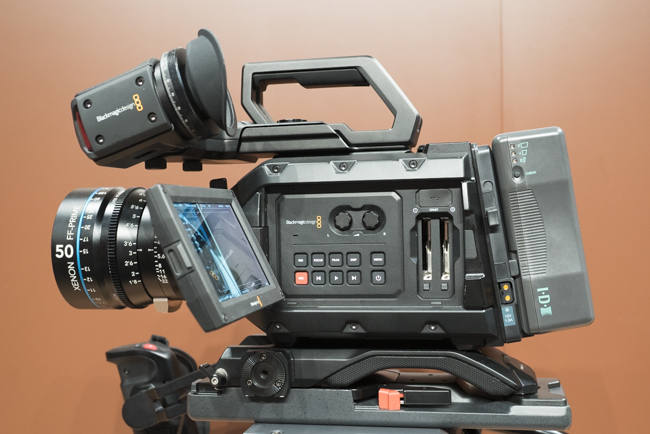 Is the URSA Mini perfect. Nope. I can say that without even using one because the fact is that no perfect camera exists. They all have flaws or missing features but for me the URAS Mini is a camera that checks a lot of boxes off for me. It's also priced very well making it even more attractive. Will it be a camera that's complete when it delivers? Good question. They are guilty of releasing incomplete cameras. We shall see. The URSA 4.6K sensor is all new so yes bleeding edge tech territory for sure but the specifications look pretty darn good to me. Yeah I wish it had built in ND filters. Not perfect….. You get it. Yes this new trend of putting a viewfinder on a the left side of the camera is intriguing but thats not all. It has very good specifications that I like. 2K, Frame rates, ProRes, CFast media all are pretty good oh and a switchable global shutter? Wow. So cool!
I arrived at NAB 2015 in Las Vegas on Sunday night and the first camera I saw was the URSA MINI on Monday morning at the Blackmagic press conference 30 minutes before NAB officially opened. It's been stuck in my mind since. BMD don't blow this please. I really want the URSA Mini to be a great camera because I'm nostalgic. Ha! not really I'm selfish! I want "that" camera again and from what I can see I might have found it.
Features I like a lot but not in order.
Actual viewfinder option
Form factor is designed for both handheld and tripod
Supports windowed HD up to 160fps. (This we have to see how good it looks)
Love me some ProRes!
2K option. (I will get a lot of use of this mode when HD is the priority)
Global shutter is switchable. Amazing idea
15 stops of dynamic range
4K at 60fps is okay. Cant have it all
CFAST Media. It's going to get cheaper over time. Unlike proprietary Sony media
CinemaDNG Raw (Lossless or 3:1/4:1 Compressed) @ 4608 x 2592, 4096 x 2304, 4608 x 1920, 3072 x 2560, and 2048 x 1152 (film dynamic range) (Get your RAW on you crazy camera guy!)
Full version of DaVinci Resolve with dongle
5 inch fold out screen.
relocatable grip controller.
I could keep going but these are some highlights and as I learn more the list could get longer. As of writing this the release of the URSA Mini is only 60 days away. Time to start saving up!
One feature I dont like is the audio level controls seem to be placed behind the LCD screen. To get access to them the LCD screen has to be open. When shooting handheld that could be a problem if you need to make changes to the record levels. I would like to also have HDMI out for monitoring and if needed could be used with the Odyssey 7Q+ HDMI input. Yes it can use SDI too but have to have options.
Side note. Marco Solorio from OneRiver Media did a comprehensive writeup on the URSA Mini. It's a must read and can be found here.
Follow me on Twitter @eriknaso and check out my page on Facebook.
Thanks for coming by! Please help support my site by using the links on this page or bookmark these from my favorite retailers, B&H, Adorama, Zacuto, Amazon.com & Think Tank Photo. Using the links cost you nothing extra, but it helps offset the cost of running my blog. Thanks again for coming by eriknaso.com!
URSA MINI SPECIFICATIONS
Sensor
Size
25.34 x 14.25 mm (Super-35)
Lens Mount
Active Canon EF
Effective Resolution
4608 x 2592
Dynamic Range
15 stops
Shooting Resolutions
4608 x 2592
4096 x 2304 (4K 16:9)
4608 x 1920 (4K 2.4:1)
3840 x 2160 (Ultra HD)
3072 x 2560 (3K Anamorphic)
2048 x 1152 (2K 16:9)
1920 x 1080
Frame Rates
23.98, 24, 25, 29.97, 30, 50, 59.94, 60 fps
Display
Dimensions
5″ diagonal
Screen Type
LCD capacitive touchscreen
Resolution
1920 x 1080
Recording
Media Card Slots
2 x CFast 2.0
Recording Formats
CinemaDNG Raw (Lossless or 3:1/4:1 Compressed) @ 4608 x 2592, 4096 x 2304, 4608 x 1920, 3072 x 2560, and 2048 x 1152 (film dynamic range)
Apple ProRes @ 3840 x 2160, 1920 x 1080 (film or video dynamic range)
Data Rates
4608 x 2592:
CinemaDNG Raw 3:1 – 180 MB/s
CinemaDNG Raw 4:1 – 135 MB/s3840 x 2160:
Apple ProRes 444 XQ – 312.5 MB/s
Apple ProRes 444 – 165 MB/s
Apple ProRes 422 HQ – 110 MB/s
Apple ProRes 422 – 73.6 MB/s
Apple ProRes 422 LT – 51 MB/s
Apple ProRes Proxy – 22.4 MB/s1920 x 1080:
Apple ProRes 444 XQ – 62.5 MB/s
Apple ProRes 444 – 41.25 MB/s
Apple ProRes 422 HQ – 27.5 MB/s
Apple ProRes 422 – 18.4 MB/s
Apple ProRes 422 LT – 12.75 MB/s
Apple ProRes Proxy – 5.6 MB/sRates based on 30 frames per second.
Metadata Support
Automatic camera data and user entered data such as shot number, filenames, and keywords
Connections
Output
1 x 12G-SDI — 10-bit 4:2:2
Reference
1 x Reference input
Timecode
1 x Timecode input
Analog Audio Inputs
2 x XLR — selected mic/line level and +48 V phantom power
SDI Audio Output
2-channel
Remote Control
2 x LANC on 2.5 mm sub-mini — controls record START/STOP, iris, and focus
USB
1 x USB 2.0 mini type B for software updates
Supported Standards
SDI Compliance: SMPTE 292M, SMPTE 424 Level B, Draft SMPTE 2081-1, Draft SMPTE 2082-1SDI Audio Sampling: 48 kHz and 24-bit
General
Microphone
2 x Built-in cardioid microphones for stereo recording with -10dB pad and low-cut filter
Speaker
Integrated mono (enabled in playback when headphones are not used)
Controls
Touch screen menus on 5″ screen, push button controls for navigating menus
Mounting Options
Integrated rod mounts compatible with 15mm Light Weight Support (LWS) standard
System Requirements
Mac OS X 10.9 or newer, Windows 7 (64-bit) or 8 (64-bit)Note: See Blackmagic website for detailed system requirements and configuration guides.
Power Connectors
Inputs:
1 x 4-pin XLR input for external power supply or battery
1 x 12-pin molex connector on rear battery plateOutputs:
1 x 12V output using 4-pin XLR for powering external accessories such as EVF
1 x 12V regulated output from rear molex 12-way connector
Battery Plate Support
Mounting holes for V-mount and Gold Mount battery plates
Operating Temperature
32 to 104°F / 0 to 40°C
Storage Temperature
-4 to 113°F / -20 to 45°C
Humidity
0 to 90% RH, non-condensing
Dimensions
8.2 x 7.6 x 5.8″ / 21 x 19.3 x 14.7 cm
Weight
5 lb / 2.3 kg
Shipping Info
Shipping Weight
7.0 lb
Box Dimensions (WxHxD)
0.0 x 0.0 x 0.0
Filed in: Blackmagic Cinema Camera • Blackmagic Design • Blackmagic Pocket Cinema Camera • Blackmagic Production Camera 4K • Featured Post • URSA Mini
Tagged with: Blackmagic Design • URSA • URSA Mini
I'm a broadcast DP In San Diego. I enjoy sharing what I'm working on and testing new equipment. This blog is also part of giving back. I've learned so much from so many people.