The Sony FS5 has landed.

This is a very interesting camera Sony released today at IBC in Amsterdam. The FS5 is actually a well thought out camera that is unique and purpose built. I'm actually a little surprised by it because it has a lot features and isn't a severely crippled FS7. Yes the codec isn't as robust with the new 100 Mbps (in 4K) XAVC-L which is a form of H.264 compression codec. Unfortunately it's 4:2:0 color space and 8bit in 4K and I wouldn't have expected 10bit anyway but it would have been nice to at least give it 4:2:2 color in 4K but in HD it does! 10bit 4:2:2 up to 60p and some impressive HFR's too. The FS5 offers High Frame Rate (HFR) 8-second cache recording at Full HD 10bit 4:2:2 image quality at a frame rate of up to 240 fps. Wow!
The FS5 has 14 stops of dynamic range with a base ISO of 3200. Max ISO 32,000. The camera boots up in less than five seconds. That's fast.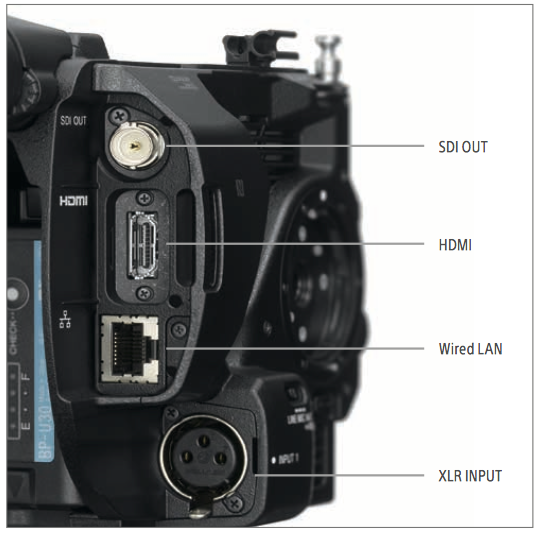 The FS5 also has some nice output options. SDI and HDMI 2.0 and ethernet. You like RAW shooting? In a future (probably paid) upgrade you can record RAW to an external recorder via the SDI out. If higher quality 4K is needed the HDMI out sends 8bit 4:2:2. Sorry no 10 bit for you! 😀 I like that the XLR is also available on the back of the camera as well as on the handle. Live stream from any event with Wi-Fi or built-in wired LAN. Control FS5 from your smartphone or tablet. Built-in NFC supports one-touch authentication is possible with compatible devices. With the built-in wired LAN jack high-speed FTP transfer of full resolution content can be achieved. This will be great for news gathering.
You like Log shooting? You got it! Slog2 and Slog3 plus S-Gamut3, S-Gamut3.cine on board. Face Detection has been added but don't expect dual pixel performance from it. I've tested this on the new A7rII and it's really hit and miss.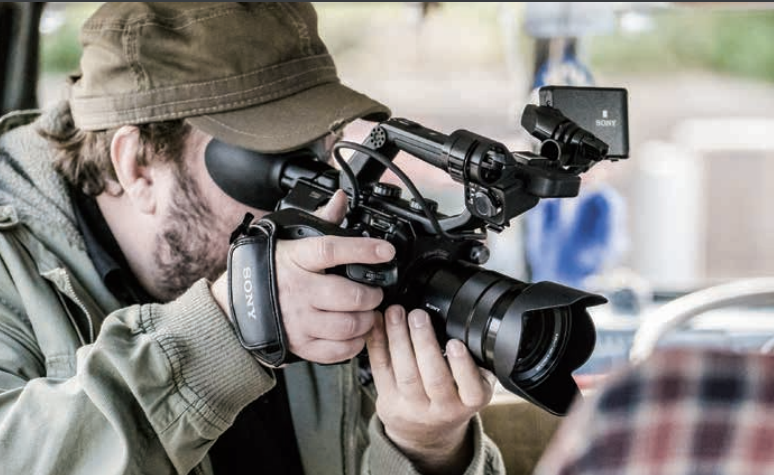 The body is tiny. It's clearly design to be used handheld and on stabilizers. In this picture it looks like a really great shooting experience for handheld.
Stripped down the FS5 only weights 1 lb. 13 oz. Yeah, it's a very small camera. and this has me thinking. If I needed a video camera more than a DSLR or Mirrorless hybrid why would I chose one over this camera? Yes it cost twice as much as a A7rII at $6700 but you get a lot for the extra cash. The codec is pretty much the same at 100 mbps in 4K as the A7rII so image wise it should be better since you're getting the FS7's sensor and that to me is a big deal. A purpose built sensor for video capture. Less rolling shutter is also a big deal. I don't have issues with it on most cameras because I pan very slow but try shooting fast moving objects like trains and cars and things looking tilted is annoying. SO for me this little versatile camera would take the hybrid out of play. I would grab the FS5 over the A7rII any day for video. Not to say the A7rII isn't a great camera. It is but it overheats when the condition are warm or humidity is high. That could be an issue if getting the shot is important or you need to do an interview. I see this tiny beast as a very solid replacement for the hybrid if video is primary for you. The footprint is small and unassuming making fitting into the environment much easier.
The Sony PXW-FS5 will start shipping in November.
The Sony FS5 has a interesting new feature. A built-in, electronic, variable ND system that allows you to dial in anywhere from 1/4 to 1/128th ND filtration. I'm not sure about this feature. Electronic ND could add noise or do something strange to the image. This one we will have see in action to know if it's a winner.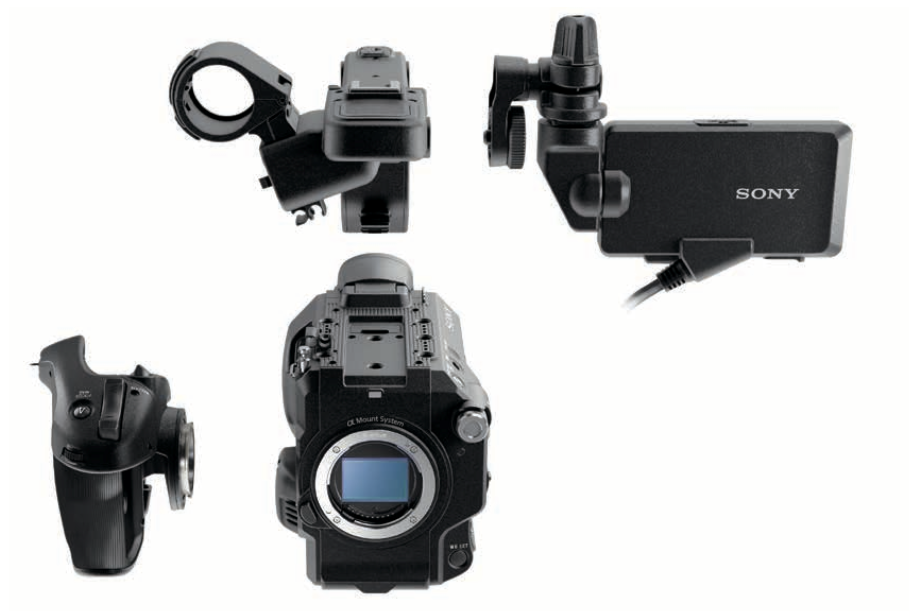 The camera is modular. You can strip it down to just the body for gimbal use or just to use in tight spaces.  The fully rotatable grip is updated from the FS7 version. It has a electronic rocker that is used for a new feature. The FS5 can zoom electronically while recording. Sony claims that the image isn't noticeably damaged when you use this electronic zoom. An interesting centre scan mode allows a HD image to be recorded from the centre part of the sensor. This puts the camera in Super16 mode and ENG broadcast zoom lens with B4 mount can be used with an adapter. This is a much better option that using an adapter with and a putting the lens in 2x with the onboard doubler. That tends to make the image soft. I have a B4 lens and would like to try this feature out.
A lot to like about this new Sony entry. I really want to give it try. It outperforms the Canon C100 MKII in HD and adds 4K option. I would hard pressed to get the C100 MKII but I think I would need to try the Fs5 out first. Specs aren't everything folks! So I know a lot of people are thinking is this the URAS Mini competitor? I don't think it is. as far as price goes the URSA Mini is more expensive once you add the viewfinder and shoulder mounting kit. You need to compare the feature's of any camera and choose the one that best fits what you will use it for. No one camera fits all but we sure have some great options to choose from. I do think the FS5 looks like a great option for those that are thinking about getting a A7s or A7rII primarily for video use. This camera has everything you need to work effectively in a all in one body design. No rig is needed long lasting battery life and a pretty decent codec in 4K plus the very good HD codec and that 240 FPS at 10bit 4:2:2. A lot to like.
Follow me on Twitter @eriknaso and check out my page on Facebook.
Thanks for coming by! Please help support my site by using the links on this page or bookmark these from my favorite retailers, B&H, Adorama, Zacuto, Amazon.com & Think Tank Photo. Using the links cost you nothing extra, but it helps offset the cost of running my blog. Thanks again for coming by eriknaso.com!
PXW-FS5 Handheld Super35 4K Camera
Super35 Exmor® CMOS image sensor with 14 stops of dynamic range and 8.4 million effective pixels (16:9)
360° rotating, detachable Smart Grip (supplied) can be used with industry-standard rosette, Sony's FS7 telescoping arm and third-party accessories, all sold separately
Up to 960 fps Super Slow Motion with high sensitivity; burst mode recording at up to 240 fps in HD, 480 fps at reduced resolution and 960 fps at reduced-resolution Center Crop; recording time varies by frame rate
On-board 4K recording at 3840 x 2160 resolution with Sony's XAVC™ Long codec
Outboard RAW recording as a future option (details to be announced)
S-Log3, S-Log2 and S-Gamut3.Cine help retain graceful highlights and extended shadow detail with accurate color reproduction
3.5-inch LCD monitor (viewable area, measured diagonally) flexibly adapts to shooting style and angle; mounts on three locations on the handle and six locations on the camera body
Sony's E-Mount system compatible with E-Mount servo zooms, manual zooms and primes; A-Mount lenses (via Sony's adapters); PL mount lenses (via third-party adapters); and other SLR and rangefinder lenses (via third-party adapters)
Continuously variable Neutral Density filter, a first in Super35 imaging, enables you to blur the background even in sunlight; also offers conventional presets at 1/4, 1/16 and 1/64 ND
Clear Image Zoom uses advanced image processing to double the effective focal length of your lens; a 12x zoom effectively becomes 24x
Center Scan mode captures the center of the image at Full HD (1920 x 1080) resolution. Not only does this provide an effective 2x zoom with 35mm glass, but it also enables you to mount 16mm PL lenses via third-party adapters
Face Detection AF and Focus Magnifier assist in run & gun shooting; help to maintain critical focus, a particular advantage in 4K capture
XAVC™ Long recording for 4K (3840 x 2160 at up to 30p) and Full HD (1920 x 1080 at up to 60p); advanced encoding technology retains superb picture quality at affordable bit rates (up to 50 Mbps in HD, up to 100 Mbps in 4K); beautiful 4:2:2 color and nuanced 10-bit grayscale in Full HD
XAVC proxy recording captures frame-accurate lightweight proxy video suitable for faster file transfers and convenient file sharing
AVCHD® recording for compatibility with legacy editing systems
Simultaneous/Individual Recording enables you to capture backup recordings on the second media card
Wireless Android® and iOS® remote control via the free Content Browser Mobile app
NFC one-touch communication with compatible wireless devices
Wireless streaming to compatible MPEG TS receivers and computers for convenient, remote image monitoring
Wireless file transfers of full-resolution assets via Wi-Fi® router to an FTP server
Wired LAN connection via built-in RJ-45 interface, for more robust network operations
Multi-Interface Shoe (MI Shoe) supports accessories including Sony's UWP-D11 and D12 wireless mics and HVL-LBPC video light (all sold separately)
0.39-inch OLED viewfinder (viewable area, measured diagonally) with large eye cup
1/4-inch screw holes on the camera top, bottom and handle accommodate third-party accessories
BP-U30 rechargeable battery and BC-U1 battery charger included
Two SD memory card slots with Memory Stick® card capability in Slot A
Complete interfaces include 3G-SDI, HDMI® jack, two XLR connectors, LANC remote control, USB, MI Shoe, DC input and RJ-45 Lan connector
Catalyst Browse software included (free download)
Filed in: 4K • Featured Post • FS5 • New Release • Sony
I'm a broadcast DP In San Diego. I enjoy sharing what I'm working on and testing new equipment. This blog is also part of giving back. I've learned so much from so many people.