When the a7r II came out News Shooter Editor Dan Chung took the camera out to shoot a mini-doc and during the production the camera overheated. Since then we all wondered if the a7s II would as well so I did a little test to see if it does and here is the results.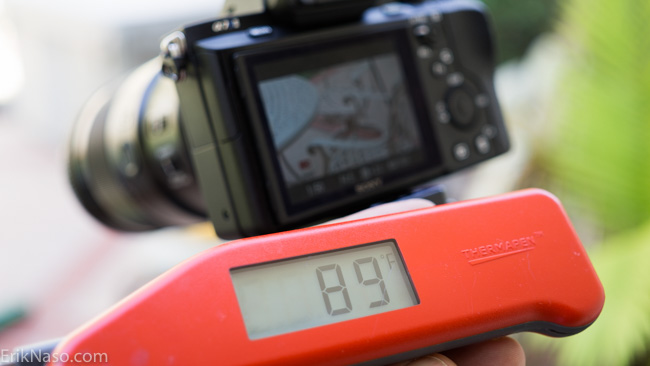 It was warm day and in the shade it was 89 degrees but dry. No humidity really. Set up the Sony a7s II on a tripod and started to record . The camera got warm to the touch but not uncomfortably so.
I was able to record for the full 29:59 before the camera stopped recording due to the record length restriction. I then started a new recording right after.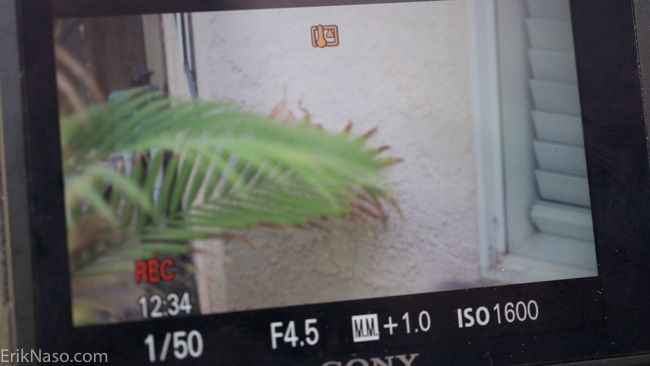 After twelve minutes the little temp icon came on and five minutes later…..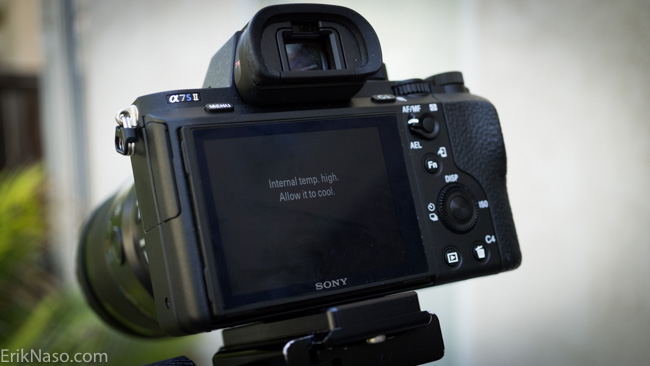 The a7s II overheated and shut down. I got forty five minutes total before it overheated. I turned the camera off then back on and tried to continue to record but after only 10 minutes the camera shutdown again. Just for kicks I repeated and again the same results. 10 minutes in the camera shutdown.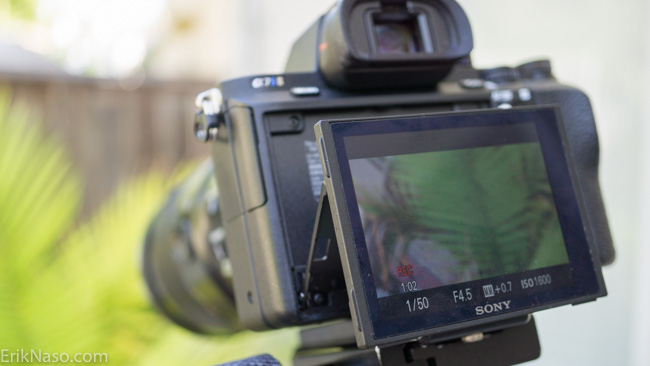 I let the camera cool down for about 30 minutes and tried the same tests with the LCD pulled away from the body and got the same overheating results as before. For me pulling the LCD away from the body didn't really make a difference.
What does this mean and does this make the a7s II a deal breaker? For my style of shooting it doesn't effect me. Not really. I shoot in short bursts not long 29 minute clips. Even if I was interviewing someone It wouldn't be for thirty minutes. I think the overheating wouldn't get in my way. For people that do have longer takes and shoot in hot environments this could become an issue and you should consider the options like a external recorder. This was a simple test just to see if it does overheat and I didn't test different shooting modes like turning off IBIS to see if that helps, or shooting handheld that could make the body warmer.
Finally I decided to test the original a7s for overheating and it doesn't. I ran it until the battery gave out. Okay that doesn't really sound like a long time 😀
Next up… Color Tests
Last week I spent a lot of very boring  time chart shooting to see if I could get the most accurate profile possible. Thats coming next but here's a few test shots with Slog3 so you can see whats cooking. Notice the push in on Buddha? Could that be continuos AF?
Follow me on Twitter @eriknaso and check out my page on Facebook.
Thanks for coming by! Please help support my site by using the links on this page or bookmark these from my favorite retailers, B&H, Adorama, Zacuto, Amazon.com & Think Tank Photo. Using the links cost you nothing extra, but it helps offset the cost of running my blog. Thanks again for coming by eriknaso.com!
Filed in: A7s • A7s II • Equipment Reviews • Featured Post • Mirrorless • Sony
Tagged with: a7s II • a7s II overheating • a7s II overheats • a7sII • Sony • Sony a7s II
I'm a broadcast DP In San Diego. I enjoy sharing what I'm working on and testing new equipment. This blog is also part of giving back. I've learned so much from so many people.