Movcam sent me an early release of the new GH5 cage and wow is it nice! Okay I shouldn't say to much yet since I barely opened the box. A full review is coming on Newsshooter.com but at first sight I have to say it looks really nice.
I wasn't expecting the cage to come with so many accessories especially not a riser for 15mm rods plus the rods were included! Nice touch. Not sure if the retail version will also include them but I hope so.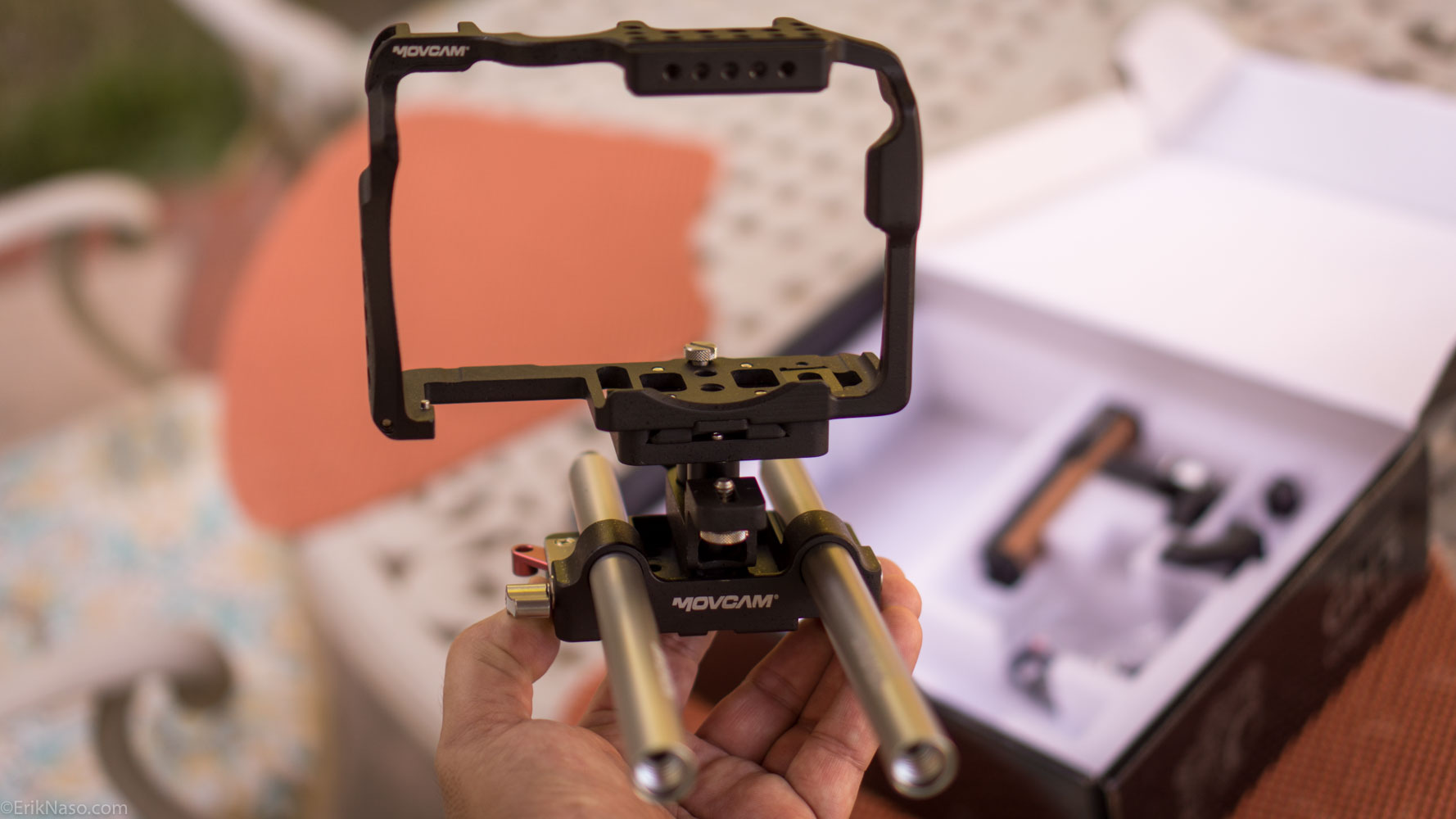 PRODUCT HIGHLIGHTS
All-Magnesium GH5 Camera Cage
Quick-Release Baseplate
Top Handle
15mm LWS Rod Support
Adjustable Lens Support
Shoe Mount
Horizontal 15mm Rod Port
Threaded Mounting Holes All Around
The cage is made of all Magnesium that is super light and super durable. I feel like the rest of the accessories are as well since they all are feature light. This is a big deal since the GH5 is a little heavier than previous models and keeping a hybrid light to me is important. I'm not a big rig fan and I'm not referring to trucks here. I like to keep my camera package as small as possible and I think Movcam is on to something here.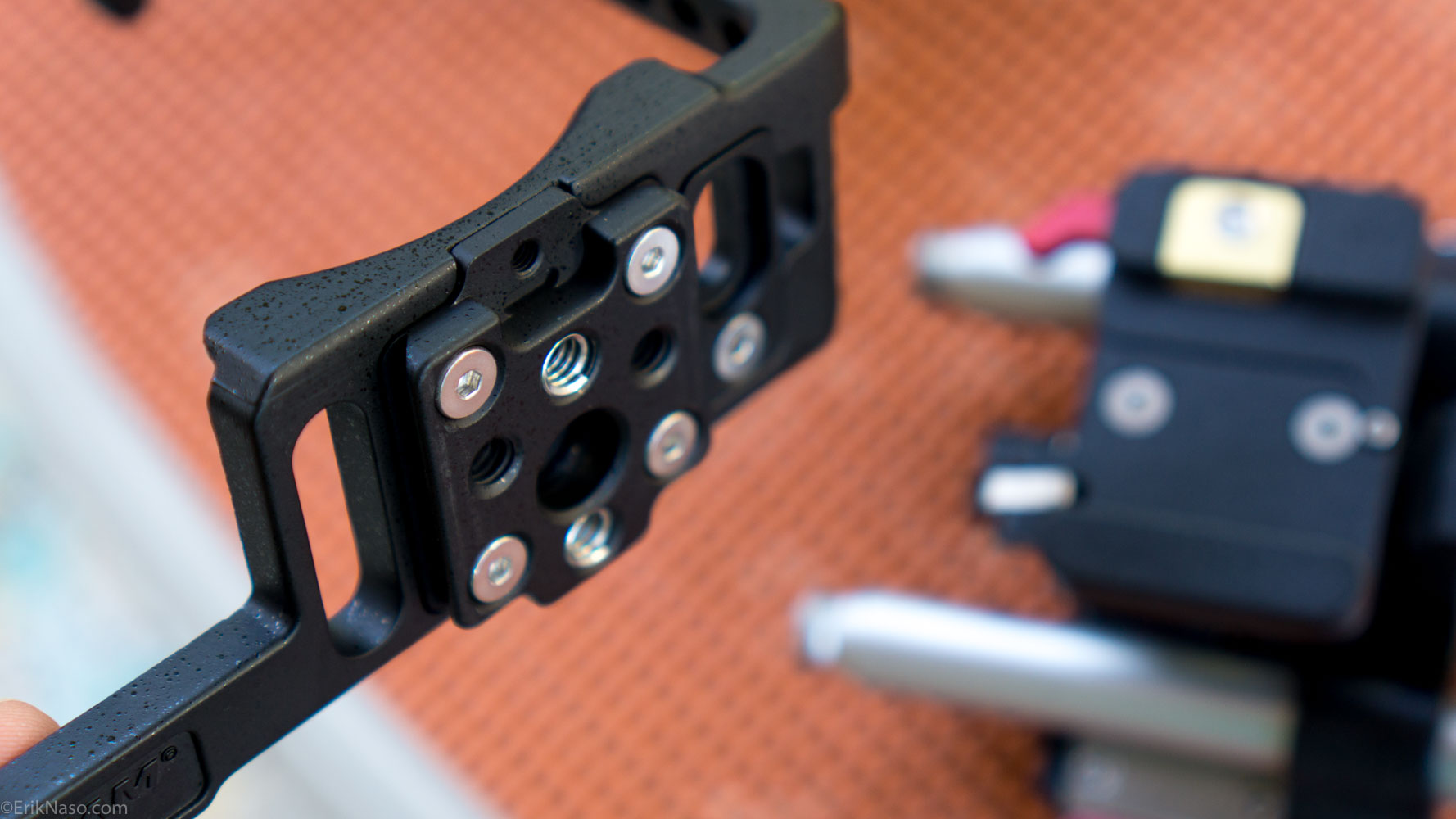 The bottom of the cage already has a Arca-Swiss camera plate attached. I don't have to add one. This is great for two reasons. If I want to take the cage off I don't have to remove a QR plate. One less step means faster setups, plus the Arca-Swiss plate goes right into the locking riser with rails. Very cool!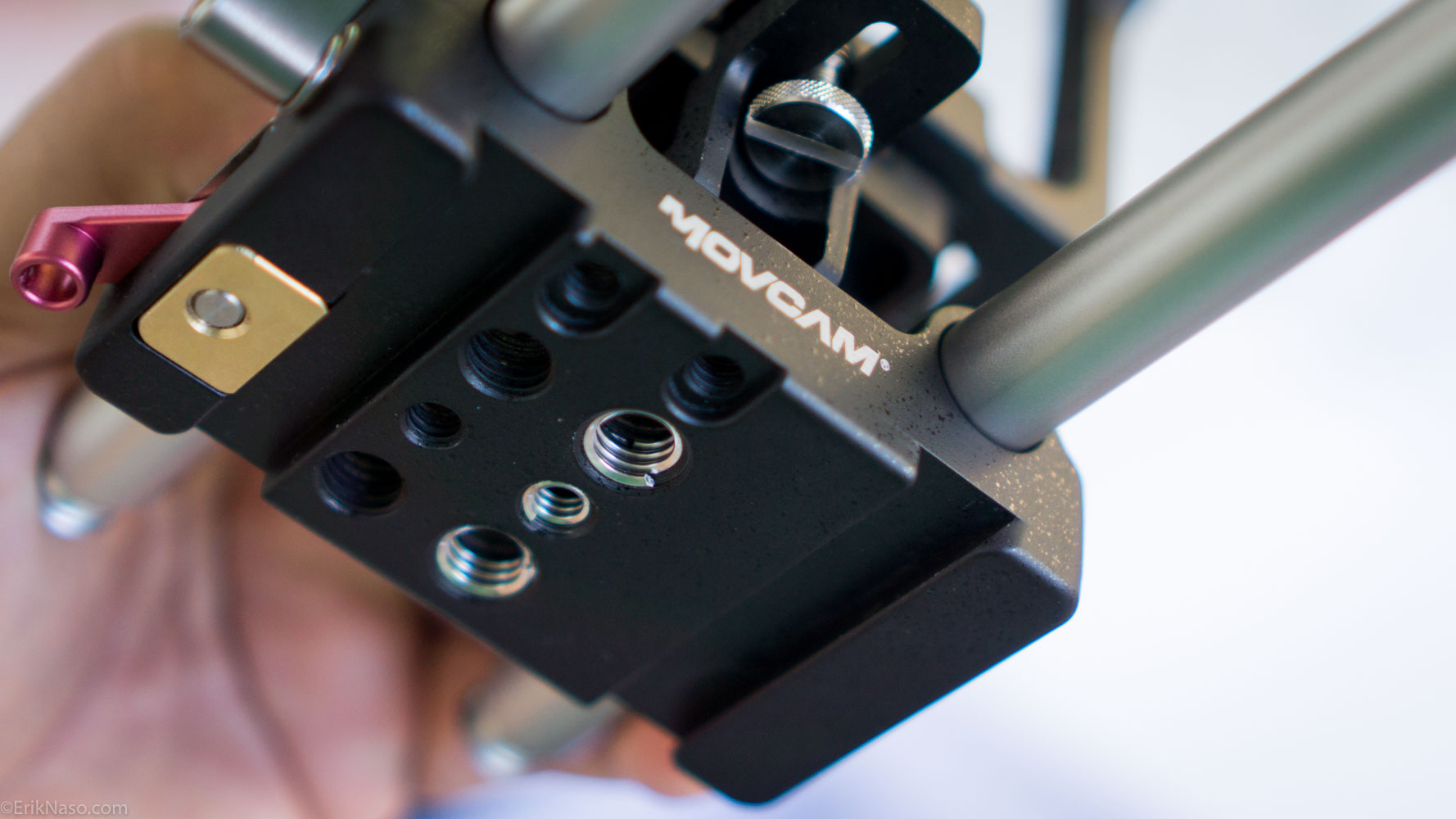 On the bottom of the riser is a locking ARRI Dovetail that you guessed it will work on a ARRI Dovetail plate and lock in. The ARRI Dovetail design is more common with larger cameras but it is a very solid system. I used one on my FS7 and liked the amount of space I had to move the rig on the plate to balance the camera on the tripod. Most of these plates are 12″. That's a lot of room for adjusting. Another trick is to put a Arca-Swiss QR on the bottom of a ARRI Dovetail plate so you can go back and forth quickly.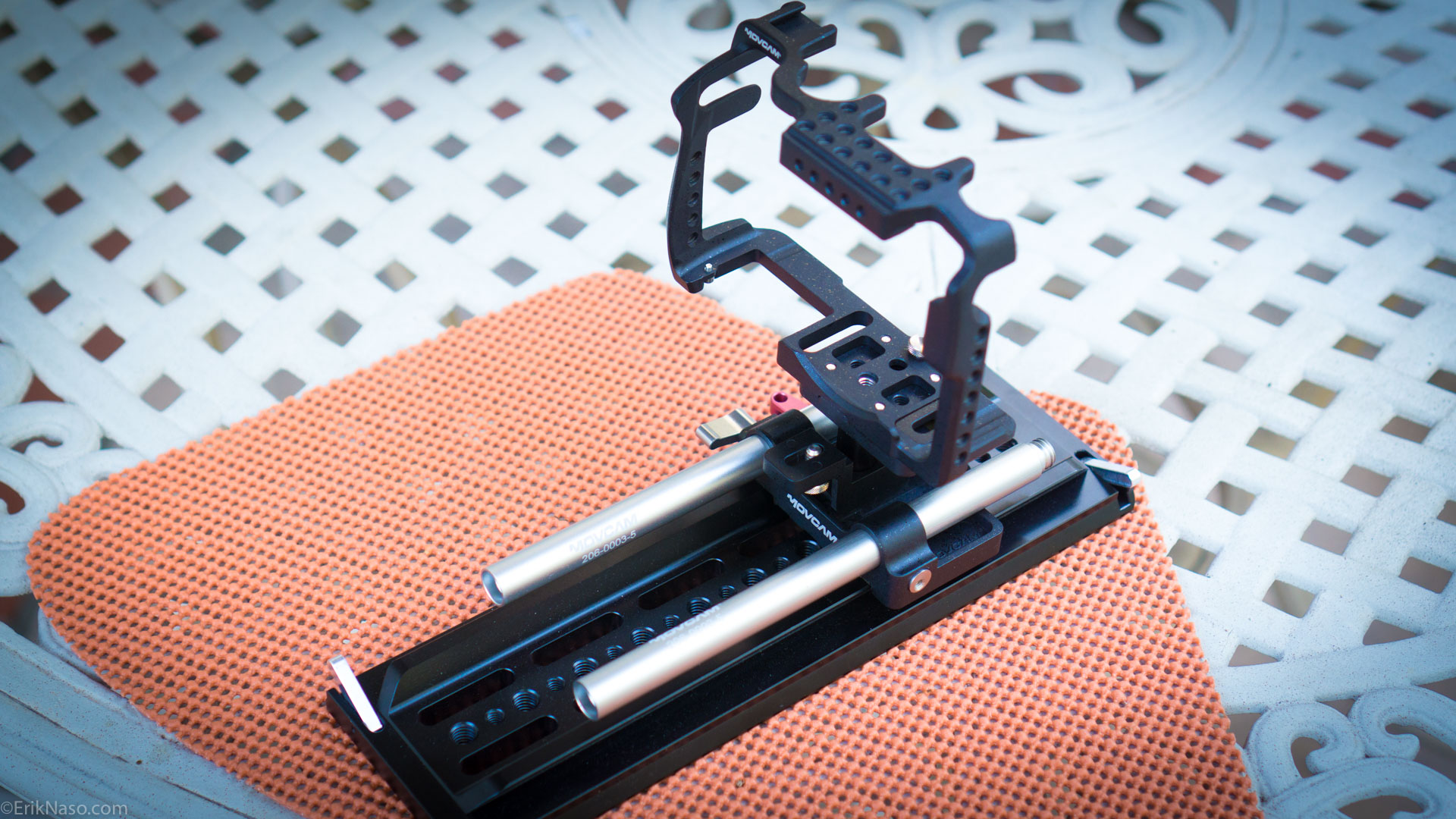 If you don't use them just attach whatever camera QR system you have on your tripod. I would recommend using an Arca-Swiss system since the cage already has it.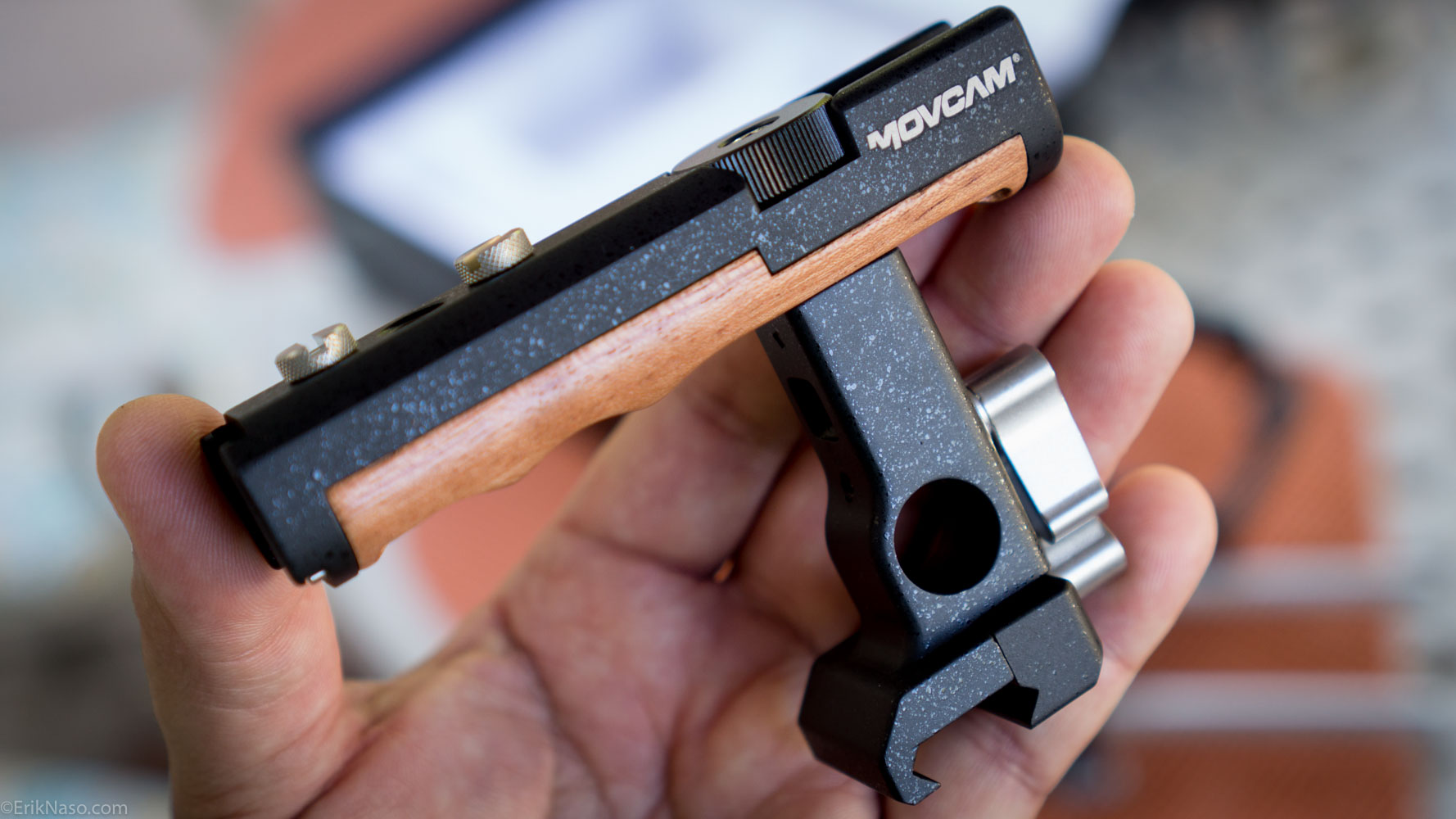 The handle is designed to clear the GH5 XLR adapter and has a aded 15mm rod receiver so you add even more kit to our kit.
The Movcam GH5 Cage Kit ticks a lot of boxes and at a priced at a very reasonable $315.00, but how well does it all work? That's coming soon after I get all the bits put together and use the system.
As of now i'm impressed with the build quality and machining. Thats a big deal for me. I never like poorly machined metal. You won't find that here. More to come as I test and full review will be on Newsshooter.com.
Thanks for coming by! Please help support my site by using the links on this page or bookmark these from my favorite retailers, B&H, Adorama, Zacuto, Amazon.com & Think Tank Photo Using the links cost you nothing extra, but it helps offset the cost of running my blog. Thanks again for coming by eriknaso.com!
Interested in buying a new camera? Well I have a course on Lynda.com you should watch that will help you pick the right one for the job.

Filed in: Featured Post • GH5 • GH5 Cage • Movcam
Tagged with: GH5 Cage • Movcam • Movcam GH5 Cage
I'm a broadcast DP In San Diego. I enjoy sharing what I'm working on and testing new equipment. This blog is also part of giving back. I've learned so much from so many people.