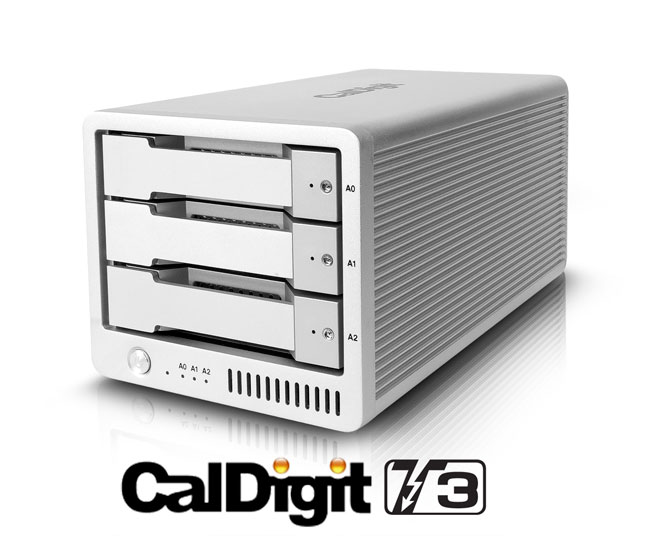 The need for speed is always growing. Files are getting bigger and the way to move them with the likes of Thunderbolt has made it easier. I'm a cinematographer by trade and an avid photographer with a growing library.  The next format I will be shooting with is 4K or UltraHD. These are big files so I need the fastest storage I can afford to edit in real time. To get ready I decided to purchase a 15″ Macbook Pro Retina with Thunderbolt ports. Thunderbolt has been around for a while now, but not until recently have we seen enclosures that are using it. I like to have smaller RAID's for my laptop to use on my desk and when traveling. I have a two drive CalDigit VR RAID 0 that is performing very well to this day. The only downside is the fastest connection it has is eSATA. That was fast back when I purchased it and eSATA is still pretty fast but compared to Thunderbolt? Well….
Along comes this new CalDigit T3. A new Thunderbolt three bay enclosure. This very handsome solid enclosure comes with three drives in four different capacities starting at $450 for the 3TB model with standard HHD. 6TB, 9TB and 12TB configurations retail for $749.99, $899.99, and $1199.99. Several options are also available with SSD drives. For the fastest possible combinations you can even mix 3.5 HHD with SSD's. Pretty flexible.  CalDigit doesn't offer this as an empty enclosure and you will void the warranty if you replace the drives with non CalDigit purchased drives. I do wish an option was available to get this very nice enclosure empty but at this time it's a no go.
Performance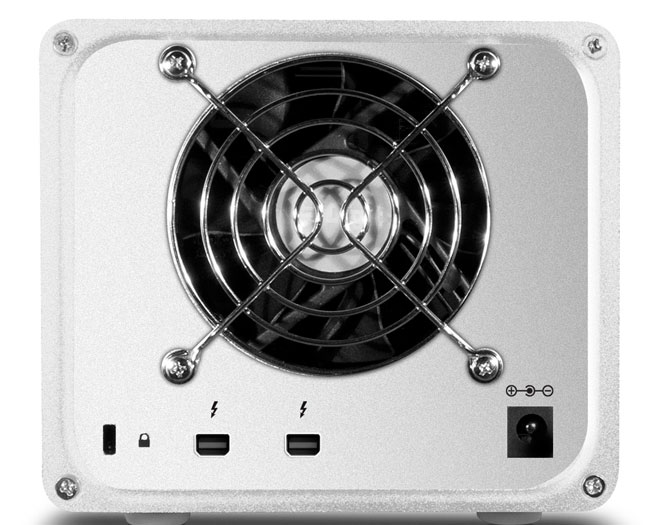 Thunderbolt is the game changer when it comes to moving media. it's very fast, and the CalDigit T3 is a top performer that can easily deliver 500 MB/s. The T3 comes with two ports so you can daisy chain other T3's and other devices. I wouldn't mind if a USB3 port was added just in case I needed to share with another computer that doesn't have a Thunderbolt port. The T3 I have for review has three 2TB Toshiba's
I'm all about speed so I left the T3 configured as a RAID 0. What makes the T3 unique is the ability to be configured a few different ways. RAID 0 + JBOD. This gives you speed and swappable storage in one enclosure. RAID 1 + JBOD gives you a mirrored option. Below is a video on how to configure the T3. Very simple.
As for speed the T3 delivers. Check out the speed test I did with 4K 10 bit settings in a RAID 0. 563.9 MB/s is pretty darn good.

Build Quality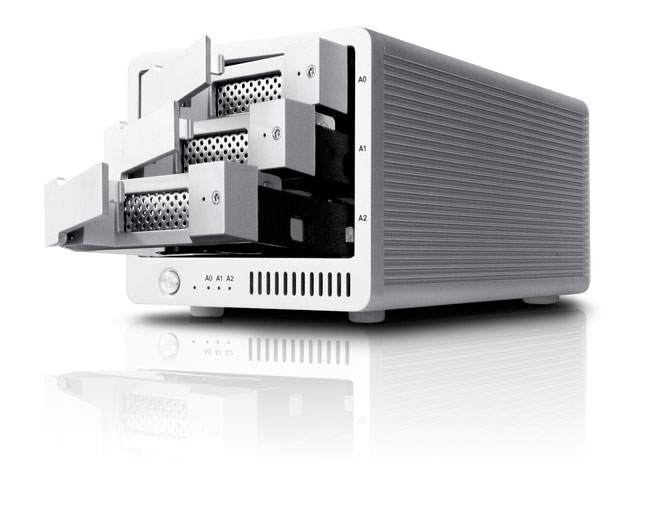 The look and build is great. Very solid and is quieter than my VR since the fan is in the back of the unit as opposed to the front of the VR. The T3 has a smart fan, and in combination with the aluminum design keeps it running cool. I have been using the T3 non stop for two weeks and it just keeps humming along. The drive bays lock, and you need to use the provided key to open each bay. Dont lose the key! To release the handle on the drive bay you insert the pin in the tiny hole and the handle pops out. Pretty easy.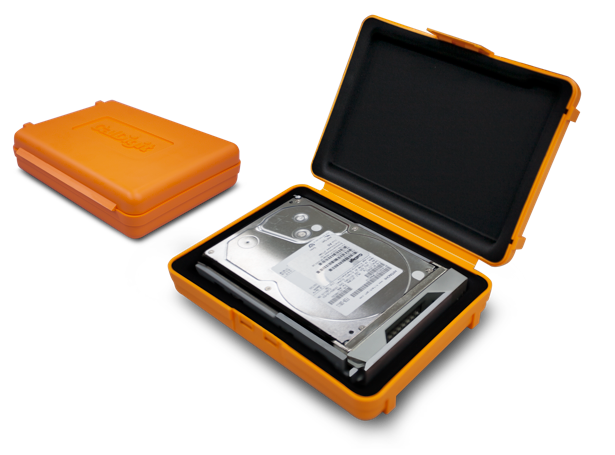 If you go for JBOD configuration CalDigit has archive boxes to safely store your hard drives in the drive sled. Retails for $10 each.
CalDigit T3 specifications:
Interface: 2x Thunderbolt Ports
Drive Types Supported:
RAID levels supported: RAID 0, RAID 1, JBOD
Hot-swappable Drives
Capacity:

HDD – up to 12TB
SSD – up to 2.88TB

System Requirements:

Mac OSX 10.6.8 or later
Windows 7 or later
Computer with Thunderbolt Port

Power Supply Adapter:

AC input: 100-240v-2.0A, 50-60Hz
DC output: 12V-7.5A

Fan Specification:

Size: 80 x 80 x 25mm
Speed: 1500 R.P.M.+/-10%
Airflow: 22.5 CFM (ft3/min)
Noise Level: 17.0 dBA

Dimensions (H x W x D): 4.5 in (116 mm) x 5.3 in (135 mm) x 9.5 in (242 mm)
Weight: 6.10LB / 2.76Kg (SSD x3); 9.98LB / 4.53Kg (HDD x3)
Warranty: 1-year limited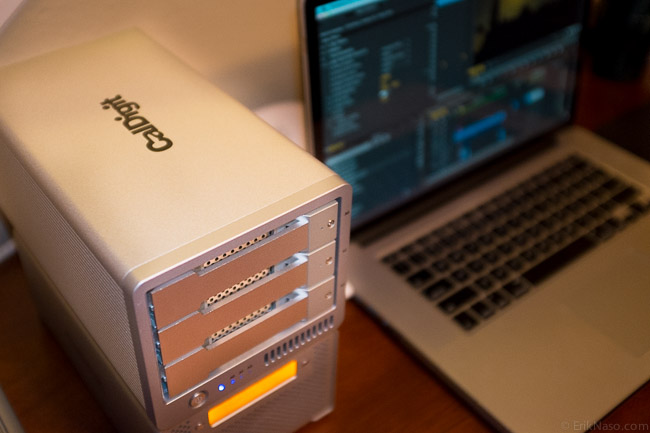 I like the CalDigit T3 a lot. It's nice to look at as well as screaming fast for demanding large files. Having the extra bay is a nice touch if you want both speed and one swappable disk you have that option. With Thunderbolt the bottleneck of pushing and reading files is over until the next storage media gets even faster. I have had very good experiences with all my CalDigit products from eSATA Mac Pro cards, eSATA and Firewire express cards as well as hard drive enclosures like my VR, and the T3 is right up there in what I expect from CalDigit.
The T3 delivers but has a few cons.
It would have been nice if a Thunderbolt cable was included. I know they are fairly expensive still but would have been nice.
The ability to buy the case empty for the thrifty storage user.
A little longer warranty than one year since the drives are not swappable without breaking the warranty.
Pick one up at the CalDigit Store On Amazon
_encoding=UTF8&camp=1789&creative=390957&field-keywords=CalDigit%20T3&linkCode=ur2&tag=eriknasocom-20&url=search-alias%3Daps" target="_blank">AMAZON LINK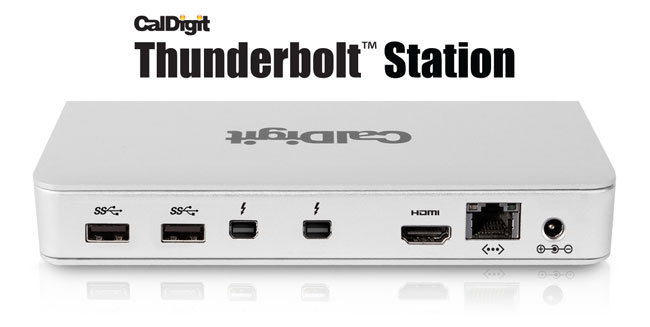 Another cool new CalDigit product is the Thunderbolt Station. Check out what it can do.
Expand your connectivity to up to eight devices with a single Thunderbolt cable
Dual Thunderbolt ports allow users to daisy-chain up to five devices
Three USB 3.0 ports for blazing 5GB/s transfer speeds
One HDMI port for display output
One Gigabit Ethernet port for wired network access
One 3.5mm Audio Input Jack and One 3.5mm Audio Output Jack
Follow me on Twitter @eriknaso and check out my page on Facebook.
Thanks for coming by! Please help support my site by using the links on this page or bookmark these from my favorite retailers, B&H, Adorama, Zacuto, Amazon.com & Think Tank Photo. Using the links cost you nothing extra, but it helps offset the cost of running my blog. Thanks again for coming by eriknaso.com!
Filed in: 4K • Post Production • Premiere Pro • Video Editing
Tagged with: CalDigit • HHD • Photography • RAID • RAID0 • SSD • Storage • T3 • Thunderbolt Station • Video Editing
I'm a broadcast DP In San Diego. I enjoy sharing what I'm working on and testing new equipment. This blog is also part of giving back. I've learned so much from so many people.