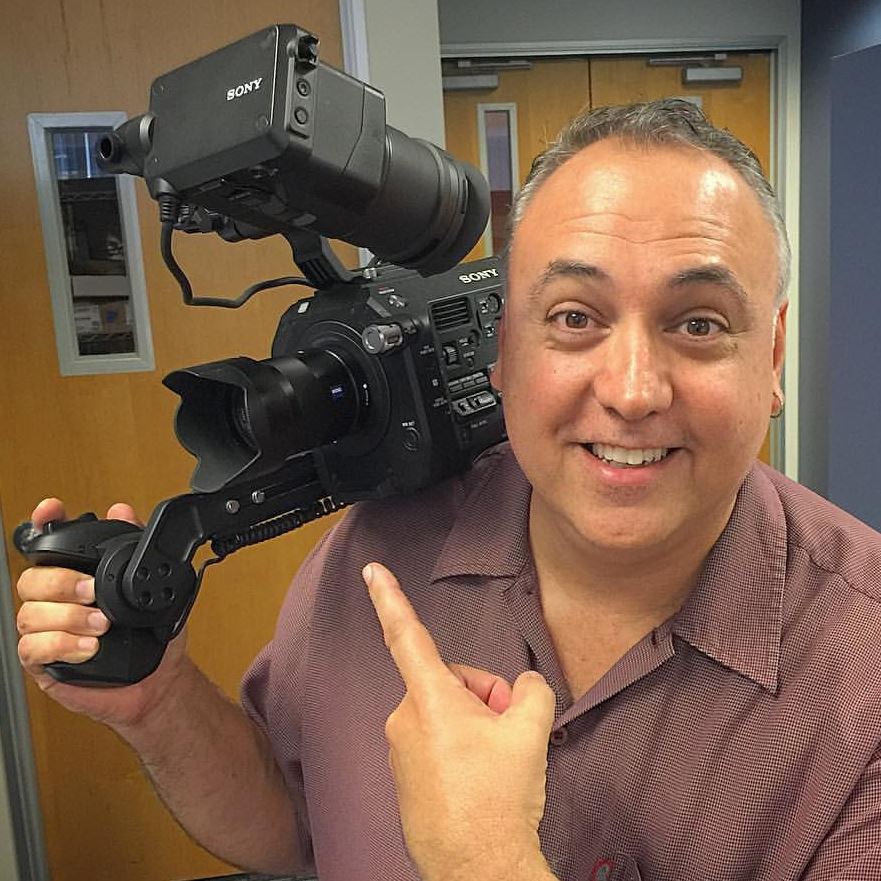 The most asked question is "What camera should I buy ?" And I've been asking myself that question since I sold my C100 several months ago. I got a lot of use out of my C100 and it was a really great camera. Wasn't perfect. Nope. Never expect to find 'the perfect" camera. It just doesn't exist but you sure can find the "right" camera if you break down what you need. Hopefully by explaining how I picked the Sony PXW-FS7 you can apply this method to yourself when that time comes.
First and most important question to ask yourself is…..
How much can I afford to spend?
Don't fall into the trap of spending a lot of money on a camera. If you can't afford it or the payments/lease are high and the camera cant make you money to pay it off it's not a wise purchase. This is of course only a real concern if you are a pro and by "pro" I mean you get paid to create content with these tools. We have so many camera to choose from now and the cross over into UHD 4K makes it tough to decided if it's worth getting into the new format. Again this matters only if your clients care about 4K deliverables. For creative reasons you might want to shoot UHD and edit in HD so you can reframe those interviews or shots in post. Please for the love of god! Don't edit a punch in back to back. It looks like a jump cut. My suggestion is to come back to the tighter shot after some b-roll. Then it looks so much better.
Okay, back on track. If you don't want to shoot in UHD or 4K you sure can save a lot of money by getting a used C300 or other very good HD cameras. I'm a huge fan of used gear. I bought my Sony PXW-FS7 used. Saved me money so I can afford the other bits I knew I would need. Another advantage of buying a camera after it's been out for almost a year is the bugs get worked out before you get it. This is true for the FS7 for sure. Lots of issues are fixed now and a new update is coming that will add more features. Being on the bleeding edge isn't always fun. Early adopters will tell you how difficult learning a new camera and it's quirks while trying to actually get some work done is.
How much does the camera cost to get it shoot ready?
Media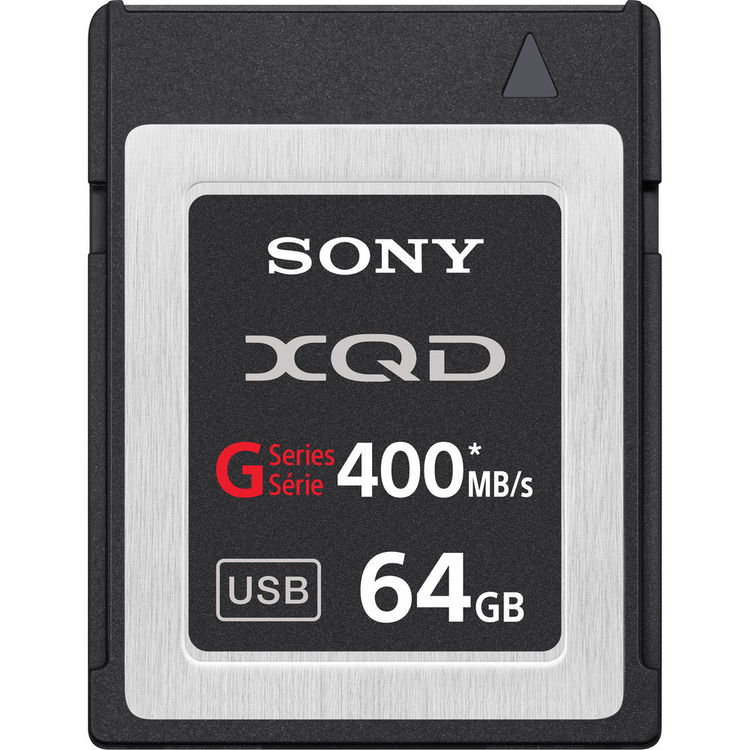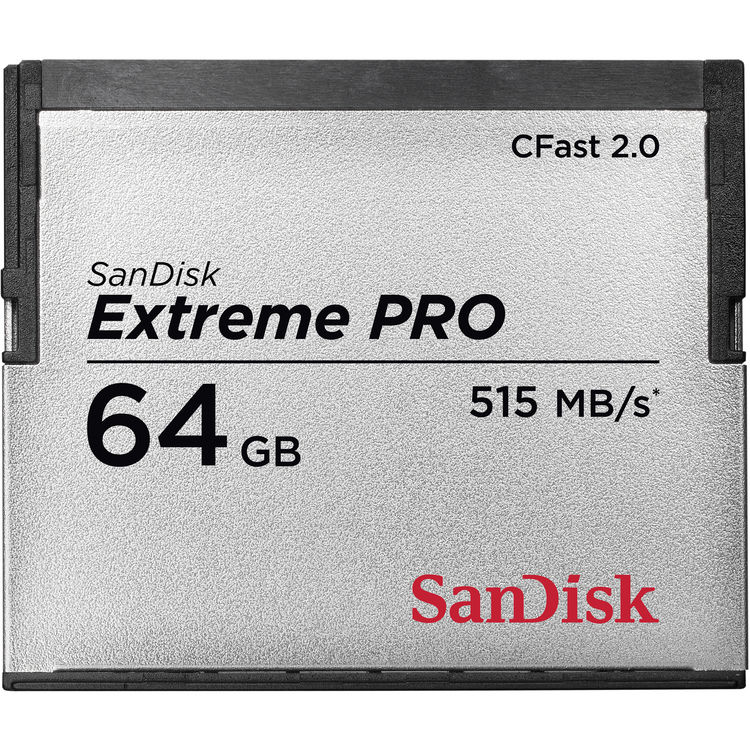 Oh boy! This is a big one and it's overlooked a lot. The FS7 isn't out of the box ready. Pretty close. It's no Red Camera. It needs media and those XQD cards are expensive. A Sony 64GB G Series XQD cost $266. The 128GB are $550. To get up and running for about an hour of UHD in XAVC I footage you need 128GB. URSA Mini and C300 MKII use CFast 2.0 media. Again not cheap. SanDisk 64GB Extreme PRO CFast 2.0 Memory Card cost $220. The good thing with CFast is the price will go down as more cameras and devices use them. I don't think Sony XQD will trend as fast. Lexar ($234 for 64GB) makes XQD as well but the price difference isn't that much lower and they don't have the ability for error correction in the camera like the Sony versions plus the G Series reader (Now discontinued) from Sony I hear doesn't work so yep. You need to buy a Lexar card reader. All the new Lexar 2933x cards work fine.
Batteries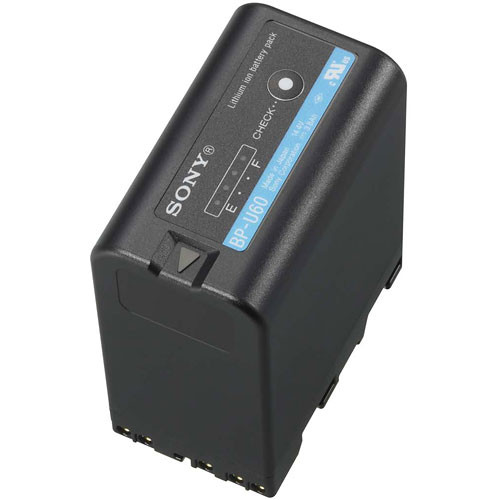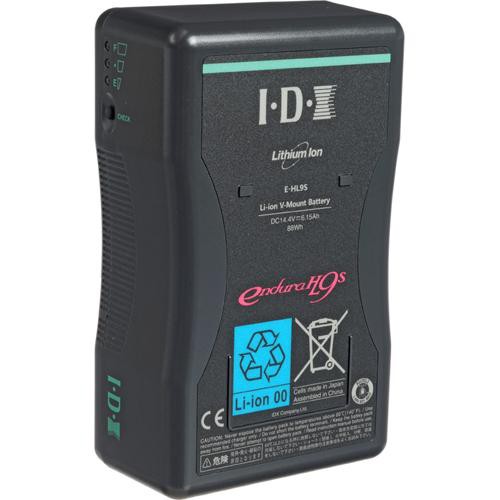 Batteries are also expensive. Research the cost. Some camera like the URSA Mini can use the larger V-Lock or Gold Mount. The are heavy and expensive too. Third party Chinese cells are becoming more common and they are pretty good. I have a few I bought for my Aputure Light Storm LS 1S. The new Canon C300 MKII uses a new battery so if you had a C300 you still need to buy a few of the new models and they cost from $300-$500 each. Sony has been pretty good with using existing model batteries in new cameras. The FS7 uses the same BP-U60 Lithium-Ion Battery the Sony EX1 uses. These cost $270 and last a long time. Third party chargers are also very affordable. Charging one battery at a time takes to long so I recommend getting a second one and the Watson Duo LCD Charger for BP-U Series Batteries looks really nice for only $69. Another very inexpensive dual charger is made by Kapaxen Cost only $39.90. I have one on order. The FS7 can't use the Watson branded batteries due to the missing chip that the FS7 requires for battery communication with the camera, but the charger will work for Sony branded BP-U's I'm looking at 3rd party battery solutions but getting the Sony's might be a better way to go.
I recently found out that a few third party batteries actually do work with the FS7. The problem with batteries that are advertised to work with older Sony cameras like the EX1 is Sony uses a special chip in the battery now to communicate with the camera. If the battery doesn't have this chip the FS7 wont recognize it. It looks like the Wasabi Power BP-U60 batteries do work. I have one on order and will fully test it. Another I ordered is made by Kastar. Also advertised to work with the FS7. The Kastar has a longer shipping time so testing on that one will be in December. Both these batteries cost $79. Thats a significant savings over the Sony models. As for Wasabi Power I have had great success with them in the past using them with GH3 and GH4 and devices that use the Canon LP-E6 type. I remember when the GH4 first came out Wasabi Power took some time before updating the chip and then it worked just like the OEM.
Rig? Do I Need One?

This part is hard. We all work differently. Some of my friends have to shoot off the shoulder handheld 90% of the time. This makes it tough if you want to shoot with a large sensor camera. For some reason when you move away from a 2/3″ broadcast cameras all the ergonomics go out the door. I have no idea whats up with that but it's really annoying. you can easily spend the same amount on bits of rigging than you spent on the camera itself. This is crazy town! When I get a camera I use it for a while and figure out what I need to do to make it work better for me. The hybrid cameras are a real pain. We end up with pounds of rigging to try and get all the bits on it and then want to get it on the shoulder! Just know that if you go the hybrid route it's going to cost a lot of money and time figuring out how to make it work like a proper video camera. Been their done that and still doing it 😀
I haven't had the FS7 long enough to figure this out but I know one. The camera is laid out pretty well and I could use it as is handheld for short shooting situations but for extended shooting I think I need to make some adjustments. One thing I'm going to get is a longer arm for the grip.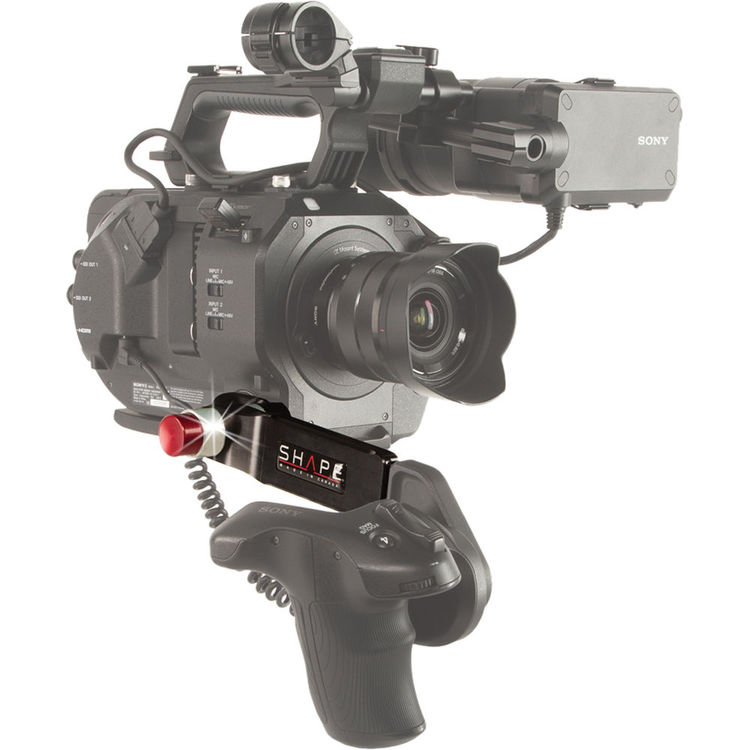 The SHAPE Sony FS7 Remote Extension Handle looks like a must have. The stock arm is not a good design since you need a screw driver or a coin to loosen not one but two screws so it can be extended. Ugh. The Shape is longer and requires no tools to lengthen. It also has a button on the rosette to move the grip arm from the cameras rosette. Baseplates are expensive. Getting a camera on your shoulder changes everything. Cameras like the C300 require more than just a baseplate like the Zacuto VCT which is very good. You will need a EVF and grip relocator of some kind. Add all this in and it could cost $4K for all the bits. The FS7 so far seems to be fine without a EVF. The loupe works very well so I'm not going to use an external one. I love the Zacuto Gratical a lot so if I was going to add one it would be the Gratical X or the fully loaded HD model.
If you're looking at a bigger camera you might need a beefier tripod to go along with it. Most cheap tripods won't cut it if you like to pan and tilt slow and smooth. This topic could be a post in itself. Just expect to spend around $1500 and up for a tripod worth owning. The one you choose depends on the weight of the camera. This is important. If the head can't be counter balanced the camera could fall very easily and that could be a disaster.
Benro to me is the best of the least expensive. Some Manfrotto systems work okay but I've had issues with them. Maybe they're better these days. Check out Benro's line of heads. If you already have a good set of legs you could upgrade the head. 75mm bowl tripods are great. 100mm bowls are more expensive. You could get a 100mm set of sticks and use an adapter to get a 75mm head on it. This could be good for versatility going from a small to heavy setup. I use 75mm systems personally. A Gitzo carbon fiber tripod and a Benro S8 head. I need to test the Benro S8 still It should work but probably pushing it a bit. The Miller Compass I have at work is superb!
Lenses
Will your lenses work on the shiny new camera you're looking at? I've pretty much moved to Sony E-Mount with the A7s II and now the FS7 and using the expensive as hell Metabones adapter for my Canon E-Mount lenses are disappointing. If you want to have some camera auto features working like Auto Focus the adapters just aren't good. I love the the quick one shot AF button on both the Sony and Canon cinema cameras. It's great when it works and it works best with native lenses. With the FS7 and Canon lenses it's really bad. 99% of the time it doesn't focus on the subject. Be prepared to shell out if you want to change from Canon to Sony mount. If AF isn't your thing manual lenses with adapters is a very inexpensive solution. If Auto Focus is important to you then the Canon Cinema cameras with the Dual Pixel AF is the best out right now. Sony doesn't have that type of system yet. I'm sure they will.
 Accessories
Outside of rigs most cameras need a few bits to work better. Take the URSA Mini. It's just a body so you should get the very nice Blackmagic Design URSA Viewfinder $1495 and Blackmagic Design Shoulder-Mount Kit $395. These are a must have for the URSA cameras. When it comes to a Red camera you will be blown away by how expensive it is for accessories that are essential. DO YOUR HOMEWORK. I think people get burned when they step into the Red ecosystem not understanding this. They are great cameras and the new Raven looks really nice but the Raven is no different than any other Red camera. Expect to shell out a lot of cash. I do see a few upgrades for the FS7 in my future. Some cheap like getting a longer rail on the LCD mount and the Shape grip extender.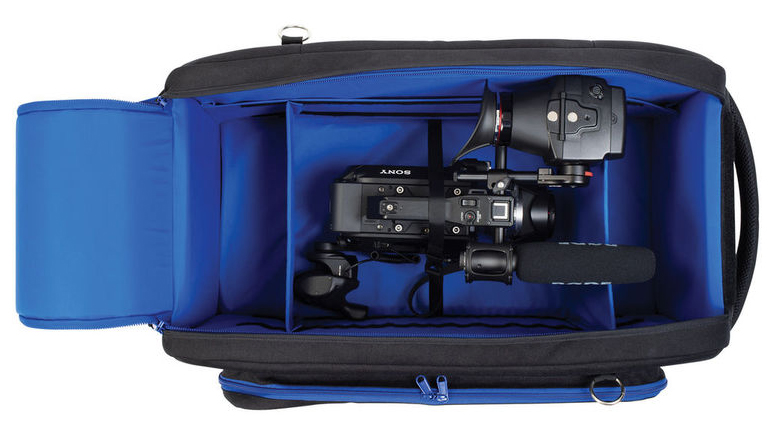 It seems every new camera just doesn't fit in your old bag. I'm now looking into a new one that will hopefully fit with the Loupe and grip attached for faster setups. camRade run&gunBag XL look very promising. I got some good advice to not have a lens attached when transporting the camera. Some users have broken the FS7 camera mount. I've never heard of this happening with other cameras but I'm definitely taking note and will play it safe.
Training
I'm a big fan of tutorials and the Doug Jensen Sony Master Class on the FS7 looks really great. I watched the introduction video and I will be buying the 6 hour training series to get up and running fast. Great news! Vortex Media is offering a special discount to eriknaso.com readers. Save 20% on a 6 month rental of the FS7 Master Class. Use promo code "GEARHEAD23″ I only have 50 available and the promo code will expire on 12/1/15 but you have a full six months to use the training. The training is on demand streaming using Vimeo. You can watch the videos on any device that has internet access. Enjoy! 
Why I chose the Sony PXW-FS7
Ah yes. I made you read this 2000 word post to the end to sum it all up.
The one big problem I have with cameras are the codec they use and I wanted a internal codec that was more robust than 8bit 4:2:0. That wipes out a lot of cameras off the list right their. I did the C100 with Ninja recorder thing. It's a pain. More batteries and media to deal with plus rigging it to the camera made it tough to handle especially for handheld. The FS7 internal codec is very good. 10bit 4:2:2 XAVC-I. Looking forward to grading a 10bit source file. Ergonomics are important. The less I have to rig the better.
I wanted better quality high frame rates. Sony cameras have some of the best in class. I wish Canon would offer more but that's not their thing.
The FS7 is more ergo friendly than most large sensor cameras out right now. Not perfect. The URSA Mini is right their with it. Maybe even more so. Since we are talking URSA Mini. I really like the idea of the camera a lot. Why didn't I get one? Because the camera has no shipping date at all. Constantly getting pushed back and as of writing this post it's still unknown when it will ship. I don't expect to see it ship this year. Blackmagic cameras are infamous for bugs and missing features when they ship. This means even if I got one in 2016 it might not be ready for professional use for several months. I cant beta test a camera on a shoot that I need 100% dependable image quality. I can deal with camera quirks but not fixed noise patterns and black sun dots. Yes Sony had issues and so does Canon but Blackmagic Design is worse. If you are waiting it out for the URSA Mini 4.6K all the same pricing applies to it as the FS7 and C300 MKII. Media and batteries are going to add a lot to the overall cost of operation.
As I talked about at the beginning of this post price is king. I cant afford a $16K C300 MKII plus the added media and batteries makes owning it very expensive. The C100 MKII has to many missing features to me. The Sony FS5 codec is okay but it's still 8bit in UHD. As a HD camera it's 10bit. Very nice. I do think the FS5 will be a huge hit and I recommend it for a DSLR shooter looking to move up. It's really perfect as a B-Cam too. Small light and gimbal friendly. Just don't turn it into a mess with a rig and such. Use it as it was intended. A light fast run and gun camera. I know many are going to turn it into a beast anyway just like a DSLR. Don't do it 😀
The Sony PXW-FS7 is priced very competitively at $8K. Heck find a used one like I did and save even more. It has a nice codec and doesn't require a lot modifying. It checks off a lot of boxes for me. Im looking forward to putting it to work. I hope this article helps you plan how to find the right camera for you. It's a big decision and requires lots of homework. Get what you need instead of what you want. It's not easy, but in the end you will have made the right decision.
Follow me on Twitter @eriknaso and check out my page on Facebook.
Thanks for coming by! Please help support my site by using the links on this page or bookmark these from my favorite retailers, B&H, Adorama, Zacuto, Amazon.com & Think Tank Photo. Using the links cost you nothing extra, but it helps offset the cost of running my blog. Thanks again for coming by eriknaso.com!
Filed in: 4K • Featured Post
Tagged with: Benro • C300 • Cameras • Erik Naso • FS7 • Gratical • Kastar • Sony • Wasabi Power
I'm a broadcast DP In San Diego. I enjoy sharing what I'm working on and testing new equipment. This blog is also part of giving back. I've learned so much from so many people.