Micro Four Thirds Lens Adapters for Canon, Nikon And PL Mounts
MFT Adapters
UPDATED August 26th 2014.
Metabones now has the adapter we all have been waiting for if you have Canon EF lenses. Check out this post and get your wallet out!
If your buying or just purchased a Panasonic GH3 , AF-100A or even the new Blackmagic Pocket Cinema Camera and have a few Nikon or Canon lenses you will need to get a lens adapter to use them with the Micro Four Thirds system. This last year we have seen the popularity of the Micro Four Thirds systems grow and the two big newcomers to the mount is the Blackmagic Cinema Camera with Micro Four Thirds Mount and the newly announced Pocket Cinema Camera .
As you can see by the pictures Micro Four Thirds has a very versatile mount making your choices of lenses huge. You got to love the ARRI 18-80 on the Pocket Cinema Camera!
I have tried several different models and have found that for the most part you get what you pay for, unfortunately you really pay a high price for the better ones. The best ones cost $300 to $400.  Unfortunately there are no mid-priced adapters available that I know of,  and the lower cost versions cost $25 to $40.
Here is the list of my favorite Micro Four Thirds adapters that I have put to the and a few new finds as well.
For the budget conscious the Fotodiox line works fine, but the lenses don't fit tightly and they will wobble a little, but the performance is good and nothing negative happens to the image.
Fotodiox also has a Nikon G version for non-manual lenses (shown above), however the ring is rough when rotating and is loose on the camera–not good if you are rolling while adjusting the iris.
My favorite:  the Novoflex NFT/NIK.  This Nikon G version allows you to control all Nikon G and manual lenses. The aperture ring is very smooth and it fits nice and tight on the AF-100 and GH2 camera. The iris response is quick or short. It doesn't take much of a turn to adjust the iris. I would like it better if it had longer play while rotating the iris dial.
For Canon EOS,  Kipon ($199 from Ebay) is the only game in town. You can get adapters from Fotodiox and others, but there is no way to adjust the aperture with the adapter, it just mounts the lens on the camera. The Kipon has iris blades built into the adapter that sort of acts like the aperture on a lens. It has numbers on the dial that go from one to six, but the markings are meaningless. I tried it on a f4 EOS lens and it vignettes before changing the exposure–not good.  It might work better on faster lenses.
Adapters for Canon EOS lenses are not electronic and will require a special adapter with the electronics built into them so they can talk to the camera. Birger Engineering and Red Rock Micro are working on adapters for EOS lenses and they look very promising. In fact RedRock Micro has the LiveLens and is available today. The Birger is estimated at $700. They will give full electronic control of the lens with the camera–that will make a lot of people very happy.  EOS L lenses are the cream of the crop from Canon. For now, you can get the Kipon with iris blades for fast EOS lenses, or a non-iris controllable Canon to a micro 4/3 adapter so that you can use it on the AF-100, but with no aperture control. A trick is to set the aperture with your EOS camera and hold the preview button down while releasing the lens from the body–that holds the aperture to where you set it.  For now, that is the only way we have to control the iris. The best place to get the Kipon is on Ebay. The Fotodiox and Novoflex are available from Amazon. Fotodiox makes a lot of different models for almost every lens and Amazon has a good selection. I tried to find the most common ones and put them in the adapters section in my aStore. Please help support my site by using the links to purchase from Amazon.
Other brands that work well are Adaptimax, which is the most expensive costs at £265. ($430.) from Adaptimax direct or $379. from B and H Photo Video. The Adapimax has a screw that rotates and adjusts the iris. Other users have tried it and say it fits tight and works very well.  Voigtlander makes  adapters with no aperture control for Nikon F, which costs $179. These fit tight with no issues.
Active lens Mounts For Canon EF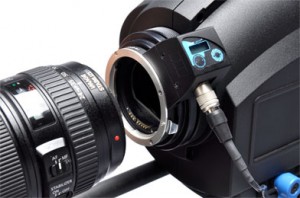 RedRock Micro LiveLens for EOS MFT cameras
 RedRock Micro LiveLens For EOS Lenses
RedRock Micro is the first to market with the LiveLens for Canon EOS Lenses. A MFT adapter with built in electronic iris control for Canon EOS lens. This is a big deal! You can't control the iris with a "dumb" adapter and now you can for around $500. I thought Birger would be the first but it seems they are going bigger in features so its taking longer.
One thing that sticks out is the 9V powered Battery pack that attaches to the lens mount with a cable. You have to use double sided tape or velco and attach it to your camera. More cables/batteries on the camera turns me off a bit but a small price to pay if you have many EOS lenses that you cant use.
Info from RedRock Micro website.
"LiveLens active lens mount for Canon EF lenses is the first lens mount for 35mm adapters that let's you control the aperture of Canon EF lenses. By simply attaching your Canon EF lens and pushing the open/close buttons, you can set the EF lens' aperture to any stop in increments of 1/3 stop (depending on lens and aperture range, adjustments may be up to 1/5 stop increments)."
Includes:
LiveLens active lens mount
9V power cable for powering LiveLens
MTF Canon EF Control Unit
This active adapter requires a separate purchase of the control unit so the price goes up a lot to around $1000. I haven't seen one before but the control box looks kind of big and I'm not sure how you mount it for handheld use. On a lock down shot it would be fine. The adapter changes the iris in 1/8th stop-increments.
As of 3-6-2013 still no Micro Four Thirds electronic adapter for Canon lenses have been released from Birger Engineering. I think it's safe to say it's not going to happen however with the Blackmagic MFT mount cameras they might have more interest in getting the adapter to market.
PL Mounts
Hot Rood PL Tuner Kit
Recently I have been renting Zeiss CP.2 PL mount kits for a few shoots. I love these lenses! The focus and iris controls are so smooth with fantastic image quality. These are the first PL mount lenses I have ever used and the rental came with a Hot Rod Tuner Kit. It's a nice setup but if you own a good baseplate then purchasing the kit at $1400 might cost you more than you want to spend. The only drawback I found is the lens support. It screws into the PL adapter which makes it harder to change out the mount when using a Nikon MFT adapted lens or a native MFT lens. You need to unscrew the mount then take it off. Not a big deal and with some practice I'm sure you would get used to it. The Hot Rod is a very well built PL adapter that works perfect with the AF-100 without shims. This is a big deal.  Lenses will be spot on when using the distance markings for focus on cine lenses. If you use a Sachtler tripod the foot on the base plate fits right in the quick release so no need to attach the Sachtler plate to the Hot Rod.
The Vocas.
The Vocas PL adapter with lens support is the one I own. It's a very well milled piece of kit that holds a PL mount lens nice and tight. I like the design of the lens support. It attaches to the rails and the adapter as opposed to also the base plate, so no need to replace yours if you have one you like already. The support is a ring that clamps on to the mount and is then tightened down with a knob.  The knob can be pulled up and reset if it's a tight fit on the camera. Works great. The support also uses two flip up clamp lock. Really fast to take off, just flick the release and its unlocked. I wanted to see if I could mount my Novoflex Nikon adapter on without taking the PL support off and it does work fine. Thats great for faster lens changes.  Native MFT lenses are a different story. The support needs to come. However, taking the whole adapter off is pretty fast.
Red Rock Micro Nikon to Canon Adapter
This one isn't a MFT adapter but I wanted to add it because it's kind of cool. I haven't tried it yet but the reviews are good and its solid.  The adapter has a couple of screws so the adapter is  tight on the mount and doesn't have any play. Thats a common issue with adapters. Comes with mounting screws and wrench. Retails for $35 or 3 pack for $99.
If I get my hands on other brands I will update this post.
Thanks for coming by! Please help support my site by using the links on this page or bookmark these from my favorite retailers, B&H, Adorama, Zacuto & Amazon.com . Using the links cost you nothing extra, but helps offset the cost of running my blog. Thanks again for coming by eriknaso.com!
Originally Published on: Sep 23, 2011. Revisions are done as new mounts come to market.