SmallHD DP4 EVF Hands On Review
A look At The SmallHD DP4 EVF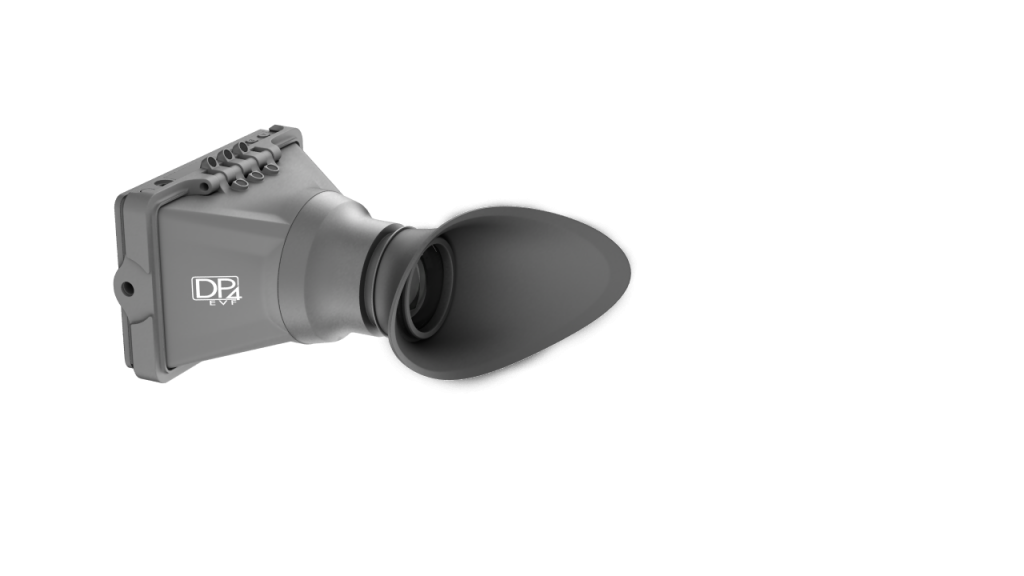 I just got this really nice SmallHD DP4 EVF combo and used it last week on a Panasonic AF-100. I'm not going to go deep into all the specifications of the DP4 EVF. I wanted to talk more about using it in the field and my first impressions on the product. I purchased the DP4 EVF so these opinions are mine.
The AF-100 as well as other cameras with similar build have very average viewfinders and LCD screens. Thats the trade off for affordable digital cinema cameras. The RED Bomb EVF costs $3200 and it only works on the RED camera. Well, we now have choices for this much need tool at a fair price.  I purchased the SmallHD DP4 EVF because I felt the price was right and the company has a great reputation for customer service. I found that out first hand. My DP4 had some dead pixels. Bummer. I emailed SmallHD and the next day they sent out a replacement as well as a shipping label for UPS. Very nice. The replacement did have the older V1 firmware but since all SmallHD monitors have user updatable firmware all I did was download the V1.1 and update the monitor via usb input. I appreciate it when a product can get better after you buy it.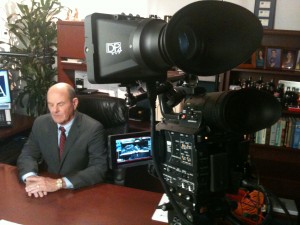 Small form digital cinema cameras have a viewfinder in the back of the camera. Getting the camera set at eye level for a standing interview usual means I need a box to stand on to look into the viewfinder that's on the top back of the camera. Shooting with the LCD screen is also problematic for critical focus. I can't trust it. Focus in red is helpful and I do use it in the stock EVF.
The solution is getting a external EVF. These little screens with flip up viewfinders are the newest thing for smaller cameras and dare I say less than perfect cameras without proper viewfinders. Don't get me wrong I love the AF-100 and the viewfinder is OK but doesn't compare to a proper viewfinder on a ENG camera. The EVF doesn't replace a external monitor only adds to it.  I now leave the waveform on in the LCD screen and use the EVF for focus and overall viewing. My external monitor is now a client monitor. After using the EVF I can't imagine shooting without it. Boy does this give you confidence in what your shooting. I had the EVF mounted to a Noga arm using a 1/4 20 in on the camera. The first time I stepped up to a perfectly aligned height EVF at my eye level was simply awesome. I believe an EVF is now the first add-on for any camera I use. No more hunching over for sit down interviews. My back is so happy!  The DP4 EVF is a great solution.
I purchased a set of diopters/close up filters before receiving mine because I'm a bit farsighted. When the unit arrived I was ready to screw it in but to my surprise the strength of the stock diopter was fine. Go figure. The screen is very bright and has plenty of room for adjustment. I can see bringing it down for indoor shots then set higher for outside sunny locations. Speaking about sunny locations it seems all these EVF's have a tendency to magnify the sun into the viewfinder and possibly burn the screen. Remember when you where a kid and played with a magnifying glass and burned bugs or paper. Not that I did either one of those things. So be careful! I hope SmallHD figures a way to prevent this from happening with some type of fix but for now flip it up or cover the viewfinder outdoors.
The LCD image is really sharp. I have to say I was surprised by how good it looks. They really packed a lot of pixels in this small monitor. I can get good critical focus with the focus assist as well without it. I kept checking by going back and fourth and its worked well. I enjoyed using The DP4 so much as a EVF I never flipped it up as a monitor.
The menu is pretty straight forward and has lots of options as well as simple to navigate. To access you click down on the scroll wheel then scroll for options. Easy. False color, focus assist and are default on the two preset buttons. The size is nice . Its a 4.3 inch 800 x 480 LED backlit LCD panel with 16.7 Million+ Colors. I believe this is the largest screen for any EVF on the market. One thing I didn't like very much is the rubber eyepiece. Its comfortable but It falls off a lot. Mostly when moving the camera around if the eyecup gets a little bump it will fall off. Not an issue when I'm shooting on sticks but in handheld configuration this could be an issue. I can put it in the second groove deeper on the loop if the lens protective filter is removed. With it on my eye lashes brush up against the lens and that feels weird. I hope a redesigned rubber eyepiece will be available soon. This really is the only weak part of the system and I think this can be fixed some how pretty easily. On DVXuser.com SmallHD asked for input on the eyecup, so I'm glad they want to make it better and I have confidence they will.
I contacted SmallHD about the rubber eye piece and they informed me that a new re-desighned version will be coming out in a week and they will send me the new one as soon as it does. I'm thrilled! Well it showed up and it definitely wont fall off. I attached it to the farthest notch and it solid. My first impression is good. I liked the shape better than the this new one but I haven't tried it out on my rig yet since its broke down. I will in the next day or so and take some more pictures.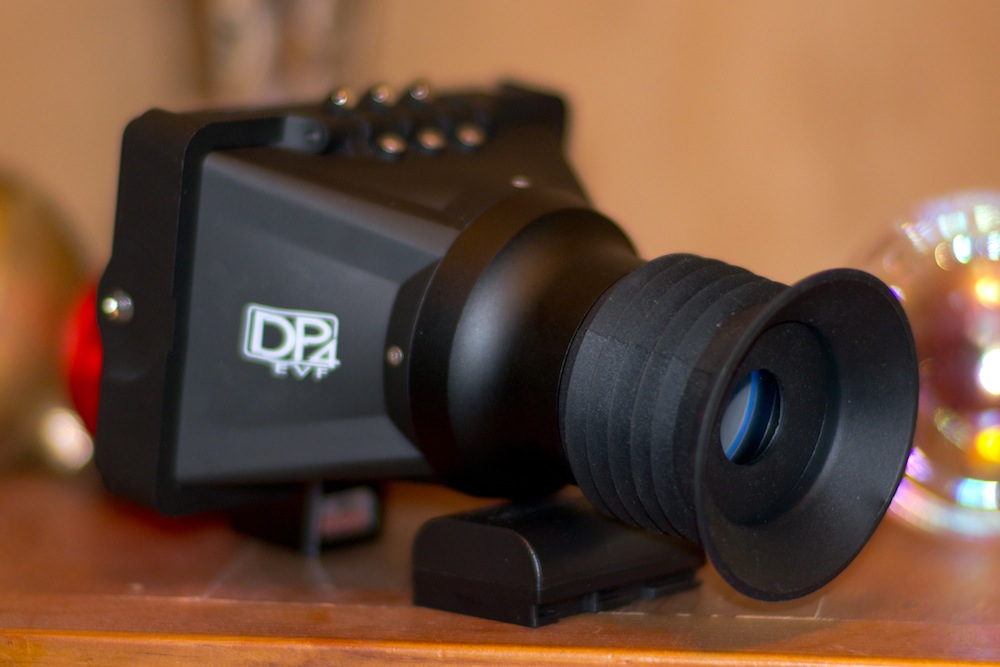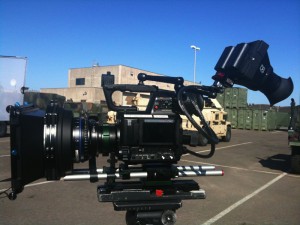 AF-100 with Zeiss CP2 lens and SmallHD DP4 EVF
I had a full day shoot outside. It was sunny and not a cloud in the sky. The shoot was for a new military  reporter image spot. Mainly on camera talent stand ups and b-roll of her reporting. I attached the SmallHD DP4 EVF to a Cardellini Clamp at the first location This version of the clamp has a threaded 3/8-16″ shaft.
The clamp was mounted to a Noga arm that is attached to the rails. The clamp is a sweet tool that I find so many use's for. Look at how it can be configured HERE. The EVF was set up behind the camera at eye level. Just perfect since I was shooting about 90% of the time on a tripod. This worked great. The image in the EVF was awesome. With the sun so bright using a external monitor would be near impossible while shooting. The way I usually monitor outside is to cover the monitor with a large jacket or sheet to create a darkroom. You need a pretty big shade in full sun. I do this for the client monitor all the time. This situation is where the EVF's shine. I used all the various exposure and focus tools to ensure a good picture. I set the camera's LCD to have the waveform just to make sure. It's nice that newer cameras have more monitoring features that only a few years ago was only available in post. Now its just a flick of a switch away. I have to admit I was a little paranoid of burning the LCD so every time I pulled my face away I covered the eyepiece or flipped it up. The EVF worked very well and was a pleasure to use all day.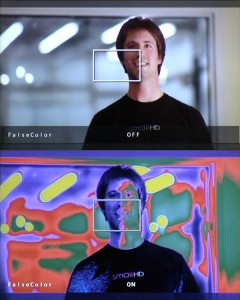 False Color IRE Guide
Purple: IRE  0
Blue: IRE 0-2
Greyscale: IRE 3-97
Yellow: IRE 98-100
Red: IRE  100
Battery And Connectivity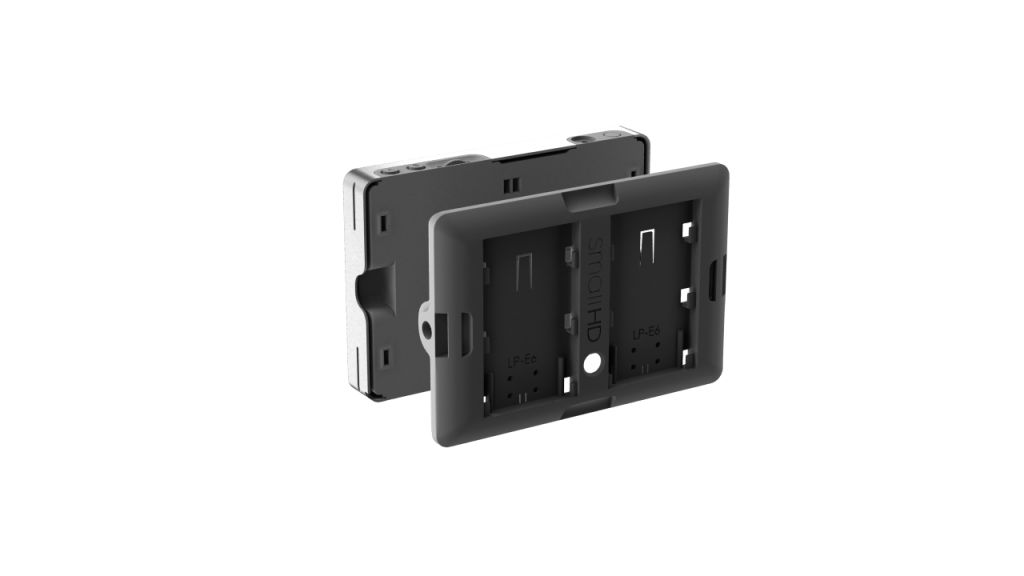 The SmallHD DP4 EVF uses Canon EOS 5DMKII style LP-E6 batteries. It comes with a duel battery plate. Other plates for different popular batteries are now available. I don't have a 5D MKII so I had to buy a few batteries and a charger which added to the cost of the EVF. I went cheap and picked up four batteries and a charger on Ebay from a Chinese seller. Not recommended. Amazon has better batteries and charger options that are very affordable. The Ebay batteries didn't last as long as I was hoping for. I got less than six hours total from the four. Still pretty good considering the size and weight of the LP-E6's. I'm probably going to pick up an extra charger. The EVF doesn't use any of the features that Canon LP-E6 OEM batteries have so no need to pay the extra cost for OEM. A have a gold mount style brick as well so I purchased a D-Tap to Barrel Adapter Cable for a additional $19. Works perfect. Always check polarity with your batteries before using the D-Tap or you could burn up your DP4.
I found this cable on Amazon.com and its fantastic. Takes tension off the cable and end. HDMI was never designed to be used the way we do now so special cables like this make it safer. I would hate to snap off the HDMI end inside the camera or worse.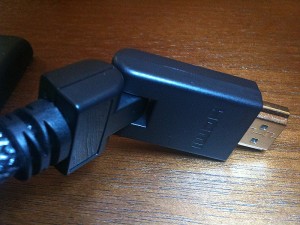 The kit has a bunch of extras included. Component and HDMI cable,  angled HDMI adapter, ac adapter, mini ball head, screen protector and sun hood.

The EVF is a tool I don't think I can do without now that I have used one. It just makes shooting so much easier. I even tried it on my GH2 and wow is that cool. It even helps steady the camera with your face smashed up against the eyecup. I did have some small issues with the ballhead on it but not a big deal. If your going to use it on a DSLR I would look at different mounting options.
I really like the DP4 EVF a lot. Its priced right and you get a lot for your hard earned cash. Hopefully a updated eyecup will be available that wont fall off so easy and is smaller in size. Enjoy!
For some time I have wanted to build a handheld rig for my AF-100 and any other small camera. Now that I have a EVF its time to get seriouse.
Here is a link to this project. The Making Of A Shoulder Rig.
If you have any questions please ask and I will try to answer them the best that I can.
Here is a video that SmallHD put on Vimeo. Its kind of long put has lots of info and the durability test is worth the wait.
Please help support my blog by using this link for Amazon.com. It cost you nothing extra but helps support my blog. Thanks!