My Favorite Nikon Adapter
I received my Nikon to Micro 4/3 Novoflex Adapter MFT/NIK today, and wow what a difference when you use a quality adapter that fits. I've tried Fotodiox and Kipon adapters and they just don't fit right. They're loose and when focusing or changing f-stop the lens wobbles a bit, and if your rolling it will ruin a shot.
Not anymore with the Novoflex, it's nice and tight. Not overly tight – just fits perfect. No wobble at all.
Another good reason to get the Novoflex is that it works with Nikon G lenses that don't have a manual iris. You adjust the iris with the adapter. It works very well. The Fotodiox I have is rough when rotating. The Novoflex feels smooth and has a little resistance to it. Very nice.
I resisted purchasing a high end adapter because of the price. Fotodiox adapters cost around $34.95 from Amazon. Not super inexpensive but still cheaper than a whopping $300.00 for the Novoflex. Don't get me wrong, the Fotodiox works as it should, but you know the adapter is in between the lens and the camera. If you can't justify the cost of the Novoflex the Fotodiox will suit your needs.
Sometimes you get what you pay for and this is one of those times.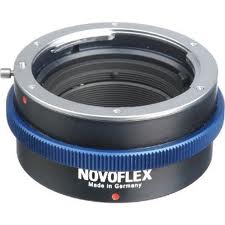 I have lots of Micro 4/3 adapters in my Amazon aStore. Have a look. I tried to find the most popular versions.
Filed in: 35mm Lens • Equipment Reviews • Lens Talk • Micro Four Third Lenses • Nikon
Tagged with: Adaptor • AF-101 • AF100 • Canon • MFT • Nikon • NOKTON • Novoflex
I'm a broadcast DP In San Diego. I enjoy sharing what I'm working on and testing new equipment. This blog is also part of giving back. I've learned so much from so many people.