I have been looking for this product for a long time.  I work with broadcast cameras and tripods that use a Sony V mount plate most of the time, and when I use my AF-100 I have to change the tripod mount to a Manfrotto 577 Rapid Connect Adapter w/Sliding Mounting Plate, or use a second tripod, I usually end up just using a second tripod. Its a pain to change the adapters, you need a screw driver and you have to make sure its mounted correct for balance. Pain.  The Bogan adapters work well, however if you share your non broadcast camera with a tripod that has a Sony V mount wouldn't it be great if you could use the Sony VCT-14 tripod plate?  Well know you can with this Genus GL GAP adapter. From the looks of it you can mount it direct to the camera or to a baseplate with rods for a fully rigged up camera. The plate mounts to the camera with the standard 1/4 20 screw and guide pin that all camcorders have. This plate would never come off my camera, but if I did need to take it off it would be so easy to just have to swap out the adapter and not the baseplate. I have to get one and try it out.
From Genus website:
"The GAP adaptor plate clips onto Sony V mount tripod. This camera base plate adaptor allows small camcorders to be easily attached to Sony VCT-14 camera base plates. Great for use on remote camera heads. Does not include VCT-14 base plate."
Genus looks like they make some nice hardware. I haven't tried them out yet but would love to do a full review of their products some day.
UPDATED 9-28-2011
I finally purchased the quick release plate and it works as it should. It was so nice to leave the Sony base plate on the slider and tripod. If you use a broadcast camera as well as a F3 or AF-100 type camera this is a must adapter for your kit.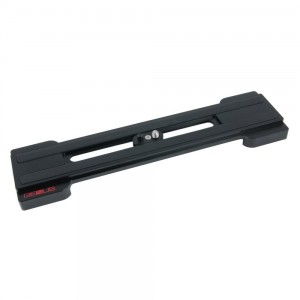 Genus GL GAP Adaptor Plate for Sony VCT-14 Tripod Plate
Please help support my site. If your interested in purchasing the Genus GL GAP adapter its in my aStore. Thanks!
Filed in: Equipment Reviews
Tagged with: Adaptor • AF-100 • AF-101 • AF100 • Base Plate • Genus • quick release • Tripod Plate
I'm a broadcast DP In San Diego. I enjoy sharing what I'm working on and testing new equipment. This blog is also part of giving back. I've learned so much from so many people.