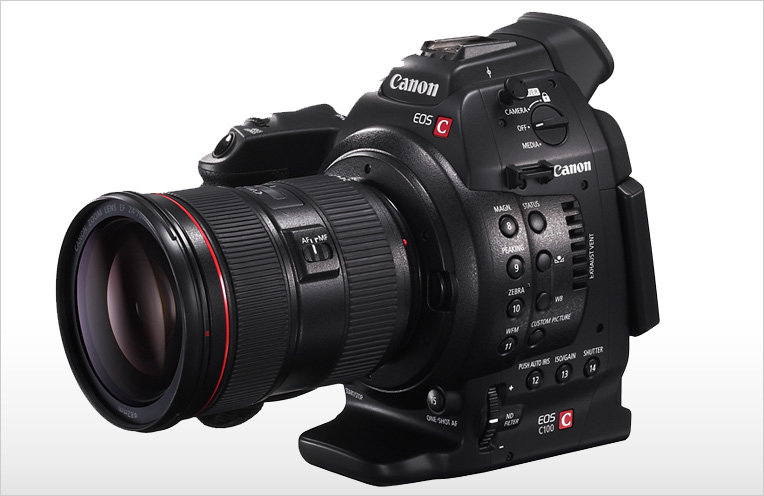 Okay I know what your thinking. Why on earth are you doing a unboxing video. Well Because I'm excited to get a dull black new toy! That's why. To make it a little different I also wanted to share my thoughts on why I decided to get the C100. Have a look and I will add a couple more thoughts then it's time to move on. So much to do!
I have to stress how important image quality is. It's the first thing I look for in a camera. That was what I liked about the AF-100. Not perfect but at the time no camera did what the AF-100 could do. It was a liberating camera that changed the way I shoot. For that I'm truly gratefully to have owned one. It still is a good camera and now you can get great deals opening the door for filmmakers on a budget. If Panasonic had come out with a new model that had "more" I probably would have bought it but that's not what happened. I got some great images from it but it's time to move on.
The C100 and C300 have a great look and practically can shot in the dark with that wonderful 4K sensor. It shoots super clean and has an organic grain to it. Just love it! Now the hunt for some  fun lenses starts! I now have the Rokinon 35mm, 85mm Cine, Canon 24-105 F4L, Canon 70-200 F4L NON IS. I'm considering selling my Zeiss CP.2 85 or swap out the mount from PL to EF. Also have the Duclos 11-16 in a PL mount. It will cost $250. to have them swap out that mount as well. Decisions,  decisions.
Well that's it! I probably wont be doing another one of these again, but hey! not bad for a one take right? All in good fun. If your interested in getting a Canon Cinema EOS Camera I highly recommended you give Terry a call at Texas Media Systems. He did a great job with the financing and made the transaction a breeze. He happens to be a good guy as well. Tell him Erik set you and hopefully he will give you a lens cleaner if you buy a camera from him. (Don't tell him I said that) Disclaimer. I get nothing for the referral only like to share a good experience with you.
Thanks for coming by! Please help support my site by using the links on this page or bookmark these from my favorite retailers, B&H, Adorama, Zacuto & Amazon.com . Using the links cost you nothing extra, but helps offset the cost of running my blog. Thanks again for coming by eriknaso.com!
Filed in: C100 • Camera News • Canon • Canon Cinema EOS
Tagged with: C100 • C300 • Canon • Cinema Lens
I'm a broadcast DP In San Diego. I enjoy sharing what I'm working on and testing new equipment. This blog is also part of giving back. I've learned so much from so many people.