The Canon Cinema EOS cameras are fantastic but they have a strange shape that's like no other camera. The handle on the C100 makes it a tall camera and the handle plus a LCD/audio input attachment on the C300 makes this camera even taller. Although they look funny the handles work very well. Since moving over to these cameras I've struggled to get them into a bag or case. I don't have one that works. I've been looking for a couple of months and I think I found one.
The main specifications I'm looking for is a bag that allows both cameras to be stored with the handle attached. This is the big one. I dont want to take the camera apart every time I pull it out of the bag. That is just a pain in the….. The bag also has to be small enough to easily carry on a cart or even with a shoulder strap. So what did I find?
The Tenba Roadie II HDSLR/Video Shoulder Bag  looks like the perfect fit for my needs. 
Here is the C300 all tucked away in the bag with the handle on. I dont need room for lenses and other stuff in the main compartment since I also have a ThinkTank backpack that I use for my lenses and any other optical related gear. I like the backpack way of carrying the lenses because when I shoot on the move without a bag I only want to carry my tripod and the camera with my hands. If I have a third piece of gear it slows me down. This is for shoot and move situations like going out shooting a review of some gear at a park or busy location.
The bag also has nice big pockets on the side that can hold wireless mic systems and cables. Lots of pockets all around. Even comes with a separate audio tray bag that's designed to sit on top of the main compartment.  With the tall C100 camera the try doesn't fit but still nice to have.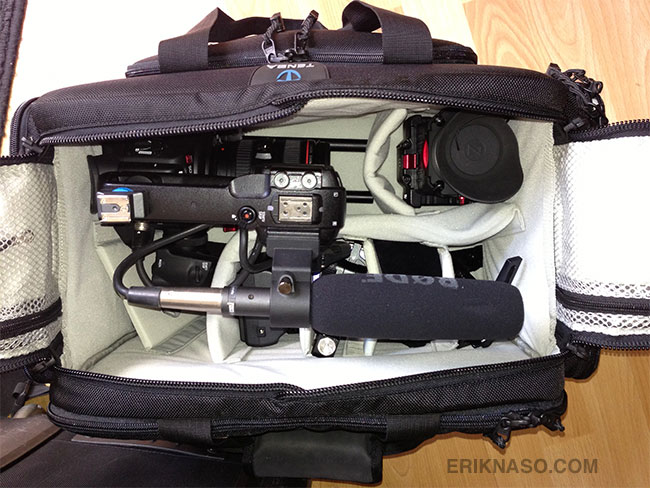 I have my C100 in the bag with a Zacuto Gorilla Plate and rails attached with a Canon 24-105. In front of the camera is a Zacuto EVF. In the second row under the Rode shotgun mic is a charger, follow focus, Ninja 2 and EVF arm. Batteries and some cables are in pockets. I'm still arranging things but I like how it's coming together. I didn't want the bag to be to big and heavy. So far the Tenba Roadie II is working out very well.
Specifications for the The Tenba Roadie II HDSLR/Video Shoulder Bag
Weight
5 lbs(2.3 kg)
Exterior Dimensions
19W X 12.5H X 12.5D in. (50 X 32 X 30 cm)
Interior Dimensions
16W X 11.5H X 11D in. (41 X 29 X 28 cm)
Laptop Compartment
15W X 11.5H X 1D in. (38W X 29H X 3D cm)
Fits most laptops up to 15 inches
Removable Audio Gear Tray — A top audio tray allows quick access to audio gear and accessories like headphones, lav and shotgun mics, recorders and anything else that you need to get at easily. Independent side handles and zippered top cover allow the audio tray to be removed from the bag and used separately, or removed when the full height of the bag interior is needed for large camera rigs and full-size video cameras with matte boxes, follow focus knobs, rails etc.
Built-in Protected Laptop Storage — A rear padded sleeve protects a laptop up to 15 inches, and is quick and easy to open at airport security
Huge, Unobstructed Opening — Allows rails, matte boxes, follow focus knobs and monitors to stay mounted in the bag
Durability and Weather Resistance — The bag is built with the finest materials and hardware, including a weather-proof coated 1680D ballistic nylon exterior, a brushed tricot interior, YKK® zippers, welded steel D-rings and heavily-reinforced stitching
Waterproof Bottom Panel — Keeps the bag dry and protected if you have to put it down on a wet surface
Included Accessories — Includes Tenba's exclusive WeatherWrap removable rain cover, a collapsable water bottle/beverage holder, and a 10-pocket media wallet that fits both CF and SD cards.
Airline Carry-on Compatible — The shoulder bag meets airline carry-on standards
Versatile Interior with Adjustable Dividers — The main camera compartment includes a versatile padded divider kit that can be customized for both DSLRs and larger video camera systems
Side Accessory Compartments — Large zippered compartments on both sides of the bag provide storage for batteries, chargers, cables and other accessories
Front Accessory Compartment — Pockets to organize small accessories like cables, hard drives, filters etc.
Hypalon Accessory Loops — Heavy-duty, Hypalon® loops on the sides of the bag provide mounting points for accessory pouches, carabiners, keys etc.
Rear Trolley Strap — Allows the bag to slide over the extended handle of a rolling suitcase or equipment case for easy transport through the airport
Heavy-Duty, Padded Shoulder Strap — Giant, padded shoulder strap provides comfort and support when carrying large camera systems. High-density foam padding won't compress or break down over time or with heavy use, and oversized clips and welded steel D-rings ensure a secure connection to the bag.
Due to it's shorter length I dont think the camera with a a rig will fit. I will test it out. I dont use a rig very often and would only add a Zacuto Gorilla plate for a follow focus when needed. We shall see.
The bag will be here next and I will update this post with how I configured the bag. And if I really love it I might even do a video review! Ha! If you find a great bag for your Canon Cinema EOS camera please share in the comments section. It has to fit WITH the handle on okay. Without the handle on almost any bag will work.
Thanks for coming by! Please help support my site by using the links on this page or bookmark these from my favorite retailers, B&H, Adorama, Zacuto, Amazon.com & Think Tank Photo Using the links cost you nothing extra, but it helps offset the cost of running my blog. Thanks again for coming by eriknaso.com!
Interested in buying a new camera? Well I have a course on Lynda.com you should watch that will help you pick the right one for the job.

Filed in: Bags • C100 • C300 • Canon • Canon Cinema EOS • Equipment Reviews • Featured Post
Tagged with: Bags • C100 • C300 • Canon • Cinema Lens • Roadie II • Tenba
I'm a broadcast DP In San Diego. I enjoy sharing what I'm working on and testing new equipment. This blog is also part of giving back. I've learned so much from so many people.