Looks like the cat is out of the bag on the new Micro 4/3 Olympus OM-D EM1 camera.
A video was on Engadget then pulled. I dont know the reason why but I did see the video before it was pulled and made some notes from what the Olympus rep said on the video. Here is what we know.
Pro line 4/3 camera with features that customer feedback wanted is in the camera.
Super large Electronic viewfinder 2.38 million dot viewfinder. I'm not sure if the rep got this one right.
Built in grip designed by customer feedback.
Optional battery grip
MMF3 adapter will work with 4/3 lenses.
Superb auto focus. Nearly as fast on 4/3 as MFT. Rep was super excited about the auto focus on the camera.
Slightly larger body but true to the MFT style.
Dust, Splash Proof and freeze proof to 14 degrees.
As with the EM5 the camera has 5 axis image stabilization. The demo looked amazing. The camera was bouncing and once he half held the trigger down the image was pretty solid.
WiFi
The wifi looks really great. In the video the rep shows how it works with a iPad. Tap screen once takes picture. All camera settings can be changed with the iPad via WiFi
ISO
White Balance
Shutter
Aperture
photo style etc. It seems all the most used settings are available via WiFi.
That's pretty much it from the video. No mention of megapixels but rumored to be 16. I like the look of the camera and the features look really good. More coming soon I'm sure. Micro Four Thirds is great format. I enjoy the heck out my GH3 and GH2 prior. They are so compact and light you can take a pretty good size kit with you with ease, and some very good and fast 4/3 lenses are available. No mention of video at all in the video. Cant wait to see what pops up next on the Olympus OM-D E-M1.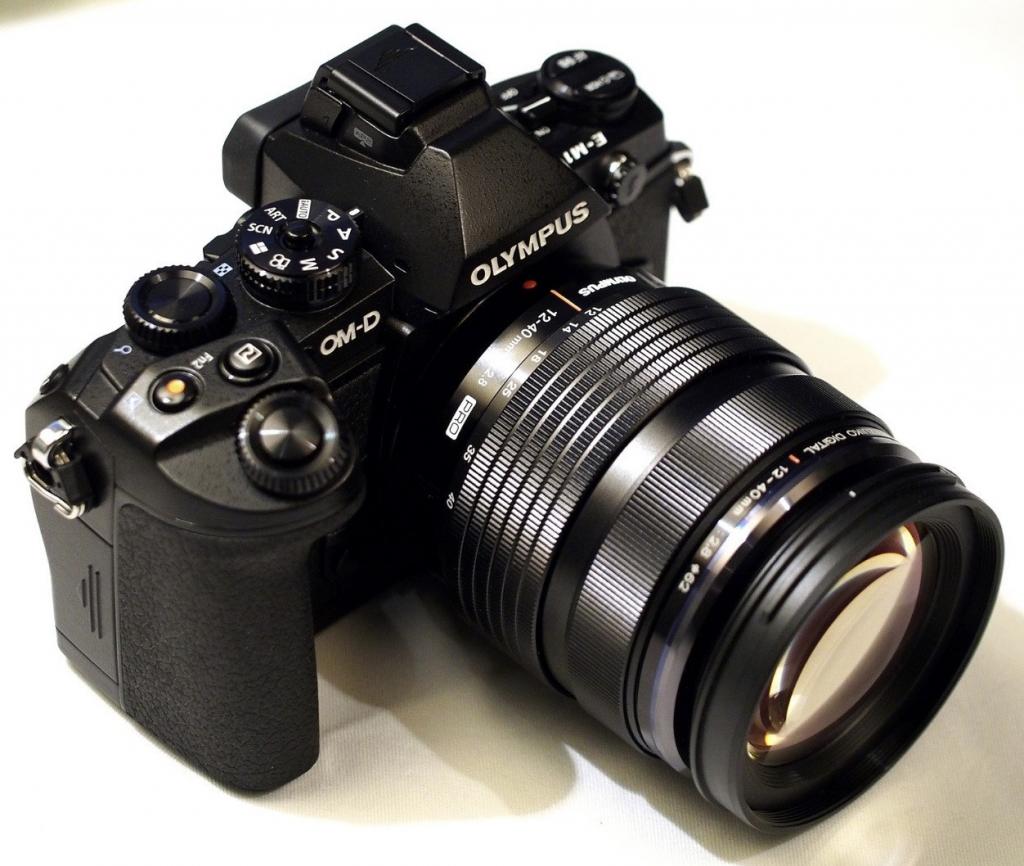 New images and info on the kit that has the new Olympus 12-40mm f/2.8 PRO MFT attached. This is a very high quality lens and makes this kit very nice! Camera and Lens will be announced mid September.
See below for the price information of the new camera and lens kits.
Olympus E-M1 Camera Body Only (with BCL-1580) – JPY ¥145,000 – USD $1,450
Olympus E-M1 Camera Body with 12-50mm F3.5-6.3 Lens – JPY ¥170,000 – USD $1,700
Olympus E-M1 Camera Body with 12-40mm F2.8 Lens – JPY ¥220,000 – USD $2,200
HLD-7 Battery Grip – JPY ¥20,000 – USD $200
PT-EP11 underwater housing – JPY ¥100,000 – USD $1,000
Olympus M.ZUIKO DIGITAL ED 12-40mm f/2.8 PRO lens – JPY ¥90,000 – USD $900
via DI
Thanks for coming by! Please help support my site by using the links on this page or bookmark these from my favorite retailers, B&H, Adorama, Zacuto, Amazon.com & Think Tank Photo. Using the links cost you nothing extra, but helps offset the cost of running my blog. Thanks again for coming by eriknaso.com!
Filed in: Camera News • New Release • Olympus
Tagged with: GH3 • MFT • Micro 4/3 • Olympus • Olympus OM-D • Olympus OM-D E-M1
I'm a broadcast DP In San Diego. I enjoy sharing what I'm working on and testing new equipment. This blog is also part of giving back. I've learned so much from so many people.