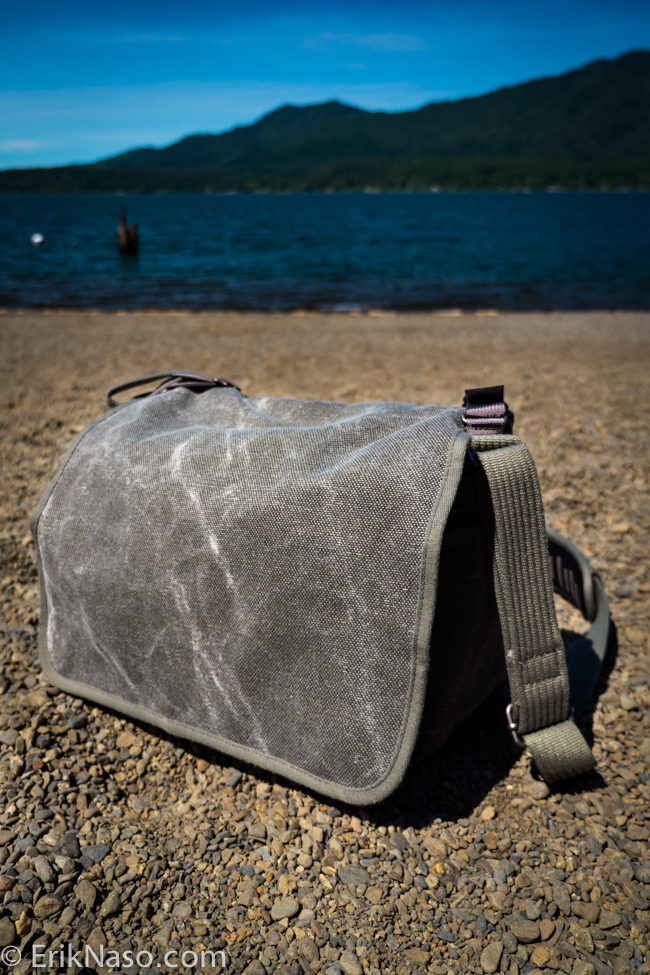 I have a few Think Tank Photo bags. They are very well built and well,  just plane work great! In the past I've struggled with shoulder bags. They tend to be bulky and a hassle to work with, so I used backpacks mostly or rolling bags. These are great for getting you from place to place, but if your shooting on the move, then a shoulder bag, hip bag or sling bag is a better choice. Everybody is different and we all have different requirements when shooting. That's why Think Tank Photo makes a full line of Retrospective bags. In fact, seven different models!  The one I'm reviewing is the Retrospective 7 and it's the second smallest one in the line up.
The Retrospective 7 may be the second smallest, but it isn't small. I can fit my GH3 kit with no issues. I like my MFT system a lot. I have the Lumix 12-35 F2.8 attached and the 35-100 F2.8 in the bag along with the Lumix 7-14 in a divider. The fourth lens is a Voigtlander 24mm F0.95, a crazy fast and crazy good lens. This one is for special situations and I like to have it just in case I need the speed.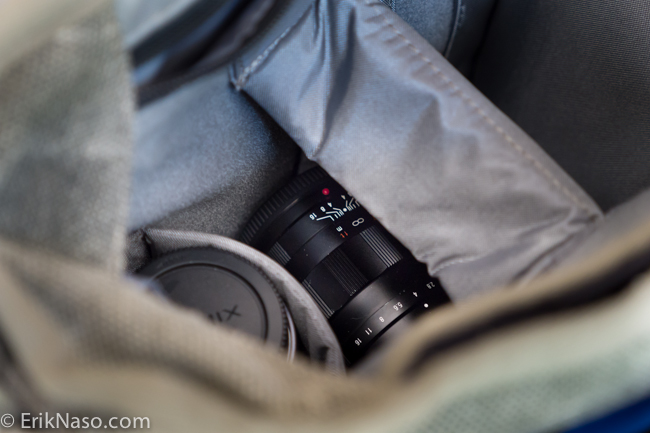 I put the Voigtlander in next to the camera in small space between the divider and camera cradle pad. It's not easy to access, but that's fine because I don't need it to be. The other two are very easy to get to while I'm wearing the bag. The Retrospective 7 isn't just for mirrorless cameras. It can easily hold a full frame camera or standard-size DSLR with 2-3 lenses and accessories. On the back of the bag is a padded zippered pocket that can hold a iPad or a 11" MacBook Air. Seriously! That's pretty cool. I didn't carry an iPad in the bag while shooting on this trip, but knowing I can store it is nice.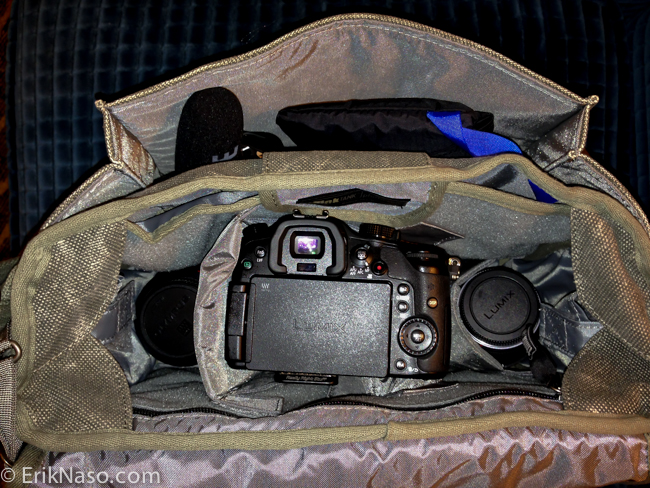 This is how I have the Retrospective 7 filled with my GH3 kit. Two of the dividers have a hinge sewn in, to bend it to get the perfect cradle style fit. I bent mine, so I can grab the camera easily. The GH3 fits with the 35-100 attached as well.  Two more long pockets on both ends with Velcro tabs are available to keep small stuff accessible. I put an iPhone external battery that chargers the phone in one and it didn't get in the way of the lens when I pulled it out. The interior is fully customizable to get your kit set up the way you want. I didn't use all the dividers for this set up. I used three of the five that come with the bag.
The bag has one large pocket on the front with a Velcro flap to secure the contents. I put my Rode VideoPro and left the rain cover in the outer pocket. I decided not to put anything small in this compartment because the Velcro flap is only a few inches wide and doesn't close this pocket. I didn't want to loose anything if the bag tips over. So, I put maps and larger stuff that I needed to get to fast there and it worked very well.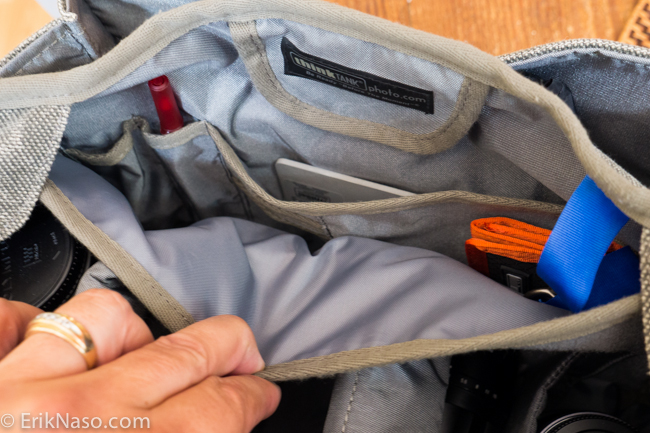 Inside the Retrospective 7 there is two large pockets. The front section has a Velco tab that secures the pocket and runs the length of the bag. Inside that pocket is a nylon wall that creates another section. This one has a sections sewn in for a couple of pens, and a couple square pockets for media cards or business cards. The third section is bigger. A lanyard is sewn in for keys or other stuff. I used it for my Pixel Pocket wallet. These are great. The Velcro tab closes this section to keep it out of the way from the main compartment making it easy to pull the gear out.
On the back of the bag is a full length zippered and fully padded compartment. On the back is where a iPad or a 11" MacBook Air can be stored, or of course another brand tablet or laptop that has the same dimensions.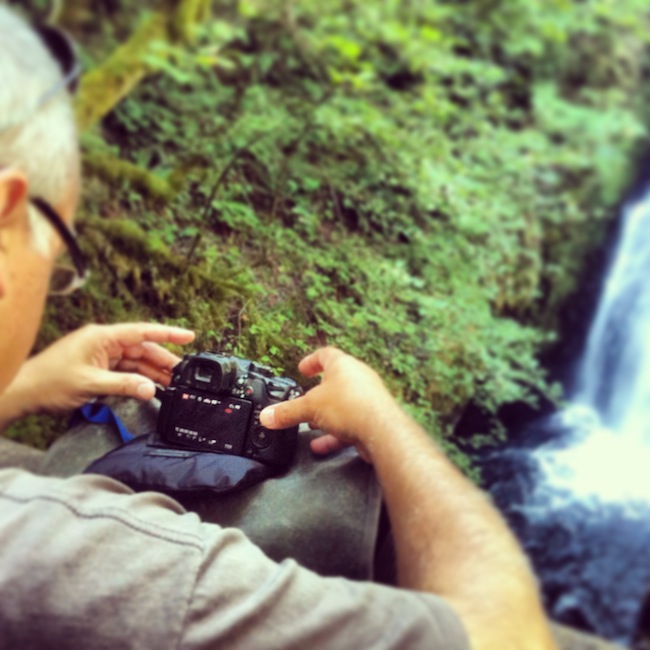 All Think Tank Photo Bags come with a rain cover. I like that. I use mine a lot like a bean bag when I don't use a tripod. Like this shot of a waterfall.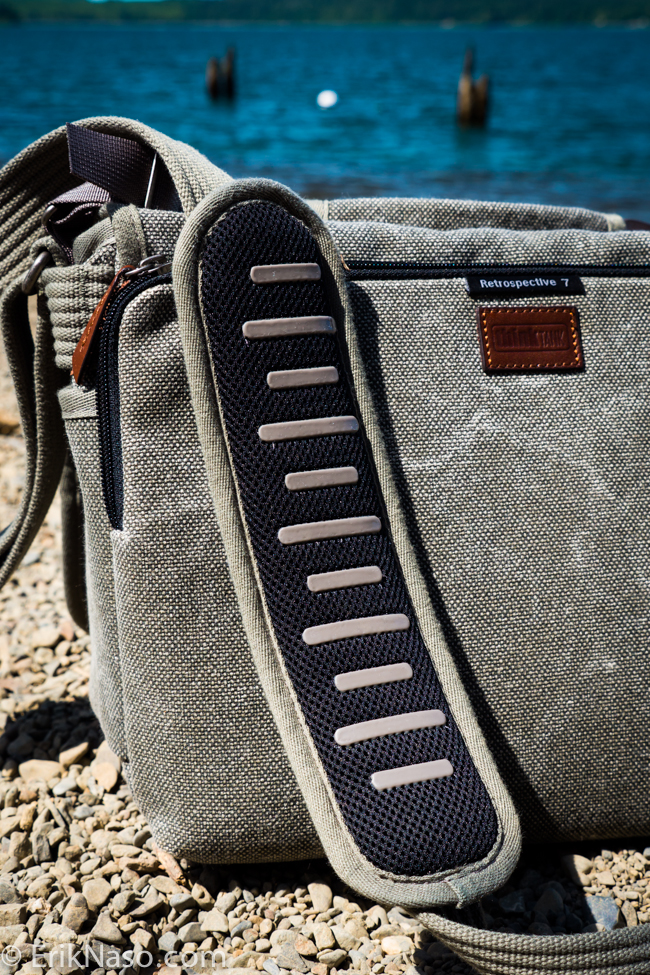 The strap is nice and long. You can easily cross it over your chest and have the bag sit at your waist. The shoulder pad is thick soft with slip resistant sections on it to prevent the camera bag from sliding off your shoulder. Very nice and very comfortable! The bag has two long pockets on both ends as well. No Velcro added to secure the top of those pockets. If you want to attach an exterior pouch you can with the loops on both sides of the bag.
The Retrospective 7 is a messenger bag in style, so the flap is the lid. At first I was concerned about the way the bag closes because I wasn't sure the lid would hold the gear in if I tipped the bag over. I tested this and the lid stayed closed even with this small amount of Velcro showing. The lid has a cool feature that allows you to adjust how much Velcro you want to use. I set it to only 1/2 an inch and it worked fine. If you want to silence the flap, just cover it up all the way. If Velcro ripping bugs you then this might be an issue. I didn't find it annoying nor did my family that was stuck with me on our travels. ; ) If your using the bag at a wedding or in a place that being silent is mandatory then cover the tabs up and your good to go. The main compartment doesn't close any other way other than with the large flap.
For me the Retrospective 7 is just right for my needs. When I'm shooting it hugs my hip or kind of wraps around my side and stays out of the way. Changing lenses is a snap with the bag on your side as opposed to a backpack style bag. The size is just right for my GH3 kit and four lenses, but you can easily stuff a bigger DSLR camera and lenses in this bag. I really try to not take everything I own when I go out to shoot. The Retrospective 7 is the perfect size for traveling, and on the go street photography. If you need to carry more, then have a look at the larger models. Think Tank Photo has a size that will meet your needs in the Retrospective line up.
And don't forget, as a special friend, when you click on this link you receive a free gift with your purchase.
PROS
Durable construction and great padding all around
Several compartments
Soft to the touch fabric
Doesn't look like a camera bag
Stylish design
Comes with rain cover
iPad compartment
CONS
Bottom of the bag is the same fabric as the main bag. If it's set down on a moist surface it could get soggy and also wear faster. However the fabric underside has a polyurethane coating for water-resistance.
Some might not like the Velcro main compartment flap system due to noise.
Main compartment doesn't close up fully. (I dont have an issue with this, but some users might)
The two small compartments on each end in the bag are hard to get to when items are next to them or the bag is fully loaded.
A little on the heavier side.
Thanks for coming by! Please help support my site by using the links on this page or bookmark these from my favorite retailers, B&H, Adorama, Zacuto, Amazon.com & Think Tank Photo. Using the links cost you nothing extra, but it helps offset the cost of running my blog. Thanks again for coming by eriknaso.com!
Top Features:
Perfectly suited for standard DSLRs with a pocket for an iPad/11" MacBook Air
Sound Silencers™ to turn off the front flap hook and loop for silent operation
Cushioned and padded nonslip shoulder strap for all day comfort
Gear Profile:
1 standard-size DSLR with 2-3 lenses and accessories. iPad/11" MacBook Air fits in rear zippered pocket
Accommodates a Nikon D700 w/ 24-70 f/2.8 attached, 70-200 f/2.8 detached + SB-900 Speedlight
Technical Specifications:
Interior Dimensions: 12.5" W x 8.8" H x 5" D (31.8 × 22.4 × 12.7 cm)
Exterior Dimensions: 13.5" W x 9.5" H x 7" D (34.3 × 24.1 × 17.8 cm)
Weight: 2-3 lbs (0.9-1.4 kg)
No Rhetoric Warranty Policy
Materials:
Exterior – All fabric treated to be durably water-resistance, plus fabric underside has a polyurethane coating for superior water-resistance, poly 1100D spun, antique nickel-plated metal hardware, YKK® RC Fuse (abrasion-resistant) zippers, nylon webbing, 3-ply bonded nylon thread
Interior – Removable closed cell foam inserts with PE board reinforcement, 210D silver-toned nylon, polyurethane backed velex, 2x polyurethane coated nylon 210T seam-sealed taffeta rain cover, 3-ply bonded nylon thread.
Here are few pictures I took while on vacation in the Pacific Northwest.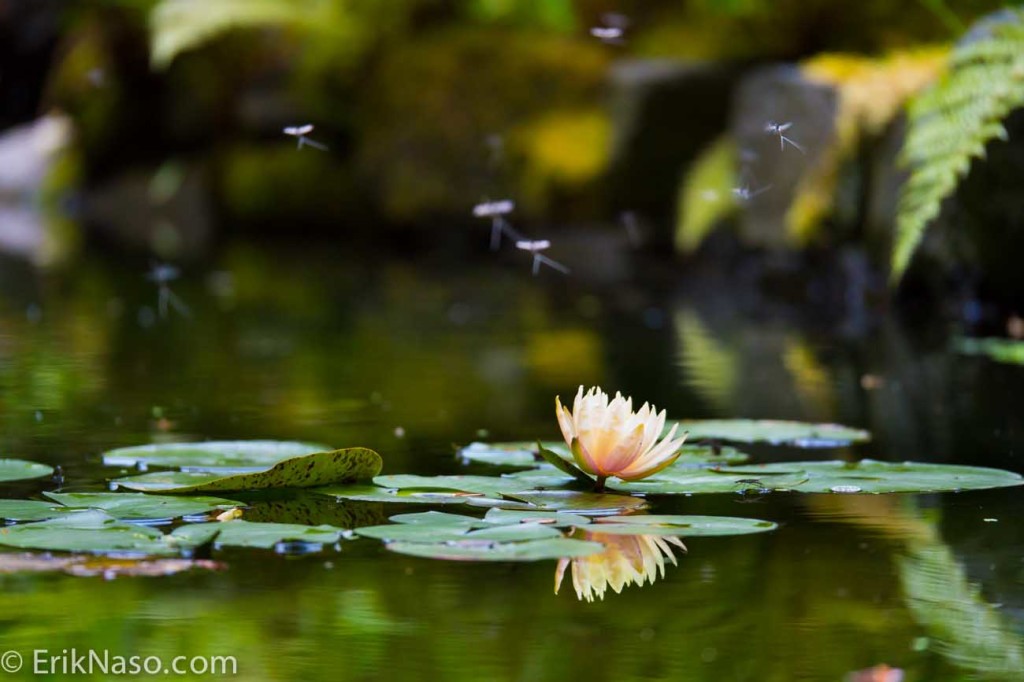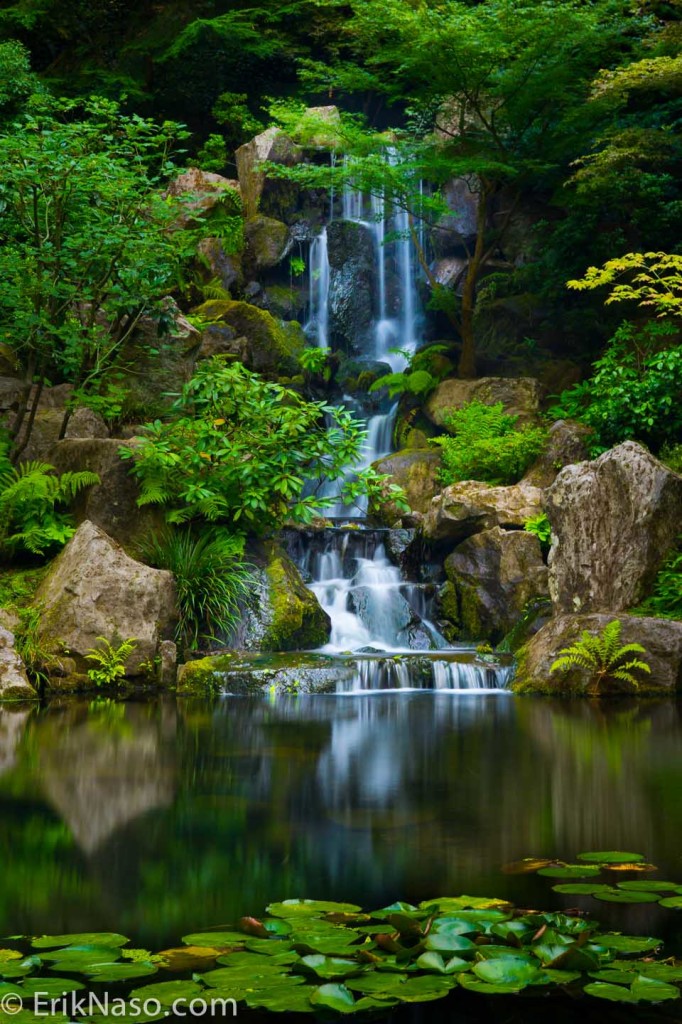 Filed in: Bags • Equipment Reviews • GH2 • GH3
Tagged with: Blackmagic Design • Canon • GH2 • GH3 • Lumix • MFT • Micro 4/3 • Nikon • NOKTON • Panasonic • Retrospective • Retrospective 7 • Think Tank Photo
I'm a broadcast DP In San Diego. I enjoy sharing what I'm working on and testing new equipment. This blog is also part of giving back. I've learned so much from so many people.