Is it a backpack? Fanny pack? or a messenger bag. Well, the TurnStyle bag takes some of the features from all three,  When you need to go light and move fast the TurnStyle 10 delivers. I used it for several days and it was a joy to work with. The first time I slipped it over my shoulder it felt right. The padded back and shoulder strap put the bag right in the middle of my back. When I needed a different lens I just bring the bag to my front with a quick left to right grab of the strap, and the bag is now on my chest. Lens changing is fast and adding filters is easy just by putting your camera in the bag and getting the filter out. No fumbling. I preferred using the bag as a sling. I tried it as a fanny pack but it didn't feel comfortable with the load I had in the bag. I'm not a fan of the fanny pack, so it's no surprise that I wouldn't use it that way. It shines as a sling bag. Lets go over some of the features.
I packed my GH3 kit with a Lumix 12-35 attached and a Lumix 35-100 & 7-14 with a few accessories shown it the picture above. This is my go to setup for stills and video with my GH3. The bag I'm using is the TurnStyle 10.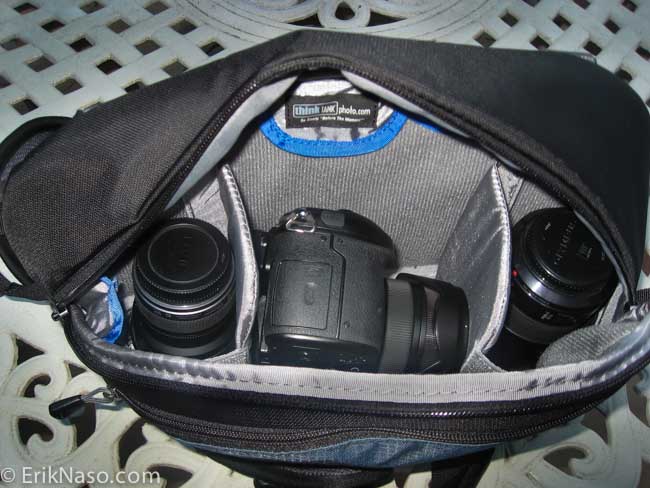 It comes with two dividers that create three sections in the bag. Plenty of room for a standard size DSLR, and up to three lenses. I even put a extra divider I had laying around to create another space for a small lens. (not in the picture)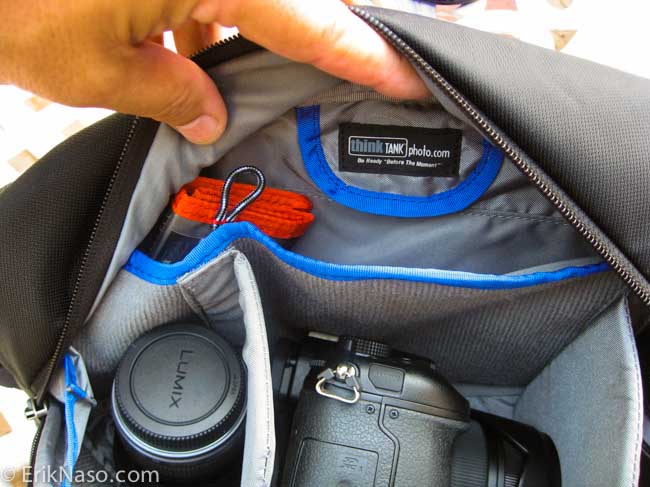 Lift a small Velcro tab and you have a full length pocket for additional goodies. I put a lens cloth and my media card wallet in their.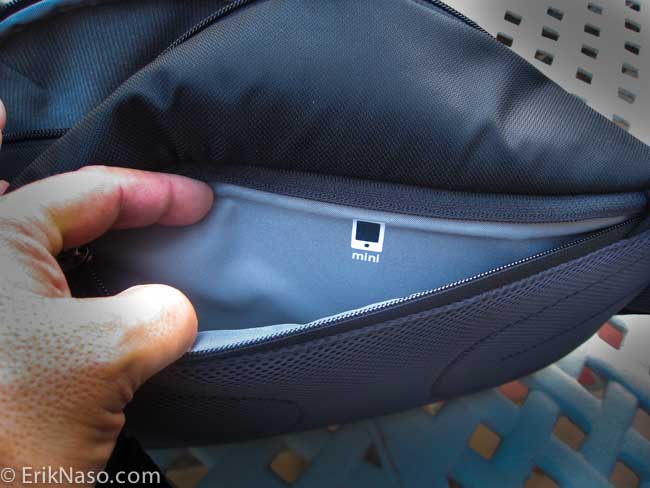 On the back a padded zippered pocket is for a iPad mini or small tablet. At the end of the bag is a small compartment that has a rain cover tucked away. Nice feature because it doesn't take up any usable space in the bag. The padding on the back of the bag is firm with a cover of netting. Super comfy.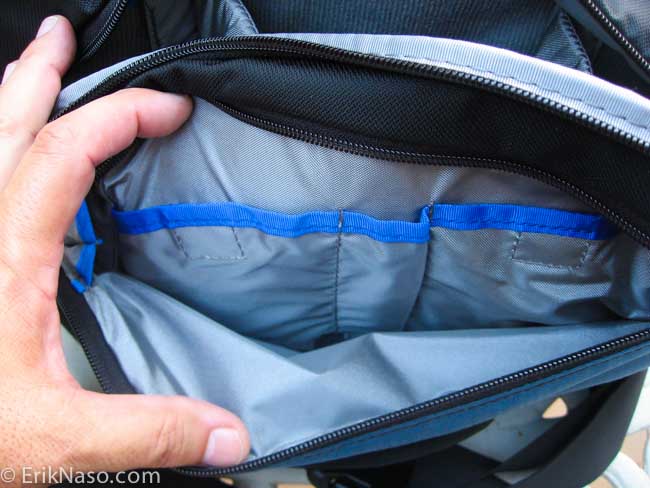 The front pocket has lots of small dividers for pens and accessories. This one has a zipper, and it's pretty good sized. I put a filter wallet in mine and a spare battery, again plenty of room for more little accessories.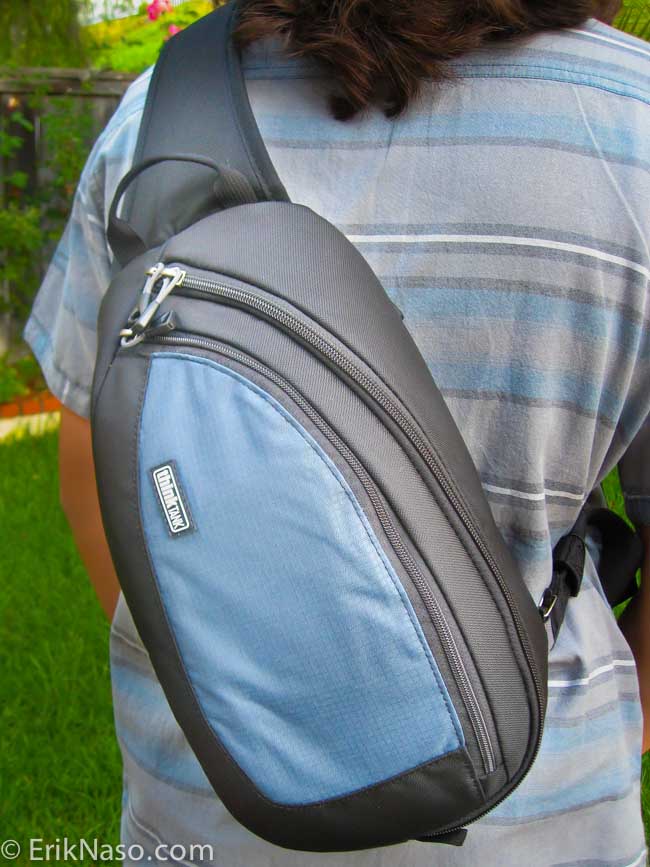 The TurnStyle 10 fits right on your back and with a quick tug on the strap it will bring the bag to your front.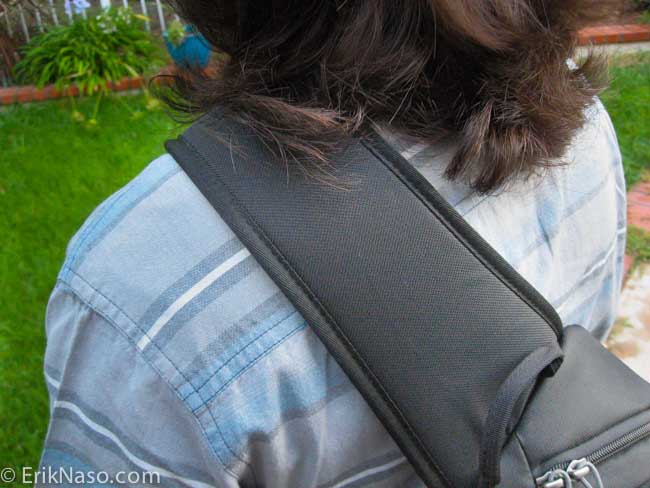 The strap is nice and wide so it doesn't dig into your shoulder. It's padded with the same fabric thats on the back of the bag. I think the netting is supposed to wick the the sweat off if your really moving.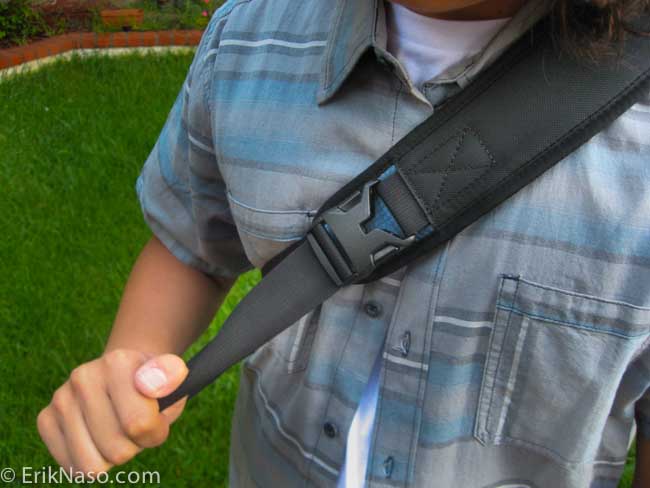 The main buckle is heavy duty. The shoulder strap goes the full length of the buckle so it wont dig into your chest.
The TurnStyle 10 bag is very comfortable. Holds all I would want to take on a hike or a day out shooting. I use a GH3 and it fits very well with room to spare. I would've liked an extra divider to create a fourth space when needed. The bag is very well built and isn't heavy. In fact it's pretty darn light!
Another use for the bag is for shooting video with large sensor cameras. Having a shoulder bag isn't as practical and a backpack is to slow for lens changing. I used the TurnStyle 10 for only lenses. I put three in the bag and one on the camera. This worked very well. The bag was out of the way while I was shooting and changing lenses was super fast. The TurnStyle bags are a great new product at a very nice price.
$74.75 for the TurnStyle 5
$84.75 for the TurnStyle 10
$99.75 for the TurnStyle 20
Thanks for coming by! Please help support my site by using the links on this page or bookmark these from my favorite retailers, B&H, Adorama, Zacuto, Amazon.com & Think Tank Photo. Using the links cost you nothing extra, but it helps offset the cost of running my blog. Thanks again for coming by eriknaso.com!
And don't forget, as a reader of eriknaso.com when you click on this link you receive a free gift with your purchase.
Key Features:
Easy rotation for rapid access to gear and accessories
Converts from a sling bag to a beltpack for increased comfort and flexibility
Padded velour pocket fits a small tablet
Gear Profile:
Fits a standard size DSLR with one to three lenses plus a small tablet. The front organizer pocket holds chargers, memory cards and other small accessories.
Nikon D800 with 24-70 f/2.8 attached + 50mm f/1.4 hoods reversed
Canon 5DMIII with 50mm f/1.2 attached + 16-35mm f/2.8 hoods reversed
Technical Specifications:
Note that the product tapers significantly and dimensions are taken at largest point.
Interior Dimensions: 7.1" W x 12.6" H x 4.8" D (18 x 32 x 12.2 cm)
Exterior Dimensions: 8.3" W x 15.4" H x 5.2" D (21 x 39 x 13.2 cm)
Small tablet compartment: 6.3" x 8.7" x 0.4" (16 x 22 x 1 cm)
Maximum weight (with all accessories): 1.0lb (0.4kg)
Materials:
Exterior: All fabric exterior treated with a durable water resistant coating, plus fabric underside is coated with polyurethane for superior water resistance, YKK® RC Fuse (abrasion resistant) zippers, 420D velocity nylon, 250D shadow rip-stop nylon, 3D air mesh, Y-Buckle, double gate keeper, nylon webbing, 3-ply bonded nylon thread
Interior: Removable high density closed cell foam dividers, 210D silver-toned nylon, polyurethane backed velex liner, 2x polyurethane coated 210T seam-sealed taffeta rain cover, Nylon binding tape, 3-ply bonded nylon thread.
No Rhetoric Warranty Policy
Filed in: Bags • Equipment Reviews
Tagged with: Camera Bag • Think Tank Photo • TurnStyle • TurnStyle 10
I'm a broadcast DP In San Diego. I enjoy sharing what I'm working on and testing new equipment. This blog is also part of giving back. I've learned so much from so many people.