Get all the firmware info and the link for the downloading the updates from Canon on a special new page dedicated for just the updates.  Looking forward to the crazy 80,000 ISO and Push Auto Iris/One-Shot AF and so much more little goodies! Check it out and bookmark it!
UPDATE 12/28/2013
Thanksgiving day Canon re-released the firmware update for the C300. The first release had some issues but it looks like it's ready for prime time. I'm not with my C300 today so it will have to wait until next week.
CLICK on the image below to go to the update page to download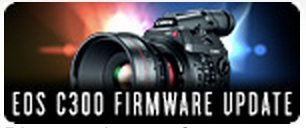 Please note that we suspended download services for Firmware Version 1.1.0.1.00 that was posted Tuesday November 13, 2013 due to a discrepancy in color balance. We would like to apologize for the inconvenience.

Firmware Version 1.1.1.1.00 corrects this color balance discrepancy. Any cameras that are running firmware version 1.1.0.1.00 should be updated to firmware version 1.1.1.1.00. Firmware Version 1.1.1.1.00 incorporates all the functions and modifications listed below: EOS C300 Cinema EOS Camera & EOS C300 PL Cinema EOS Camera

1. Fixes a phenomenon where the previous Firmware Version 1.1.0.1.00 offered incorrect color balance.

2. Ability to move the magnification viewing area around the LCD using the MAGN Function.

3. Support for a 1440×1080/35Mbps recording mode.

4. ISO up to 80,000 has been added.

5. Added functionality to support the optional Canon GPS Receiver GP-E1.

6. A Key Lock menu setting has been added which now makes it possible to lock all operations, including the START/STOP button.

7. Using the optional Canon WFT-E6 Wireless File Transmitter, the camera's remote-control application allows two users to access the same unit via a Wi-Fi® link providing simultaneous camera operation and control and metadata input simultaneously.

8. [Lens Exchange] and [ND+/ND-] have been added as functions that can be allocated to any assignable button.

9. A new Wide DR Gamma setting provides an expanded dynamic range of 800%.

10. Flicker Reduction has been improved. EOS C300 Cinema EOS Camera only 11. Provides Push Auto Iris and One-Shot AF operation.

12. A new AE Shift function and the selection of various light-metering modes are now available when used with some Canon Cinema lenses (EF mount) and Canon EF Lenses.

13. Ability to assign the two control dials to operate either Iris or ISO sensitivity independently.

14. Peripheral Illumination Correction Data has been added for seven (7) Canon Cinema lenses (EF mount) and fifteen (15) Canon EF Lenses.

15. A function has been added to enable continuous focus and iris setting on a subject in the middle of the screen when one of the two EF STM lenses** is attached. **[EF-S18-135mm f/3.5-5.6 IS STM], [EF-S18-55mm f/3.5-5.6 IS STM].

Gamma information will not be shown correctly in the metadata of clips filmed on the Wide DR Gamma setting included in Firmware Version 1.1.0.1.00 and above when using the bundled software application Canon XF Utility Ver.1.3.1 or earlier. Therefore, we recommend our customers install Canon XF Utility Ver.1.3.2. The installer for this application has already been released.

Canon XF Utility 1.3.2 for Mac OS X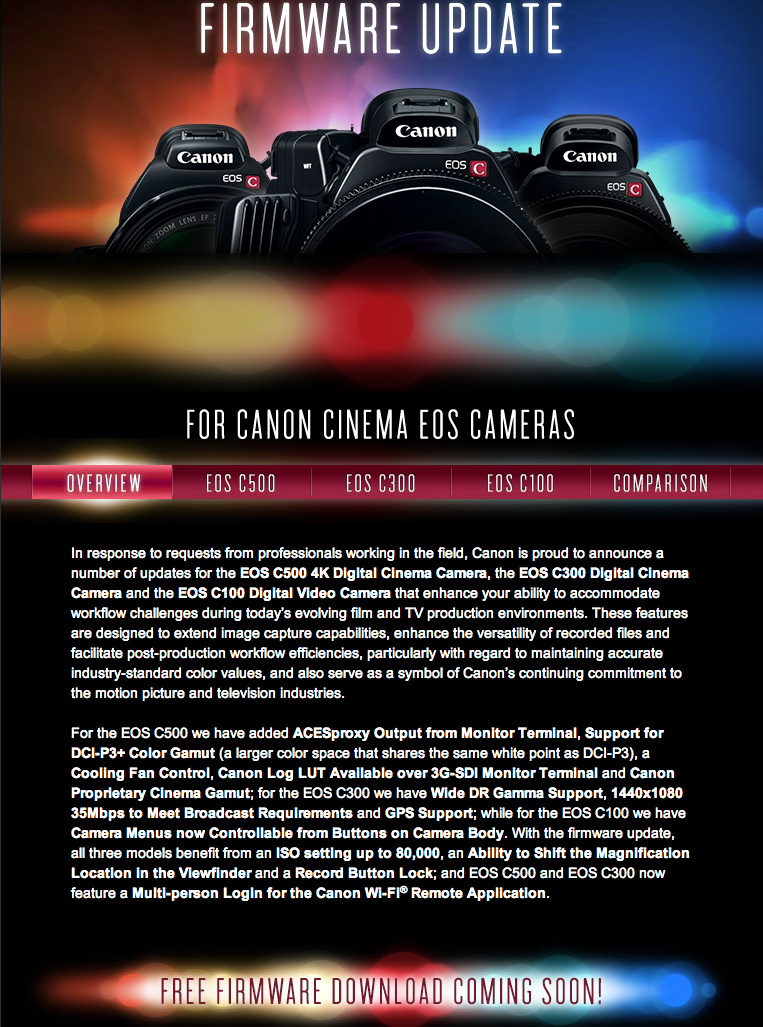 Thanks for coming by! Please help support my site by using the links on this page or bookmark these from my favorite retailers, B&H, Adorama, Zacuto, Amazon.com & Think Tank Photo. Using the links cost you nothing extra, but it helps offset the cost of running my blog. Thanks again for coming by eriknaso.com!
Filed in: 4K • C100 • C300 • Camera News • Canon
Tagged with: C100 • C300 • Canon • Cinema Lens • Firmware Update
I'm a broadcast DP In San Diego. I enjoy sharing what I'm working on and testing new equipment. This blog is also part of giving back. I've learned so much from so many people.