This is great news if you bought the FxFactory effects bundle. I have used them for years with Final Cut Pro 7. I edit a lot of news promos and I need to spice these :15 spots up. I depend on easy to use transitions, and last year when I moved to Adobe Premiere Pro CS5.5 the transitions available where very slim and the FxFactory ones had a ridiculous work around. Check out the video below. I never got used to it.
Now with the new Premiere Pro CC 7.1 update all this is now gone. The transitions are drag and drop and work just like they used to in Final Cut Pro 7. Awesome!
This is a big update and includes more cool features like improved dynamic linking with Speedgrade. Another program I have been wanting to use but just didn't like how it interacted with Premiere Pro. Now it seems you can round trip. I need to try Speedgrade.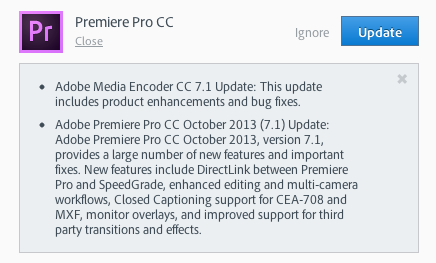 Now if those hackers that broke into Adobe's servers could just not pass around my credit card information I would be very grateful.
Happy editing folks!
Thanks for coming by! Please help support my site by using the links on this page or bookmark these from my favorite retailers, B&H, Adorama, Zacuto, Amazon.com & Think Tank Photo. Using the links cost you nothing extra, but it helps offset the cost of running my blog. Thanks again for coming by eriknaso.com!
Filed in: Featured Post • Post Production • Premiere Pro • Video Editing
Tagged with: Adobe • FXFactory • Premiere Pro • Premiere Pro CC • Premiere Pro CC 7.1 Update
I'm a broadcast DP In San Diego. I enjoy sharing what I'm working on and testing new equipment. This blog is also part of giving back. I've learned so much from so many people.