I recently bought a new Apple MacBook Pro Retina 15″ with Thunderbolt 2. I needed a better laptop for editing with Premiere Pro. Since my mid 2010 did not have a CUDA enabled GPU I wasn't getting the performance I wanted. Another reason to upgrade is for the new and really fast USB 3 and Thunderbolt. I think these two are almost more important than the GPU upgrade.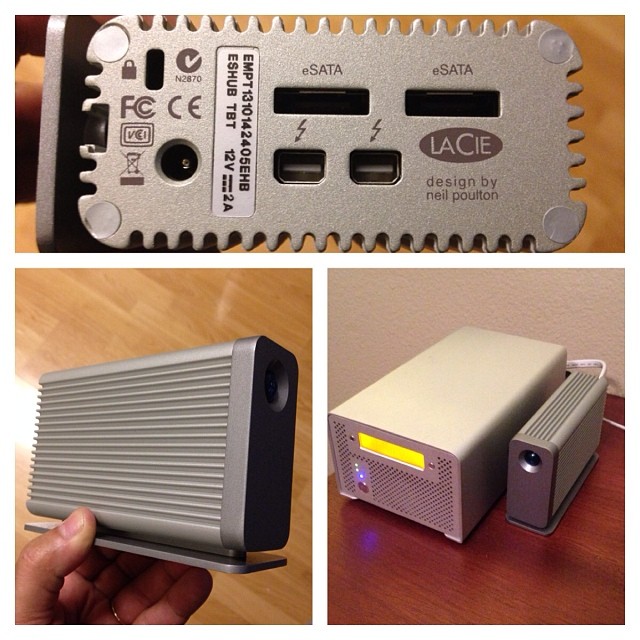 I moved 28GB of media from a compactflash card full of Canon C300 footage to an external eSATA drive in 7 minutes! Thats lighting fast! I also used the Lacie Hub to connect the CalDigit RAID0 via Thunderbolt (pictured above). That little hub also works great. It has two Thunderbolt ports for daisy chaining. All Thunderbolt devises should have two but this doesn't seem to be the case. I copied over the exact same card on a Mac Pro with a USB 2 connection and it took 2 hours. That's a huge time saver. Thunderbolt drives are just starting to get more affordable but in the meantime I'm using USB 3 and eSATA drives that I already have. They are plenty fast for HD work.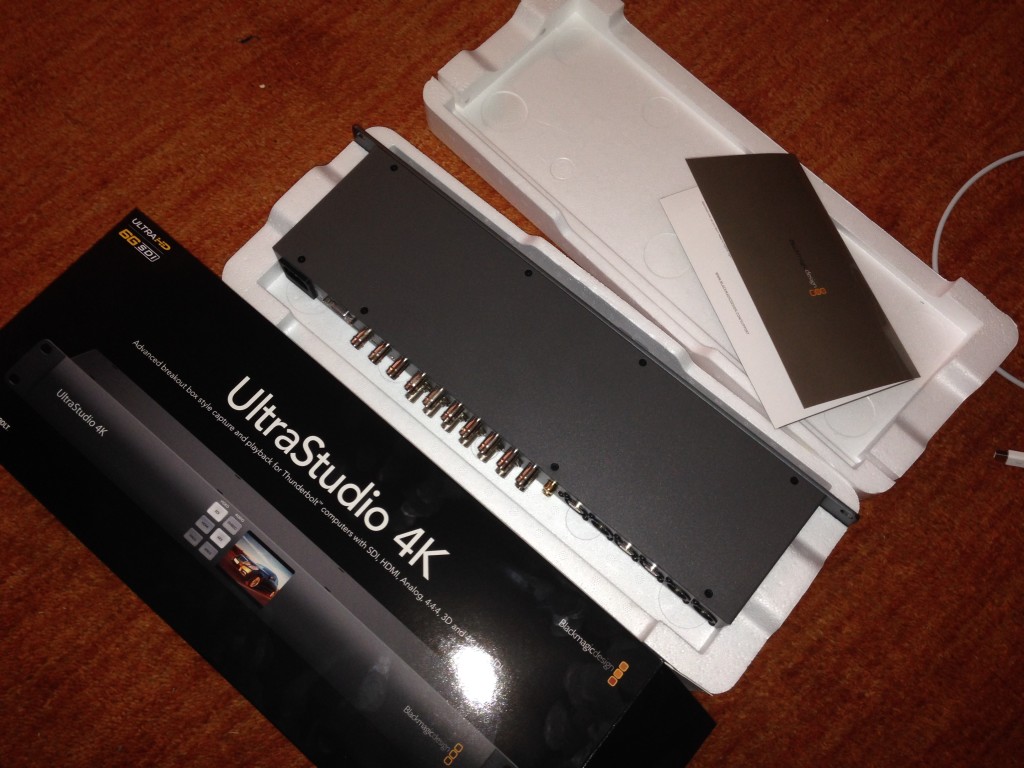 At NAB 2012 I won a Blackmagic UltraStudio 4K at the MediaMotion Ball during the awesome raffle. Great event by the way, but I didn't have a Thunderbolt computer yet so I tucked it away hoping I would get one. I told my wife "great! Now I need to get a new laptop to go with it!" That didn't go over very well. Okay. Actually my wife won it, but she doesn't edit so I got to keep it. Hey! It's fair. You would do the same thing right? Even Walter Biscardi's  wife won some cool stuff. I'm sure she was more than happy to give it him. Walter is a nice guy. This was the first time I got to meet him in person. Okay back to the post.
Since I now have a new MBP I pulled it out of the closet and set it up. The strange part is it doesn't come with a power cable. Very strange. I had to dig around in my garage for an extra one. Ah found one! I think Blackmagic knows we all have a couple laying around but O think it's strange to not include one. I set it up and downloaded the software and the device wanted to do a firmware update, so I clicked yes and off it goes. After a couple minutes the MacBook Pro had a kernel panic! You know when the screen turns grey and you have to shut it down. I knew I was screwed. Mavericks!!!!
The UltraStudio was basically bricked and I called Blackmagic and we went through some trials with no luck. Off to repair it goes. It's still under warranty so I'm covered. I do have to pay one way shipping. Grrrr.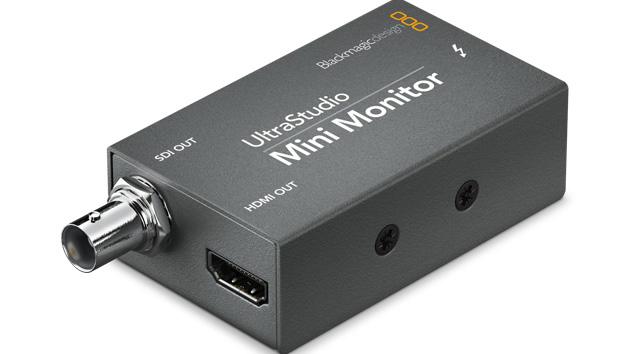 Since I never got to try out hooking up my laptop to my monitor for playback I decided to take a look at other options I was poking around on Blackmagic.com and found this little powerful box. The UltraStudio Mini Monitor. The first thing that stood out was the price. It's only $149 and it has an SDI out! I couldn't believe it. This is the least expensive device I have ever seen for outputting to an external display and it requires no power. It gets it from the MacBook Pro via Thunderbolt. I bought one. This will be in my bag for traveling. Heck It will be used every time I edit in the living room!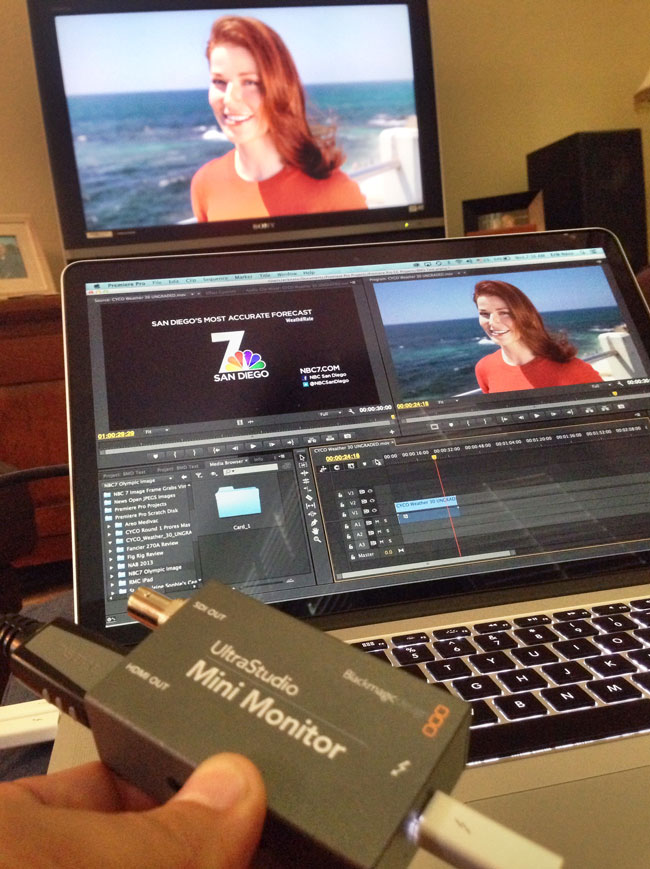 I ran a few test and the UltraStudio Mini Monitor works perfect. No setup issues at all. Very clean image and passes audio to the monitor if you want to set it up this way. What a bargain! I'm pretty ha[[y with it so far. It's very limiting since it's not a full IO device but I already have, well sort of, the UltraStudio 4K if I need to bring footage in. One downside is how much power two devices draw from the laptop. It drains your battery pretty fast so I recommend plugging in the MacBook Pro while using an external drive and Mini Monitor. Outside of that this is a really good deal on a very simple and handy devise. I have been wanting a solution like this for years and Thunderbolt has made this possible.
Thanks for coming by! Please help support my site by using the links on this page or bookmark these from my favorite retailers, B&H, Adorama, Zacuto, Amazon.com & Think Tank Photo. Using the links cost you nothing extra, but it helps offset the cost of running my blog. Thanks again for coming by eriknaso.com!
Filed in: Equipment Reviews • Post Production • Premiere Pro • Video Editing
Tagged with: Adaptor • Adobe • Adobe Production Premium CS6 • Blackmagic Design • Premiere Pro CC • Premiere Pro CS6 • Thunderbolt • UltraStudio • UltraStudio Mini Monitor • USB 3
I'm a broadcast DP In San Diego. I enjoy sharing what I'm working on and testing new equipment. This blog is also part of giving back. I've learned so much from so many people.