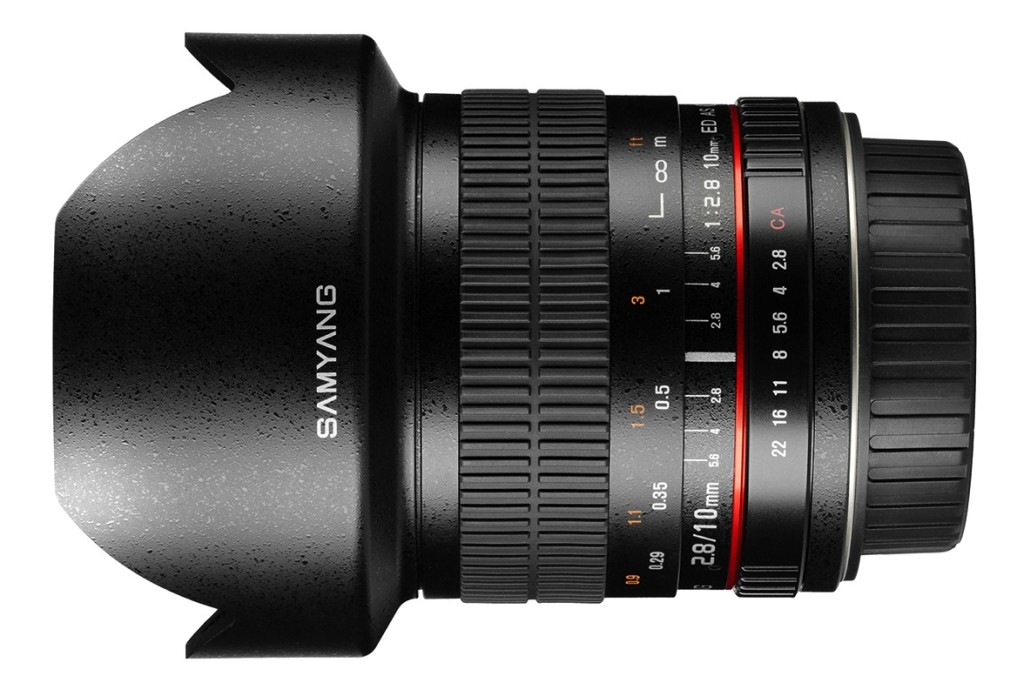 The new 10mm looks like a nice piece of glass and it's fast at 2.8. The 10mm will give you a 109.5° field of view with APS-C cameras and a minimum focus around 10″. This will be a popular lens due to its speed and low distortion as well as cost. I dont know the street price but I'm expecting it to be a lot cheaper than Canon or Nikon equivalent versions.  After all Samyang and Rokinon lenses are built with a lot of plastic but the optics are very good in most of the line. I love the 35mm and 85mm Rokinon. Great lenses. The coatings on them aren't so great. You have to be very careful with back lights because they flare easier and it's a ugly purple cast. Yuck! but again the price is fantastic and worth it. The 10mm has a new Nano Coating so maybe it will be much improved. I'm not sure if the lens food is attached or can be taken off. If it is removable be careful! The front element will be very much exposed.
It's good to see fast APS-C lenses coming out. Cameras like the C100 and FS700 have S35 sensors and really benefit with lenses designed to fit the sensor. Lighter and smaller is a good thing if you want to shoot handheld or are traveling with a full set of lenses. Check out the image below. Shows how little distortion the lens produces. Very nice! Here is a full resolution sample shot with a Canon 60D.
The Samyang 10mm will be available in several popular mounts including Micro Four Thirds. Canon EF, Canon EF-M, Fujifilm X, Nikon F (DX), Four Thirds, Micro Four Thirds, Pentax KAF, Sony Alpha, Sony E (NEX), Samsung NX. Pricing still not available but you can bet it will very competitive.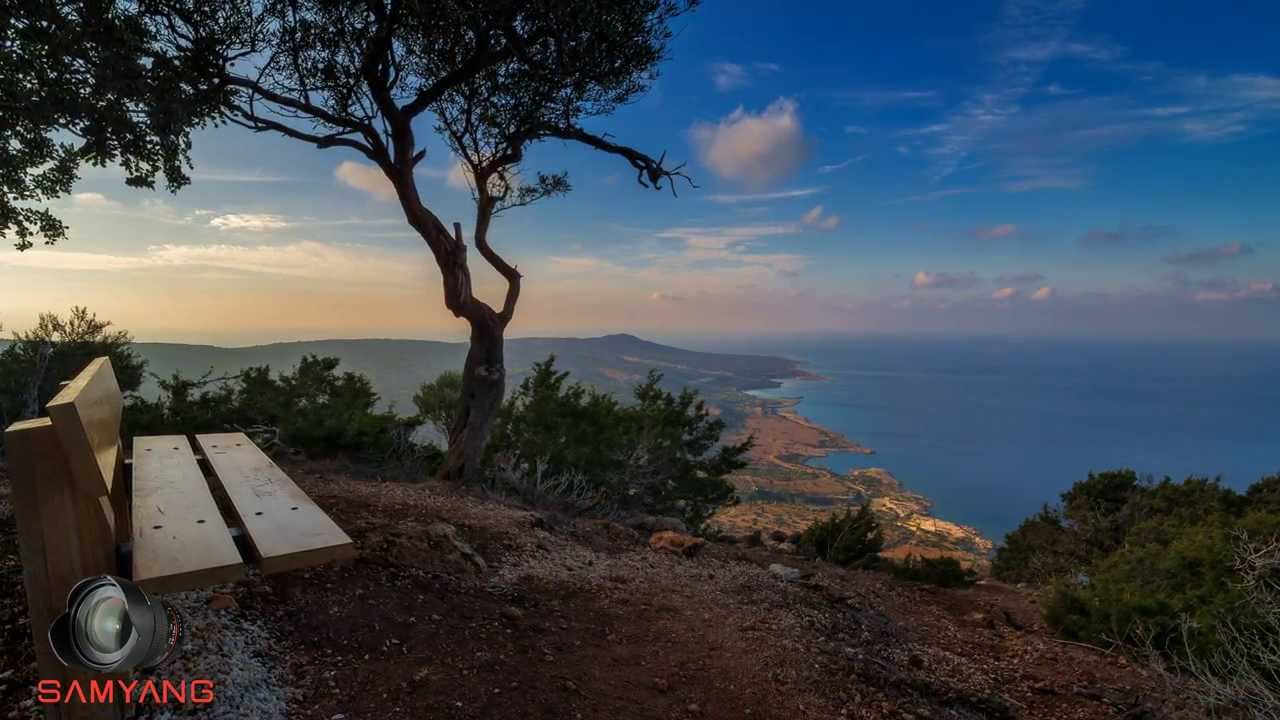 Here is a slide show that shows some sample images taken with the new Samyang 10mm.
Samyang Press Release
Prototype version of Samyang 10mm f/2.8 lens has been presented to the public on Photokina 2012 fairs. Samyang has stepped its gear and introduced a focused development program to obtain the highest possible optical parameters and reduce the product's size at the same time. These efforts resulted in the latest version of Samyang 10 1:2.8 ED AS NCS CS lens featuring parameters and capabilities comparable to the best wide-angle prime and zoom lenses on the market.

Samyang 10mm 1:2.8 ED AS NCS CS is an ideal tool for indoor, architecture and landscape shooting. It provides an exceptionally wide field of view of up to 109.5 degrees and rectilinear image mapping function. Owing to a fast f/2.8 lens speed you can also use the lens in low light conditions. This is why it turns out a useful tool for sport photography and photojournalism purposes. The product's optics comprises 14 elements divided into 10 groups, this includes 2 aspherical AS lenses and one lens made of extra-low dispersion glass. During development works on the prototype version the lens was fitted with an embedded lens hood which ensures more compact size of the lens and reduces its weight by approximately 160 grams*. * – applicable to a version with Canon E mount

NCS (Nano Coating System)

Samyang 10mm 1:2.8 ED AS NCS CS is the first Samyang Optics lens featuring a nano crystal anti-reflection coating system. This technology provides lower reflection factor than (U)MC system as the coating is now applied more evenly on the surface of the lens. Benefits brought by the nano crystal layer include better light transmission, increased resistance to reflections and higher contrast, and all of this translates into supreme optical resolution of the lens.
Specifications:
Model

10mm 1:2.8 ED AS NCS CS

Aperture range

F2.8 ~ F22

Optical construction

14 elements in 9 groups (2 ASP, 1 ED)

Minimal focusing distance

0,24 m

Image size

APS-C / CS

Filter size

none

Number of aperture blades

6

Maximum diameter

86 mm

Mount

Canon EOS

Nikon AE

Pentax K

Sony A

Canon M

Fujifilm X

Samsung NX

Sony E

4/3

m4/3

Angle of View [° ]

APS-C

105,9

109,5

109,5

109,5

105,9

109,5

109,5

109,5

–

–

4/3

–

–

–

–

–

–

–

–

93,4

93,4

Length [ mm ]

106,1

103,6

104,6

105,6

132,0

132,4

124,6

132,1

111,4

130,9

Weight [ g ]

590

580

580

585

620

625

615

620

610

620

Function

A / S / M / P mode (Nikon AE)

Warranty

36-months
Thanks for coming by! Please help support my site by using the links on this page or bookmark these from my favorite retailers, B&H, Adorama, Zacuto, Amazon.com & Think Tank Photo. Using the links cost you nothing extra, but it helps offset the cost of running my blog. Thanks again for coming by eriknaso.com!
Filed in: 35mm Lens • Lens Talk • New Release
Tagged with: Samyang • Samyang 10mm • Samyang 10mm f/2.8 Lens For APS-C
I'm a broadcast DP In San Diego. I enjoy sharing what I'm working on and testing new equipment. This blog is also part of giving back. I've learned so much from so many people.