The man himself CEO Grant Petty today gave the world an update on the new Blackmagic Production Camera 4K. It's almost ready. Thanks for reading my blog. Kidding. It's done! It's ready! but it isn't shipping yet. Grant explains this in a post from Blackmagic's forums but here is some good news. You can download 10GB's worth of footage now and play around with it. Thats's cool! When I get home I will do just that and see how it looks. You can download the ProRes footage HERE. Whats crazy and cool is Grant shot this footage himself for us to play with. The new camera is a S35 global shutter camera that retails for $4000. Thats an amazing price compared to 4K cameras that are available today. Now we have to think. Do I need a 4K camera? Can I afford to shoot 4K footage? Will anyone be able to view my 4K footage? I ask myself these questions and my answer is no but for $4K it's hard as hell to not want to get this camera! The big advantage in the moment is reframing in HD. This is an expensive advantage but for now a nice option. I do believe 4K will happen as opposed to the 3D debacle that just never got consumers excited. Compression and delivery are progressing and changing and that is required for 4K to make it into our homes. Don't count on your cable company for content in 4K.
So here we are with the third camera from Blackmagic Design and this one like the others before are disruptors. Delivering a lot of image at an amazing price. Sure you need a lot of bits to get these cameras to work but most will put up with this because the image and value makes you want it. Okay enough already lets get this party started!
Check out the video below to see the ungraded 4K 10-bit ProRes HQ LOG profile files.
I downloaded the footage and it took me some time. I think a lot of folks are downloading the files and my download crashed several times, but I finally was able to get it!. here is my grade of some of the shots I liked. I pushed the 4K 10-bit ProRes HQ LOG profile files pretty hard and they held up very well. The camera has a nice image to it. It's very filmic and for the most part pretty clean. The shots are locked down so it's hard to see how the global shutter looks. Moire isn't present in the samples or at least I couldn't find any. I wish I had a 4K monitor but I don't. Might have to get one of those Seiki's.
I uploaded a 4K version too on Youtube. Make sure to change the playback to 4K. It definitely looks sharper and more defined.
Grant mentions the camera is in the hands of some DP's now and is excited to see what they shoot. It looks like a while before the camera starts shipping but he sure knows how to keep us interested.
And finally check this footage out! Holy smokes! This had me on the floor. It looks so much like film I'm a little blown away. Here is a quote from captainhook (Sorry I dont know his real name)
"All footage was shot Prores 4K. I don't normally say this, but even compressing this video for upload was a disappointment compared to the Prores from Resolve. You need to play with files from this camera yourself, vimeo truly is the great equalizer and i can't wait for the H265 replacement to H264. An UHD version/link will be coming soon.
Lenses used: Sigma 18-35/1.8 – Canon 35/1.4L – Canon 50/1.2L – Canon 85/1.2L (YES IT WORKS!!!) – Canon 100/2.8L – Canon 70-200/2.8L IS"
Here is another fine example by Marco from OneRiver Media. You can see how the dynamic range isn't as good as the BMCC but still the footage looks very good. We havent had a good sample of the global shutter yet during fast panning so I'm eagerly awaiting to see that.
Things are really looking good. Okay back to Grant…..
Below is the post from Grant.
Hi,

I wanted to do a quick update on the Blackmagic Production Camera 4K.

As I have mentioned previously we have been working hard on redesigning part of the camera due to differences in the production sensors to what we experienced in the early camera builds, however that work is completed now and we are in final testing.

I wanted to post some clips that I personally have shot from the camera as I know people are interested in them. We have other more experienced camera operators out shooting with beta cameras now and they can post more realistic clips with lens details and other shooting information soon, however I wanted to post something now so I thought I would upload some of the clips I have shot personally.

The Blackmagic Production Camera 4K is very different to our other cameras, but I personally think it's quite filmy in its look, even though it's not really a digital film camera but more of a general production camera.

This camera is not a low light camera, however I have included some clips at night so you can see that. I spent a few weeks wandering around with the camera taking some different types of shots. One shot of the jetty has some clipping in the sky to see the affect of clipping. All the shots are ProRes as I did not shoot RAW. I did notice that later when the guys did some more tests on the camera and lens that it was not shimmed correctly so I think the results could be better than this. Some of the shots have different shutter angles and I used standard still camera lenses.

The download is at:

http://video.blackmagicdesign.com/Camer … _Shots.zip

Its a big file at just under 10 GB so it will take a little while to download, but these 4K files are big. Also, I know you might want to color grade these shots so I allowed some clips to be longer at up to 10 seconds for some of them. I think when working in higher resolution, being able to see the movement in the distance in these shots is quite interesting. I will be excited to see if anyone color grades these shots up nice because I am a terrible colorist!

We expect to see some of the DOP's beta testing the camera to post some professional test shots with comments on how the camera performs in a few days. I hope that gives everyone a better feel for the camera. A lot of people think this camera is a similar camera to our other cinema cameras, but it's quite different and so I think these posts will be important so people know what it's like to use.

I think people's relationship to cameras is such a personal and deeply creative connection, so I never really know what will happen with a new camera until it's used professionally. It has been really fun to get time over the last few weeks to use it myself!

Regards,
Grant
The camera looks really good. Some of the night shots are noisy but they are under exposed and that always gets you noisy images when you try to push it. For $4000 this camera is a steal. I did notice all these shots are deep focus. I would have liked at least on tight shot of some skin like a head shot and a shallow depth of field one as well to see how the bokeh looked but we will have to wait. And if you think I didn't preorder one you're wrong. Let the wait begin.
Here are some frame grabs I put together so you can see the before and after. These are compressed but if you click on them you can see them bigger.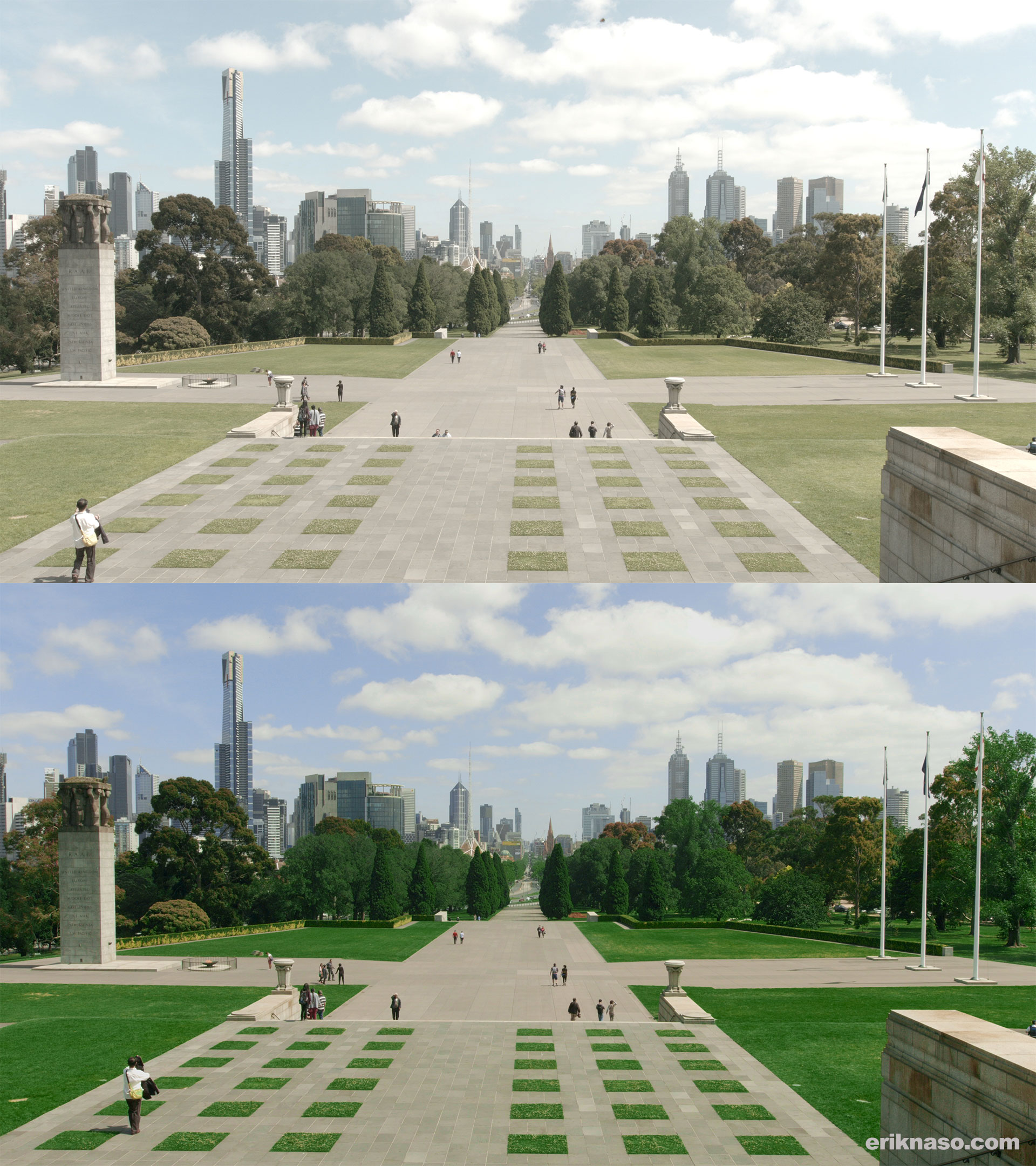 I pushed the greens pretty hard and I know it looks a little overdone but that's the point. Lets see how far I can go and to be honest this looks kind of cool and almost like it's CG or fake.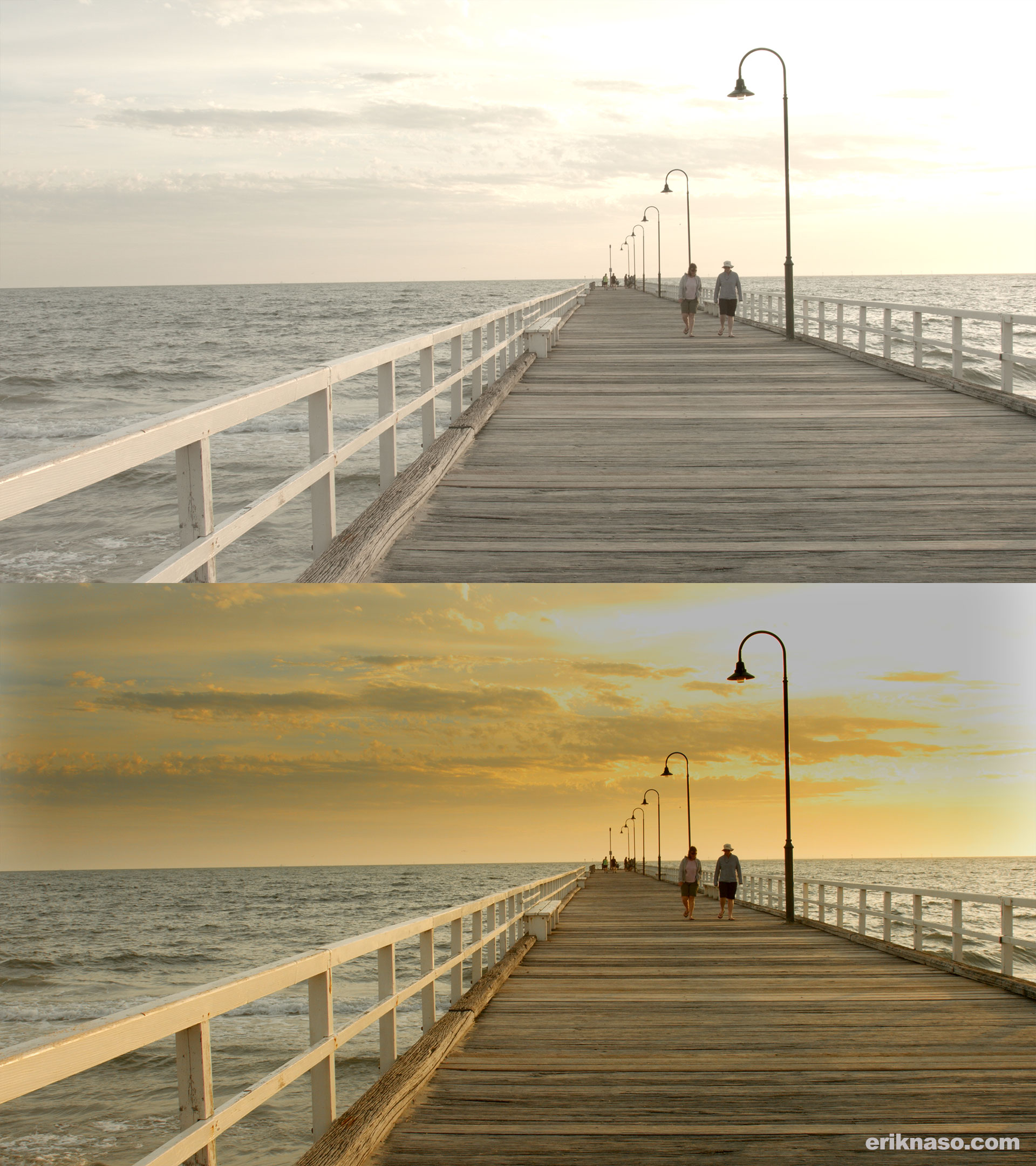 This shot really blew me away. I basically changed the feel and look completely and the image didn't break. Very cool and really fun to create this look. Lots of info in this file to play with.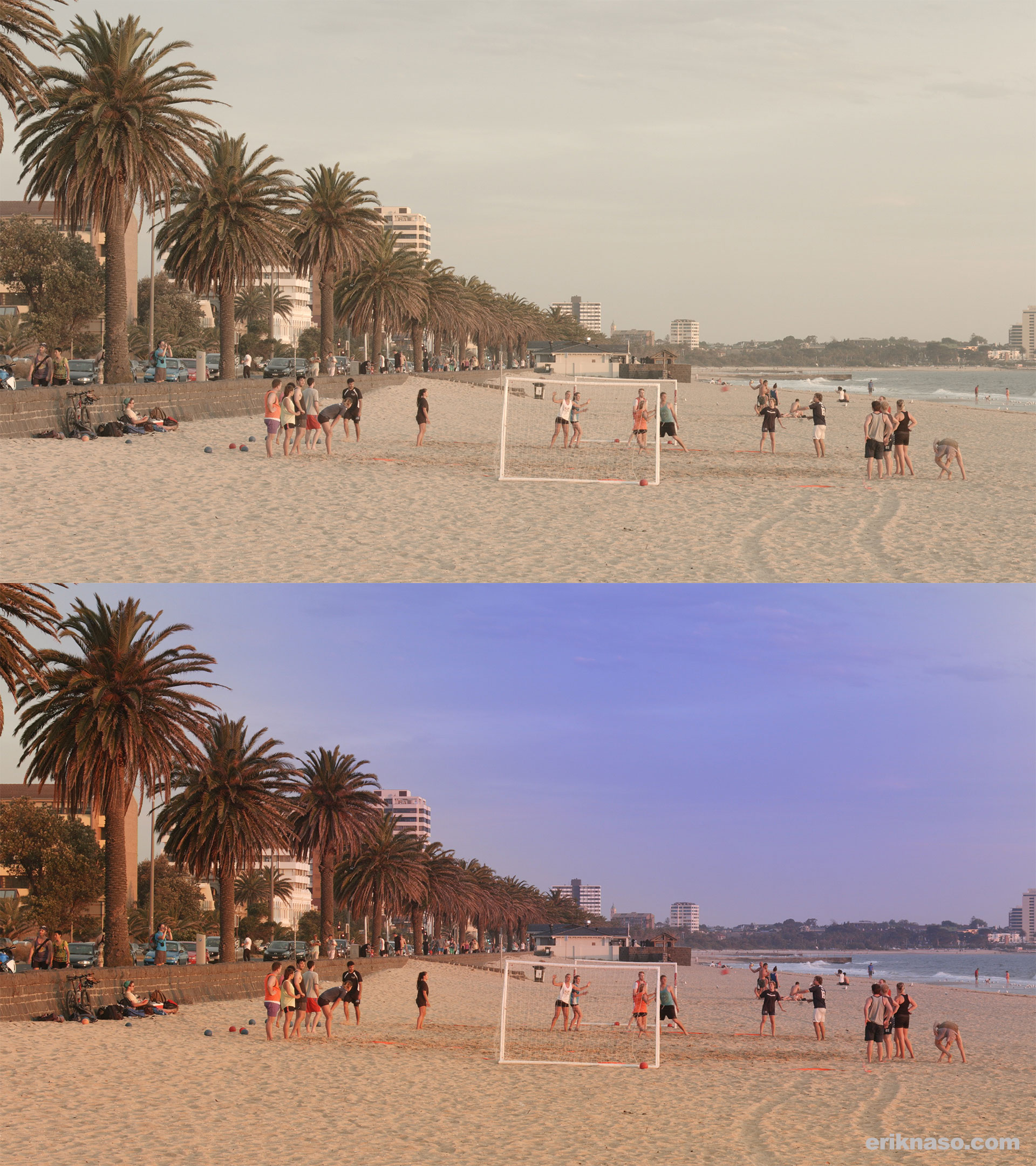 This beach shot I added a secondary mask only for the sky to add some blue. Okay a lot of blue! No banding. Awsome! Again you got love the 880 Mbps  Apple ProRes 422 (HQ) codec. Yes the files are huge but dang look at what you get! Okay thats it for now. I'm sure we will see a lot more in the coming weeks since the camera is know making the rounds for testing. I for one just got excited about a camera I really didn't think would impress. Make sure to check in from time to time for more on the 4K production Camera.
Here are the specifications for the Blackmagic Production Camera 4K
Super 35 Sensor with Global Shutter

With a large Super 35 size sensor you get familiar framing and behavior from the lenses you already own. The sensor features a global shutter so you get perfect panning, without rolling shutter artifacts.
Canon EF Compatible Lens Mount

With the EF compatible lens mount you can choose high quality optics that are designed to take advantage of the large Super 35 size sensor with minimal cropping. Use lenses from leading manufacturers like Canon, Zeiss, Nikon and more. The active mount enables full electronic control with compatible EF mount lenses.
Ultra HD 4K and 1080HD

The Blackmagic Production Camera 4K records Ultra HD 4K and 1080HD in visually lossless compressed CinemaDNG RAW and ProRes 422 (HQ) files. At a massive 3840 x 2160 pixels, Ultra HD 4K is 4 times the size of 1080HD. The camera also features a single 6G-SDI output which supports Ultra HD live production.
Built-in SSD Recorder

The camera's built-in recorder utilizes removable 2.5″ SSDs. You can playback directly from the camera, mount the disk to any computer, or use Blackmagic Design's HyperDeck Studio deck. When finished shooting, simply connect the SSD to a computer and edit or color grade shots straight from the disc.
12 Stops of Dynamic Range

With 12 stops of dynamic range you get amazing looking images beyond those of regular video cameras or even many high-end broadcast cameras. All this dynamic range is captured into ProRes or CinemaDNG files at 4K resolution, so images retain a beautiful film look. By capturing more detail from the sensor you have greater creative flexibility in post production. You can really push the shadows or highlights in either direction and preserve fine details.
Standard Connections

The Blackmagic Production Camera 4K uses standard connections, so you never need to source custom cables. It includes a 6G-SDI connection for Ultra HD resolution or down converted HD output over a single SDI cable. The built in Thunderbolt connection lets you plug into a laptop computer and use the included UltraScope software for real time waveform monitoring, and the 1/4″ jack mic/line inputs enable high quality uncompressed audio recordings. Other connections include a 12 to 30 volt DC input, a 3.5mm headphone input socket and LANC remote control.
Touchscreen LCD Display

The integrated 5″ LCD display features 800 x 480 resolution and touchscreen technology. Use the capacitive touchscreen to access menus and change settings such as recording format, shutter angle and more. Double tap the screen to zoom into the image for fast and accurate focus. Tap once on the screen to display the metadata entry page where you can enter information such as shot number, search tags, scene number, timecode and more. You can even set shot number and other data to increment automatically. This metadata saves directly into your files and is compatible with popular editing software, simplifying file management in post production.
Flexible Power Options

The inclusion of an internal rechargeable battery makes the Blackmagic Production Camera 4K a truly portable high resolution camera. You get up to 90 minutes of recording time from the battery and the remaining power information is shown in the data strip at the bottom of the picture. The wide input voltage of 12-30V means you can connect external professional battery packs that will let you operate the camera longer while recharging the internal battery at the same time.
Remote Control

The LANC protocol is a standard method for the remote control of many professional cameras. The Blackmagic Production Camera 4K features a standard 2.5mm jack for connecting to a remote that lets you trigger the camera to start and stop recording, plus it supports electronic lens control of the focus and iris, all using an industry standard protocol and jack connection.
Other Features

The Blackmagic Production Camera 4K also includes DaVinci Resolve color grading software and UltraScope. The FOCUS button turns the peaking display on and off, and the IRIS button adjusts iris settings when used with a compatible EF mount lens. Other features include an integrated mono microphone, a mono speaker, three 1/4″-20 UNC threaded mounting points on the top of the camera and one 1/4″-20 UNC threaded tripod mount with locator pin on the bottom.
Thanks for coming by! Please help support my site by using the links on this page or bookmark these from my favorite retailers, B&H, Adorama,Zacuto, Amazon.com & Think Tank Photo. Using the links cost you nothing extra, but it helps offset the cost of running my blog. Thanks again for coming by eriknaso.com!
Filed in: 4K • Blackmagic Production Camera 4K • Camera News • Featured Post
Tagged with: 4K • Blackmagic Production Camera 4K
I'm a broadcast DP In San Diego. I enjoy sharing what I'm working on and testing new equipment. This blog is also part of giving back. I've learned so much from so many people.