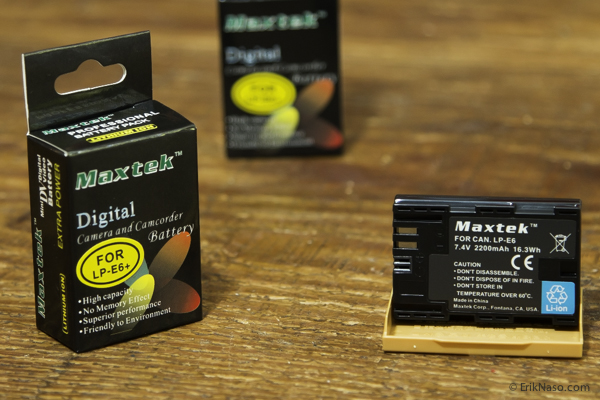 The Canon LP-E6 battery is used with so many external devices as well as several Canon cameras making it a very popular battery, but not the cheapest at $60. If you need several it gets expensive. I'm not a big fan of third party batteries. They usually don't last as long and don't work with the Canon charger, but they have gotten much better recently. One I found that is very good is the Maxtek LP-E6. This model works just like the OEM battery that comes with Canon cameras. It uses the original Canon charger and you don't get that warning from the camera when you use it like other third party batteries do. I have been using two of these with a 70D for about a week and they are performing perfectly without any issues. The link for the Maxtek is direct from the manufacture since the battery has a new updated chip. The Amazon stock has to get flushed out before the newer ones get in the system so if you're interested please use the link provided to make sure you're getting the latest version.
Made with info-chip, which can show remaining time on camcorder LCD. It also can be charged by Canon original charger. 100% Compatible with original manufacturer equipments and chargers, guaranteed!
100% Compatible with original manufacturer equipments and chargers, guaranteed!
Integrated microchip prevents overcharging, overheat & provide short circuit protection.
7.4v 2000mAh (Li-ion Rechargeable Battery).
One year USA warranty!
Compatible with:
Canon EOS 5D Mark II
Canon EOS 5D Mark III
Canon EOS 6D
Canon EOS 7D
Canon EOS 60D
Canon EOS 60Da
Canon EOS 70D
Thanks for coming by! Please help support my site by using the links on this page or bookmark these from my favorite retailers, 
B&H
, 
Adorama,
Zacuto
, 
Amazon.com
 & 
Think Tank Photo
. Using the links cost you nothing extra, but it helps offset the cost of running my blog. Thanks again for coming by eriknaso.com!
Filed in: 70D • Canon
Tagged with: 5D MKIII • 70D • Camera Battery • Canon • LP-E6 • LPE6
I'm a broadcast DP In San Diego. I enjoy sharing what I'm working on and testing new equipment. This blog is also part of giving back. I've learned so much from so many people.