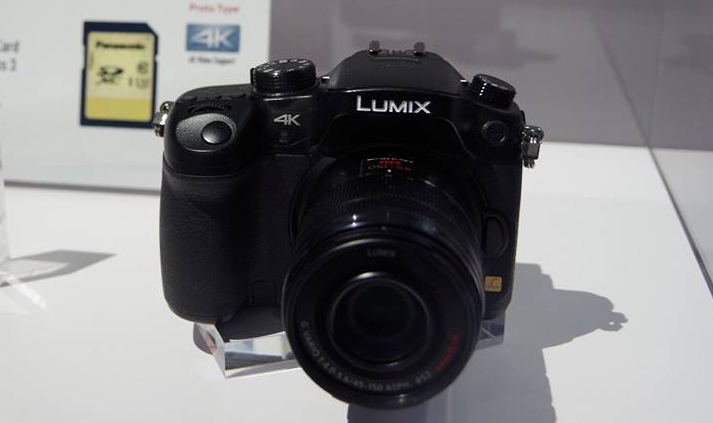 A lot of buzz over at CES today over this prototype GH 4K camera. It obviously is a GH3 with a branded 4K label but it does show Panasonic has intentions on making a mirrorless 4K camera and at this point Canon with the 1DC is the only other 4K capable DSLR. The interesting thing is it's price point of $2000. After scouring the net for more info Engadget had the best info from a Panasonic rep.
UHD content can be recorded at 200 Mbps, and output in a full live feed via a mini-HDMI port (thanks to ALL-I Intra mode) to display on a computer or record to a hard drive. Of course, the Micro-Four Thirds shooter can save footage straight to an SDXC card — a UHS Class 3 prototype variant tuned for such a task was on display — though space will run out fairly quickly.

There's no word how many megapixels the cam totes, but it will be able to simultaneously snap photos while recording video. More details are set to arrive with the camera's official release in late February.
These are the rumored specs.
16mp
1/8000 shutter
1mil dot OLED screen
21mm OLED viewfinder, 3,000+ dot.
Time code
200mbps mp4 All-i/100mbps IPB
4k/30p
4:2:2 10/8bit output
3G-SDI and XLR adaptor (An adaptor that the camera sits on with XLR x2, HD-SDI x4)
Pretty interesting for sure! So now I'm thinking. If Panasonic has a MFT 4K sensor are we going to see an AF-100 4K at NAB this year? I would think so being this is the direction the industry is going. I would be very interested in a 4K AF-10o more so than a GH 4K since my work is primarily broadcast and audio capture in camera is important to me and the essentials like built in ND filters. Lets face it shooting video with a stills camera can be a PITA. LOL!
I just saw this video from the CES floor in front of the Panasonic booth. Seems more reserved than the original report but verified it is a Proof of Concept and not a working model.
All very interesting and a big take away is the rumored specks are to generous. I will keep my eye on this one!
Thanks for coming by! Please help support my site by using the links on this page or bookmark these from my favorite retailers, B&H, Adorama, Zacuto, Amazon.com & Think Tank Photo. Using the links cost you nothing extra, but it helps offset the cost of running my blog. Thanks again for coming by eriknaso.com!
Filed in: 4K • GH3 • Micro Four Thirds • Panasonic
Tagged with: 4K • 4K GH3 • GH 4K
I'm a broadcast DP In San Diego. I enjoy sharing what I'm working on and testing new equipment. This blog is also part of giving back. I've learned so much from so many people.