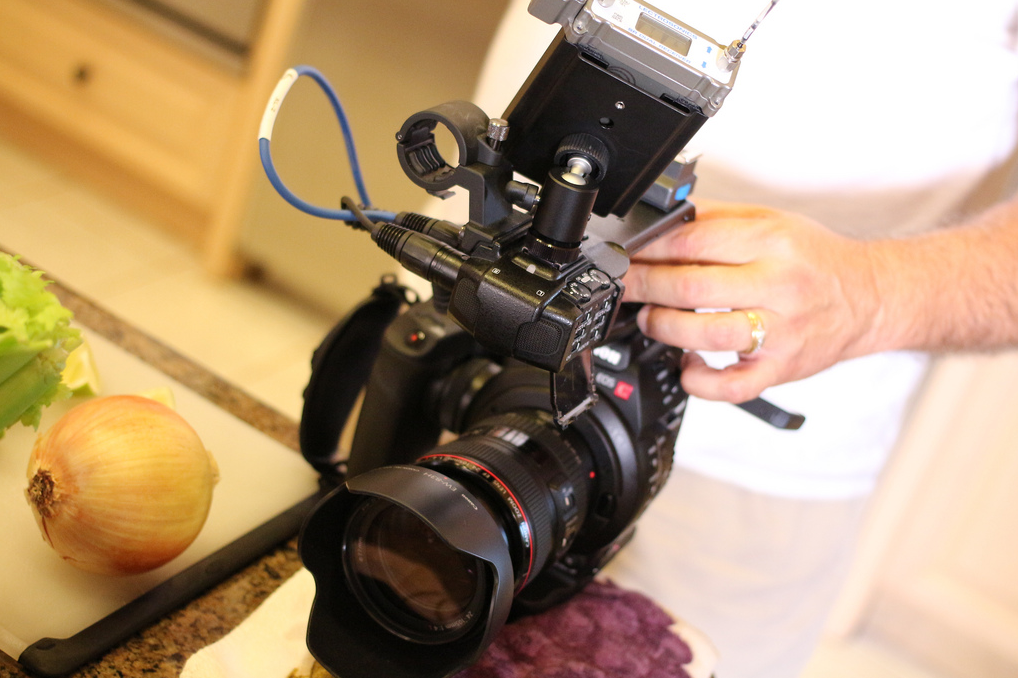 I try to practice what I preach. Use the right tool for the job. It's saves me the headache of trying to get the camera to work for me. When I'm shooting I just want the camera to get out of the way so I can focus only on shooting and capturing audio.
When our producer explained to me the concept for these two shoots on cyberbullying I knew I wanted to use the Canon C100 for one of the spots. The version with the teen girl was pretty much a handled shoot except for the scene in her bedroom. I used a Kessler CineSlider.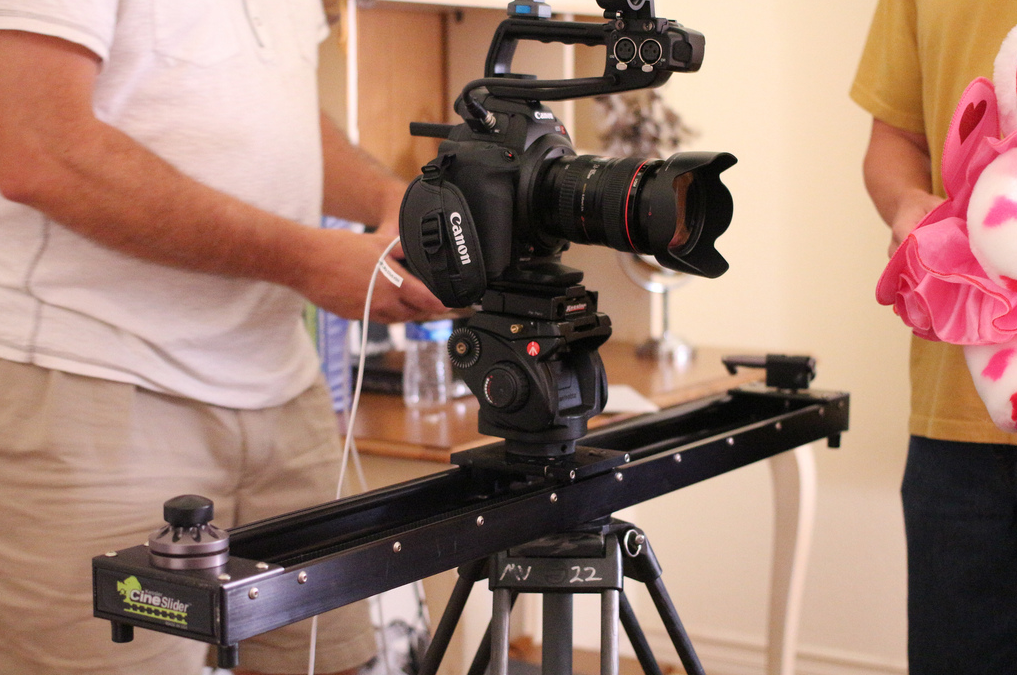 I like the Manfrotto FigRig a lot for handheld. I'm comfortable using it. Even though the Canon Cinema EOS cameras have pretty good ergonomics if your shooting for long periods handheld it gets tiring. Holding the camera in front of you isn't the most natural position after 5 hours. Add in a shoulder issue I've been having that makes me want to make the camera as light as possible.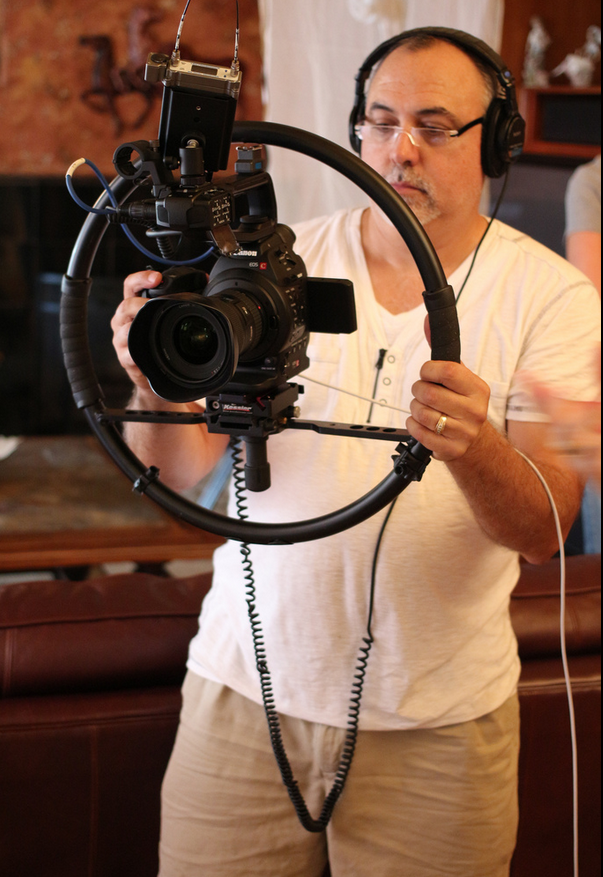 So why use the C100 instead of the C300? The C100 is lighter and a little smaller making it easier for me to shoot handheld for longer periods of time. I also didn't need the larger LCD screen that the C300 has since I was using a SmallHD DP6 that the director was holding and making sure he liked the shots. I had him bring it close to me for pre-focusing. The LCD on the back of the C100 was good enough for framing and the punch in feature works really well just to make sure i'm all good. Below is both Cyberbullying spots. The first one was shot with the C300 also in C Log.
I'm comfortable with using the AVCHD codec as well. For this shoot I went with the internal codec and C Log. I could have added a Atomos Ninja 2 but then the weight would make this" keeping it lighter" idea not work very well. We knew the grade wasn't going to be very intense and the codec edits just fine for color correction and light grading.
I set the camera up with C Log gamma and shot 24P with the shutter set at 180 degree shutter angle. The main lens was the Canon 24-105 with it's great image stabilization. Lifesaver! Sharp and stable in the FigRig.
I had  used a Lectrosonics SRB Dual Channel wireless receiver for the audio in the kitchen but that scene was pretty easy to shoot since they where short shots at different angles. The Lectrosonics SRB Dual Channel is a very good wireless system. Eats batteries like a starving football player but the audio quality is very good. Having two channels on one receiver is huge when your using small cameras with limited mounting options. It's expensive but worth it.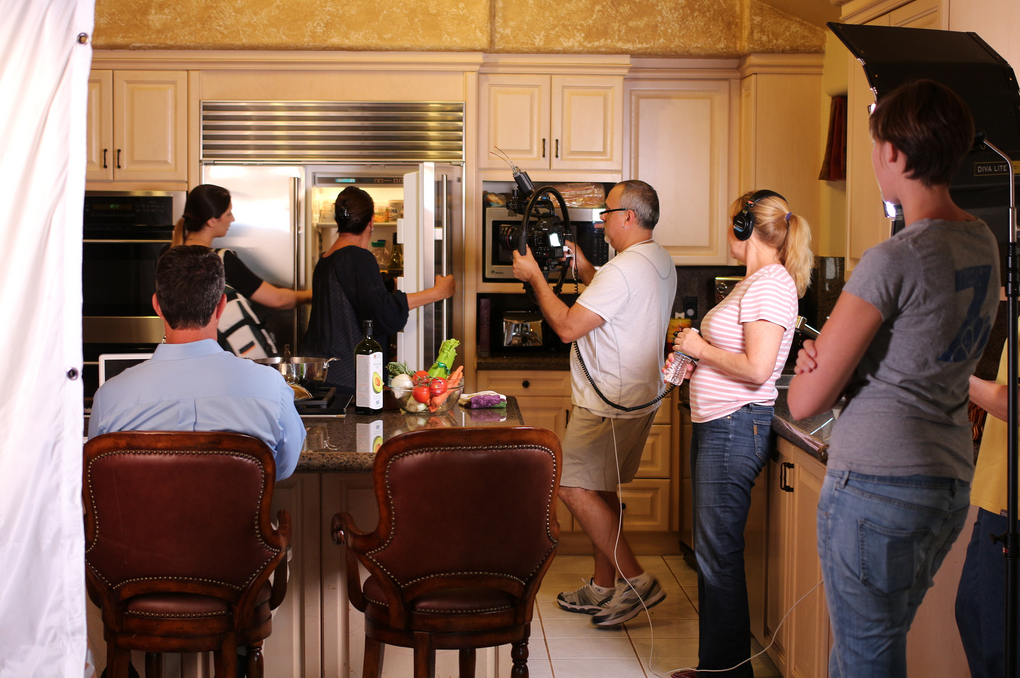 Lighting was mainly two Kino Flo Divas and a ARRI 650 kit. I used a large 2 stop fabric on a c-stand and arm to light the kitchen and hall way, but not over light it. I wanted it to fell a little depressing and some what warmer. I do fell I needed a little more punch but hey we live and learn for the next one right? In the bed room we had one Kino Flo dimmed down a lot. I had to put a CTO filter in the lamp because it was casting a greenish color. Strange bulb in that lamp!
In post the spot graded just fine and nobody new the difference between the two cameras. Everyone was happy and my shoulder was too. Never let you're gear get in your way. Do whatever it takes to get the best out of yourself and don't worry. If the technique is good and the script is solid nobody cares what camera you used.
Thanks for coming by! Please help support my site by using the links on this page or bookmark these from my favorite retailers, B&H, Adorama, Zacuto, Amazon.com & Think Tank Photo. Using the links cost you nothing extra, but it helps offset the cost of running my blog. Thanks again for coming by eriknaso.com!
Filed in: C100 • C300 • Canon • Canon Cinema EOS • Featured Post • Lighting • Post Production • Production
Tagged with: C100 • C300 • Canon • CineSlider • Fig Rig • FigRig • Kessler • Kessler Crane • SmallHD
I'm a broadcast DP In San Diego. I enjoy sharing what I'm working on and testing new equipment. This blog is also part of giving back. I've learned so much from so many people.