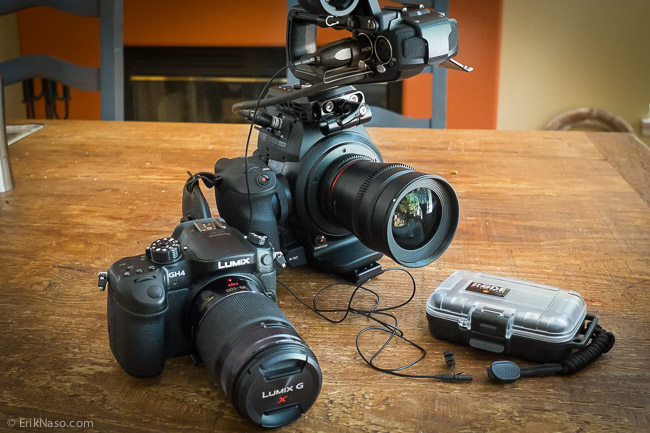 After using the GH4 for a broadcast news promo and recording the audio internally with the Sennheiser EK 2000 wireless I wanted to see how good these new preamps are in the Panasonic GH4. I was happy with the sound I had from the wireless setup but how would it compare to say the Canon Cinema EOS C100 recording direct to the SD card? Well that is exactly what I wanted to know. Below is the spot I shot with the GH4. You can read more about this spot and how I graded the image HERE.
Okay so I know a lot of people are going to poo poo this approach of recording internally since you can get better quality recording your audio separate with a recorder, or using a preamp attached to the camera like a Beachtek or Juicedlink. You are correct. However this does add more gear that can get expensive and added time in post to sync the audio. Just sayen. Most people aren't making a feature film with worldwide distribution using the GH4 so lets be real. Make it as easy as possible and get the gear out of the way and focus on content. Less is more and if you aren't sacrificing that much it's a good trade off. This article is partly a review of the Rode Lavalier and a test using it with GH4's internal recording capabilities.  Lets get started.
I bought the Rode Lavalier recently since I needed a versatile lav mic that will work with more than just one system. My Sennheiser EK 2000 uses a Lemo connector and the GH4 uses 3.5 mm plug. The C100 has both XLR and 3.5mm. Buying several dedicated lav mics can get expensive. This Rode Lavalier is a great option. I like the tone of the Rode Lavalier.  in the sample it has a nice warm full tone. It's size is similar to the Sanken COS-11 that has been my go to mic for several years. The COS-11 requires phantom so it can't be plugged directly into the GH4. I need to see how well these two will match for when I need to record two people at the same time. Hopefully they will sound good together.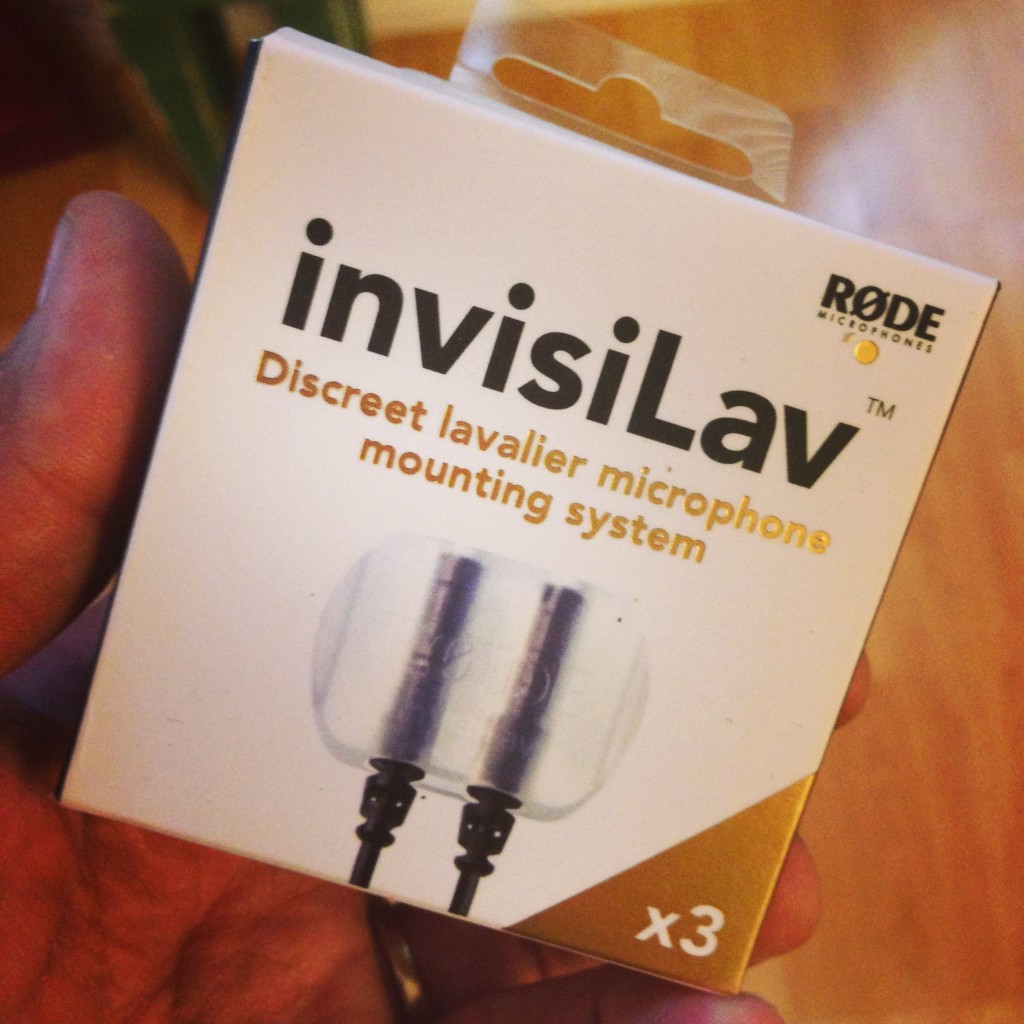 Another product I like from Rode that works perfect with the Lavalier mic is the invisiLav discreet lavalier mounting system. These rubber sleeves let you hide the mic inside clothing or taped direct to the body. Best place to hide a mic on a woman is her cleavage. I know what you're thinking so behave! I've been hiding my Sanken COS-11 mic with their version that comes with the Sanken COS-11. It's a great way to hide the mic and protect it from unwanted rubbing noise. Okay that sounds a little wrong. Moving on…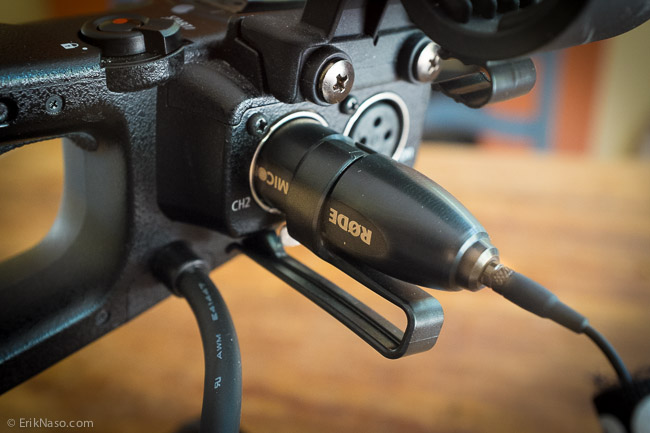 Here is the Rode Lavalier with the MiCon-5 XLR adapter attached. I know that connection looks pretty fragile but when tightened down to the adapter it is solid. The RODE Lavalier has a hefty 5 year warranty so it appears Rode believes in the product. Another nice feature with the Rode Lavalier is the cable's cover is made of kevlar. A very tough material. It allows it to be very thin and strong. All mic cables should be this thin! No cheap, but worth it.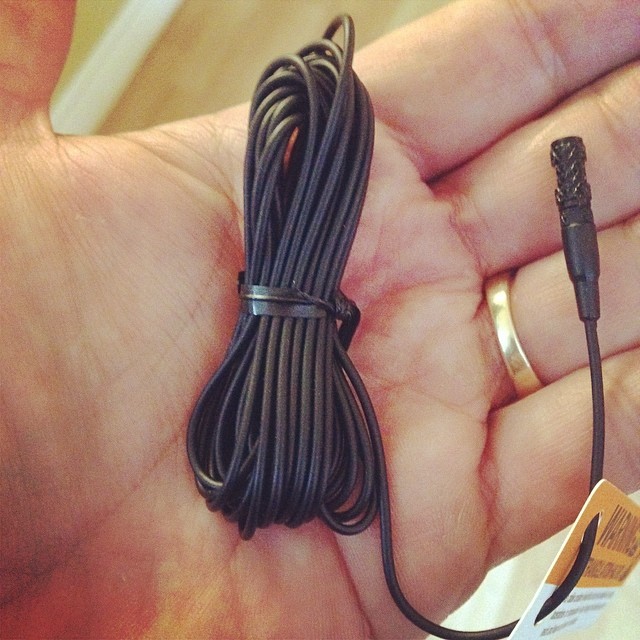 In my hand is a 10 foot of cable. Thats crazy cool! I for one like having less to carry.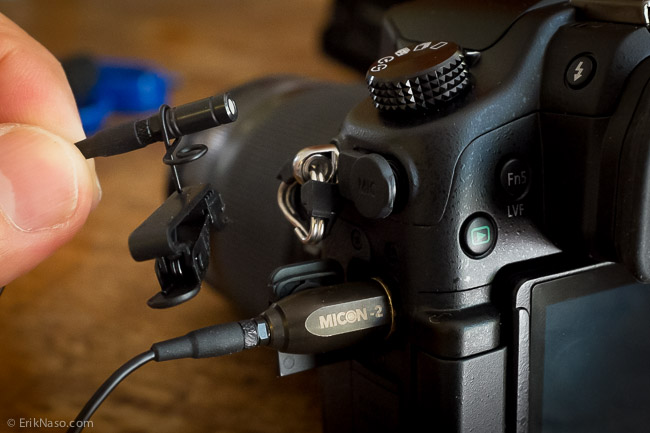 With the MiCon- 2 connector I can plug the Rode Lavalier directly into the GH4. The Rode lav only needs 1v of power and that works just fine with the GH4.  If you want to use a different lav make sure it doesn't require phantom power or you will have to use an external device power it and that defeats the purpose of keeping this lean and mean. Mics also have noise so use a good quality mic and you will have less of it. Below is the test I did with the Rode Lavalier plugged straight into the GH4. I then Swapped out the end to the MiCon-5 XLR and recorded with the C100.
Camera settings.
GH4 – 200 Mbs – Linear PCM, 16 bit big-endian signed integer, 2 channels, 48000 Hz
C100 – AVCHD – Linear PCM, 16 bit big-endian signed integer, 48000 Hz, Stereo (L R)
As you can see the audio recorded is identical only the C100 records audio in stereo and the GH4 dual mono.
Finally! The test results below. Put on a nice set of headphones to really hear my amazing voice. Sorry I'm not available for voiceover work.
I had to adjust the level in post to match the output level of both recordings. The GH4 had a little higher record level and since I couldn't bring it down anymore than -12 db thats the best I can get without adding an external interface unit. The audio recorded just fine and I had no clipping issues.
The C100 was also set to manual and I dialed it in. The GH4 recorded in dual mono and the C100 in stereo due to the AVCHD codec. I added a channel fill to the C100 so the two channels have audio. They sound amazingly similar and I have to admit I was surprised by how well the preamps performed in the GH4. This gives me the confidence in using the GH4 internal audio with a high quality lav like the Rode Lavalier. I really don't see much of a negative trade off here, but I know many swear by dual recording and if that work flow works best for you have at it. For me this a great way to simplify my workflow when I want to use the GH4 for more than just a B-camera.
Here is more info on the Rode Lavalier system. One thing you need to know is the kit doesn't come with a connector. You have to buy one separate. Since the lav has several options I guess thats a good thing. I ended up buying four different ends. It's a lot of adapters but I can now use the Rode Lavalier on all my cameras and audio devices.
discrete – minimal appearance condenser mic with low self noise
Omni-directional polar pattern
Frequency: 60Hz – 18kHz
Includes: mini-furry for high wind protection, cable management clips and water resistant case
5 year warranty
Rode MiCon2
Designed to connect to a standard 3.5mm stereo minijack
Seamlessly connect to the RØDE PinMic and Lavalier microphones
This Hosa 3.5 dual mono splitter will allow you to add a second mic. It splits the stereo channel so you can have a shotgun on the left channel and a lav on the other or two separate lavs. Pretty neat setup for the budget minded filmmaker. I hope this review of the Rode Lavalier and the test of how well the GH4 performs recording audio internally helps you. It did surprise me and I look forward to just plugging a good quality mic in and shooting away.
Follow me on Twitter @eriknaso and check out my page on Facebook.
Thanks for coming by! Please help support my site by using the links on this page or bookmark these from my favorite retailers, B&H, Adorama, Zacuto, Amazon.com & Think Tank Photo. Using the links cost you nothing extra, but it helps offset the cost of running my blog. Thanks again for coming by eriknaso.com!
Filed in: Audio • C100 • C300 • DSLR • Featured Post • GH4 • Micro Four Thirds • Post Production • Premiere Pro • Video Editing
Tagged with: Audio • C100 • C300 • GH4 • MFT • Micro 4/3 • Panasonic • Rode • Rode Lavalier • Rode Lavaliere
I'm a broadcast DP In San Diego. I enjoy sharing what I'm working on and testing new equipment. This blog is also part of giving back. I've learned so much from so many people.