I decided to go ahead and shoot a promo with the new V Log L but not with the internal codec. Instead I wanted to get 10bit out to the Odyssey 7Q+ since the GH4 is capable of outputting 10bit I might as well take advantage of it especially when you have a LOG gamma to grade in post. Some people including myself are having issues with with chroma smearing or magenta patches especially when grading in Premiere Pro CC 2015. Luckily I didn't notice this issue on this shoot. I did get some moire on a jacket but not with talent in this spot. I've moved most of my editing to DaVinci Resolve 12 now and the Color page is fantastic. Again I didn't get strange chroma issues on this shoot.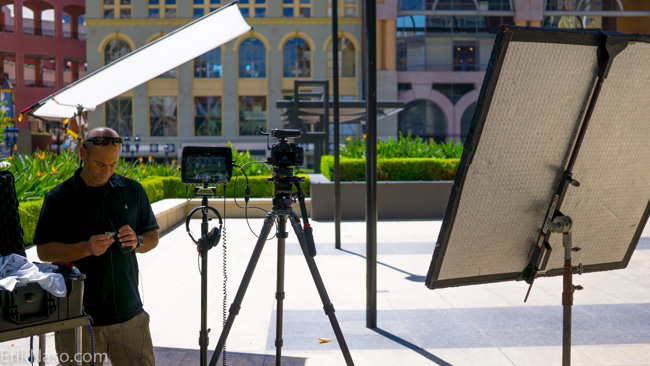 This was a pretty straight forward shoot. I had three anchors doing lines to camera. I used my normal setup bouncing the sun and shading with an overhead scrim.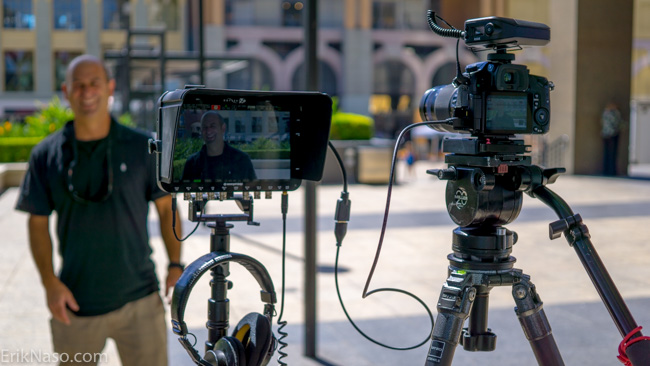 Shooting log can be tricky and getting exposure and focus is hard when the image is this flat. The Odyssey 7Q+ to the rescue! I used the Panasonic LUT and it looks great. Focus was easy and the on board tools made getting exposure easy. My biggest problem was shading the 7Q+ in the bight sun. I need a long hood. Still looking into that. Side note Convergent Design has a new matte screen protector. I'm getting one.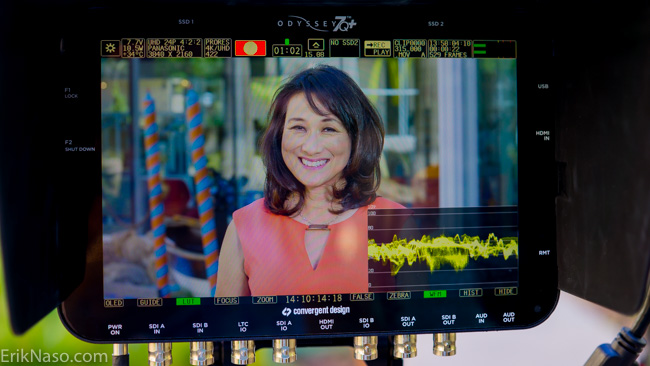 The picture above is with the Panasonic LUT on the 7Q+ The waveform is such a great tool on the 7Q+. All the tools are really great. I was shooting for around 65 to 70 IRE on the skin tones. This seemed to work well in post. A little over but helps with noise control.
The GH4 base ISO is 400 with V LOG L. I used an Hoya PRO ND filter. Not a variable. Those are fine for static stuff but never on people. Makes the skin look strange.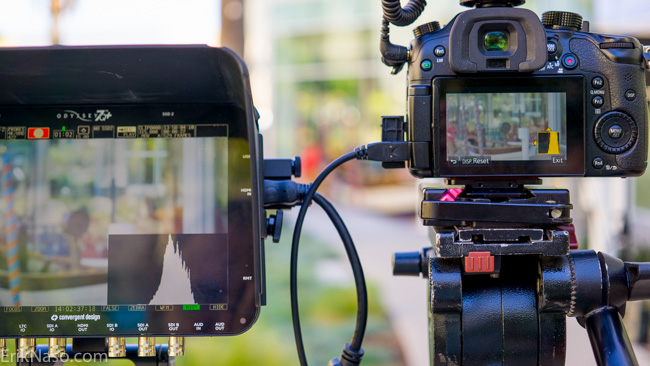 I was using the FREE version since my paid one hadn't arrived you. The histogram isn't working right on this release and I'm not sure if the new 2.4 firmware fixed this issue. I'll let you know after it arrives. As you can see on the camera it's almost 2 stops higher than what the 7Q+ is reading. I trust the 7Q+ tools.
Post was pretty easy since the spot is fairly simple. I'm fairly new to Resolve still. Learning as I go, but wow! It's a grading machine!!! I did the usually. Grade the image and add saturation back. Did a mask to brighten the face and added a nice soft vignette. Even played with the Qualifier tools to adjust the skin tone to my liking. Not that was bad. It looked pretty good, but I always tweak the image.
So is the GH4 V LOG L worth $100? I'm not sure. I'm still trying to figure that one out. The skin tone and overall color when graded looks better than any profile I have tried. I like the Natural preset the most. I like the image I got in 10bit. but that requires the use of a recorder. Is 8bit good enough? Maybe. I did shoot a little with the internal codec and it looked pretty good. I think you need to pay close attention to exposer and if you don't have a monitor this could be an issue especially knowing the histogram isn't working right. The GH4 to me is a noisy little camera and higher ISO can get ugly so keep that in mind. Al in all I have I feel this promo turned out pretty good. I learned a lot too so you cant beat that! Be careful with LUTs in post. They can add to the problem. I hope Panasonic will release a LUT for the GH4 and V LOG L instead of recommending the Varicam version. It really doesn't work very well. I have seen a lot of people selling LUTS these days too so that might be a good way to get started in grading the image. My paid version should arrive any day now so we shall see if it's acts different than the back door FREE release.
Follow me on Twitter @eriknaso and check out my page on Facebook.
Thanks for coming by! Please help support my site by using the links on this page or bookmark these from my favorite retailers, B&H, Adorama, Zacuto, Amazon.com & Think Tank Photo. Using the links cost you nothing extra, but it helps offset the cost of running my blog. Thanks again for coming by eriknaso.com!
VLOG
V LOG L
V-LOG-L
VLOGL
Filed in: 4K • Blackmagic Design • Convergent Design • DaVinci Resolve • Featured Post • GH4 • Micro Four Third Lenses • Micro Four Thirds • Mirrorless • Panasonic • Post Production • Production
Tagged with: LOG • Odyssey 7Q • V LOG L • Vlog • vlogl
I'm a broadcast DP In San Diego. I enjoy sharing what I'm working on and testing new equipment. This blog is also part of giving back. I've learned so much from so many people.