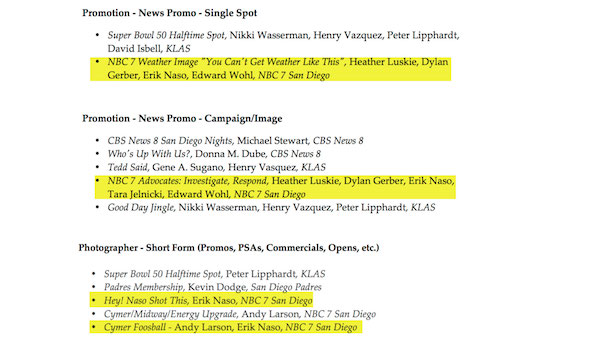 In this crazy business every year I go through the promos and spots I've worked on to decide what to enter for the Emmy's. It's never an easy process because I'm my own worst critic. This year I received four nominations! SWEETNESS! First off i'm really lucky to have a carrier I truly love. Not everyday is great but the majority are fantastic. It sure is fun and rewarding to have a creative career. I couldn't imagine doing anything else. Well maybe a few other things but it ain't going to happen!
Here are the spots I was nominated for and a brief description on the productions and gear used because I know you love that stuff as much as I do.
NBC 7 Weather Image "You can't get weather like this"
Pretty straight forward as far as the camera work. Lots of shading and bouncing outside. I do this a lot and always surprises me how well it works. I'm working on a course for Lynda.com on shooting outdoors. Will be in production in August. I think you will like it.
NBC 7 Advocates, Investigates and Responds
"Expect it" was a fun shoot. I used the C300 for most of the footage. The Sony a7rII on a CAME-TV gimbal shot at 120 fps. Bummer is the a7rII doesn't do full HD in high frame rates. I had to up-rez those shots in post. It held up okay but is a little soft.
The "NBC 7 Investigates" spot was all shot with the Sony a7rII and CAME-TV gimbal. I like this spot a lot. It was fun to shoot and grade. Nothing like making stuff look seedy.
"NBC 7 Responds" was also a Sony a7rii spot. The story with this one was I had the a6300 and the darn thing was constantly overheating making me nervous to use it outside in the summer on the beach. I needed to use a gimbal to get those walking shots on the sand to look smooth so I decided to buy a a7rii. It was more than I wanted to spend but I did it anyway and sold the a6300. What can I say. I'm dedicated and broke. I think it came out nice. The shots at the call center was a Canon 5D MKII. I really had a tough time with them in post. Color was off and the codec was hard to work with. The reason I didn't shoot it is the call center is in Dallas.
Cyber Foosbal
This one I was a partnered with Andy. He is super talented DP/editor. I love collaborating with him. I wish I could more often. I primarily do the station and news image spots while Andy does the commercials. We are small but mighty force. LOL! We used the Sony FS700 for this spot because of the very good quality high frame rates it's capable of capturing. We used a Convergent Design 7Q+ to get ProRes quality. Love this spot. Another fun one to shoot. The overhead jib was the Sony a6300. I love using small cameras on jibs. Makes it so much easier. Small light camera equals small light gear. Win win!
Hey! Naso shot this. (Yeah it's a silly title for a composite but I was feeling cheeky that day.)
This entry was a composite of the spots previously mentioned. Below is all the spots that I was nominated for.
So, maybe you noticed that I haven't been posting as often in the last couple months on my blog. The reason for this is I'm currently the US Corespondent for NewsShooter.com. This is has been honor to be apart of the site that I personally visit on a daily basis. I think they do a great job reviewing gear and writing about new tech.
This year I went to NAB 2017 with the crew and posted a ton of content for the site. It's been a great experience and enjoying it a lot. The down side is hard for me to write on my blog as well. I want to keep it alive but I just cant do both and have a full time job plus a personal life. I really enjoy writing and sharing and hopefully I can figure out another way to use eriknaso.com. Like this post. Maybe it will be a little more personal? I don't know. Let me know what you think and what you would like to see here. On the camera geek side I picked up a Panasonic GH5 and really like the camera. It's not perfect but I like the image quality a lot and the color is really nice. Tomorrow the DMW-XLR1 module will come in and make the camera a real beast. Cant wait for the 400Mbps update with All-Intra codec. Next month we have Cine Gear Expo and i'll be heading to the show to cover it for Newsshooter. Let's see what Panasonic has to unveil. I sure hope it's an S35 cine camera. I think they need something that sits in the middle of cameras like the FS7, FS5 and C300 MKII and C100 MKII space. Maybe another new camera release coming to the show as well…..
Until next time keep shooting and creating and please visit me on like my Facebook page. I do post a lot and enjoy the conversations.
Thanks for coming by! Please help support my site by using the links on this page or bookmark these from my favorite retailers, B&H, Adorama, Zacuto, Amazon.com & Think Tank Photo Using the links cost you nothing extra, but it helps offset the cost of running my blog. Thanks again for coming by eriknaso.com!
Interested in buying a new camera? Well I have a course on Lynda.com you should watch that will help you pick the right one for the job.

Filed in: Featured Post
Tagged with: Emmy
I'm a broadcast DP In San Diego. I enjoy sharing what I'm working on and testing new equipment. This blog is also part of giving back. I've learned so much from so many people.