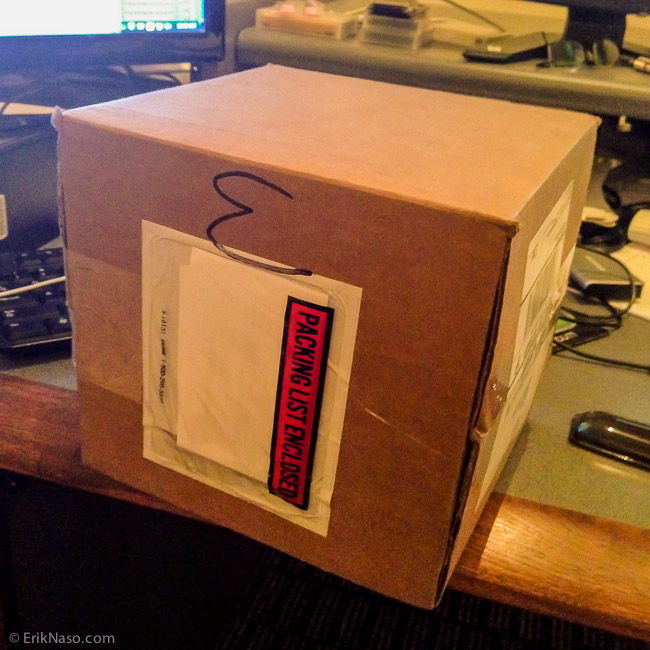 I was lucky to have my pre ordered GH4 arrive today from Texas Media Systems much sooner than I expected. It wasn't supposed to be here until the end of April. To my surprise Texas Media Systems emailed me with a tracking number and the next day it arrived. So cool! I love new cameras! I was pretty busy today at the station so getting out and shooting wasn't going to be possible. Well maybe for a few minutes right? The big deal with the GH4 is internal 4K acquisition. Yes it's compressed but I'm telling you right now the image looks really good. Panasonic really is giving us the whole enchilada with this camera. Very rare to have so many features normally found in only video cameras on this hybrid mirrorless beast. To take this camera even further Panasonic has the YAGH external thingy. Most won't need it but if you do you know what it does so I'm not going to get all YAGHed up in this first impression post. I will mention that the micro HDMI output is 10 bit 4:2:2. This is crazy good! Feed that to the YAGH with it's SDI outputs and XLR inputs that I just said I wont talk about or the new Atomos Shogun recorder and you get amazingly good quality 4K image from a $1600 camera. This just blows my mind still. I'm sure I'll get over it soon. LOL!
Panasonic GH4 Highlights
16.05 MP Digital Live MOS Sensor
DCI 4K 4096×2160 at 24p
UHD 4K 3840×2160 at 30p/24p
Full HD up to 60p
96FPS in 1920 x 1080 100Mbps. WOW!
3.0″ 1,036k-Dot OLED Monitor
2,359K-Dot OLED Live View Finder
Support for 59.94p, 23.98p, 50p, & 24p
4:2:2 8-Bit or 10-Bit HDMI Output
High-Speed 49-Point Autofocus
Magnesium Alloy, Weather-Sealed Body
This post is all about the GH4's video capabilities. I'm a DP and my first intrest in the GH4 is for video. I'm also a big stills fan, and I loved the GH3 for it's portability. I don't see that changing and the GH4 is going to be my go to camera for stills as well but I do have to admit that the Fujifilm X100s is really a fun camera so why settle for only one!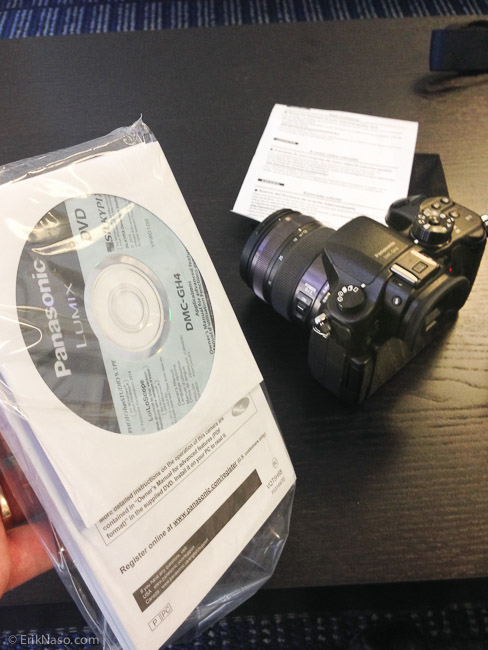 I did spend some time reading the manual for new features. Yes I do that, but heck! I already know the GH cameras from having the GH3. The menu is pretty much the same except for the "new settings". Ahh those new settings. They really are great! Panasonic decided to make this a very video friendly camera by adding the option to set the shutter to shutter angle. I love that! I set it to 180 degree. Done. I like to use C1 custom setting for video. I have it setup for cinema 4K at a whooping 100Mbps 4096 x 2160 at 24p. This just blows my mind! Turned on audio VU meters and set base ISO at 400. I need to test the ISO settings but for now 400 will do. I chose 400 for no particular reason just a starting point. Oh and yes it does have a headphone jack. As for audio I haven't tested it yet. The GH3 did very well with internal audio. Check out my GH3 test video and review I did when it first came out.
The GH3 is a very capable camera and the GH4 really builds on that foundation.
The GH4 feels just like the GH3 in your hand and thats a good thing. Like the Fujifilm X100s why mess with a good thing. Good call Panasonic! All the buttons are the same but one new feature I like is the Mode Dial Lock. No more accidental setting changes. The control dial is still not my favorite but not a deal breaker.
The EVF is so very nice. It's OLED and really sharp. it doesn't have the distortion in the corners like the GH3 did. At least I feel it didnt. I took the camera outside in the bright sun and the built up eyecup prevented light leak making it very easy to see the image inside the EVF. Really great to see what you're shooting without the overlays on top of the image. I like that a lot.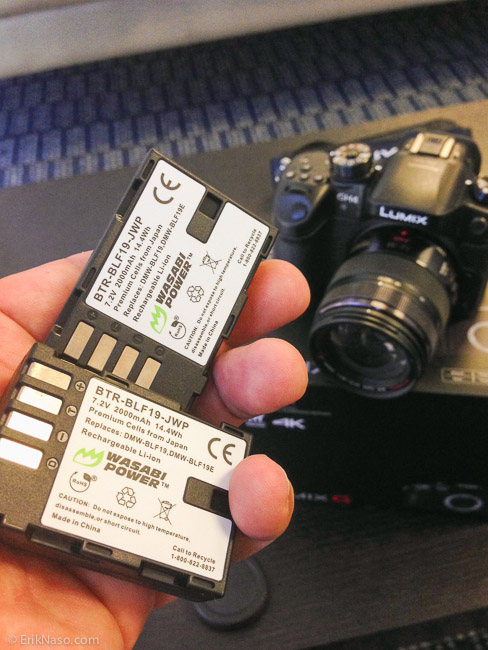 I already had a couple of Wasabi Power batteries from Amazon so I was ready for the new camera. You know the battery that comes with new cameras are about 25% charged when you get it. Just enough power to get you excited and poof! dead. I know a lot of you don't like 3rd party batteries but these are highly rated and I have several for other cameras that have been working just fine. YMMV and so that's a choice you have to make. I'm good saving about 50%.
Panasonic recommends U3 SD cards. I found these Kingstons 64GB SDHC UHS-I Speed Class 3 and they work perfectly. You get approximately an hour and a half on a 64GB card. I don't have other fast SD cards to test so I highly recommend just getting new U3 ones and don't take any chances with dropped frames or worse. If you do please test them before you shoot something that matters.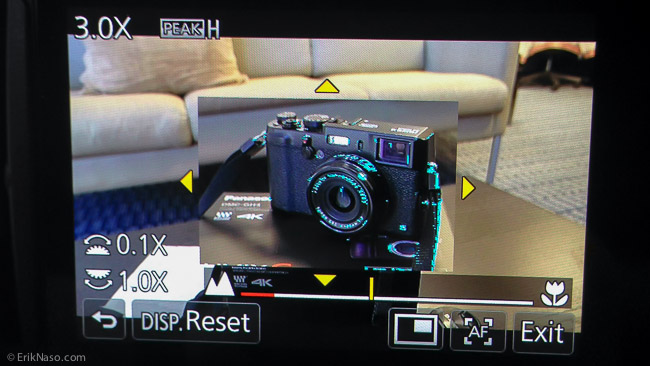 Hello peaking! This feature is so handy and one feature that everybody wants. Now we have it, and the GH4 has two different peaking settings. High and low with six different colors to choose from. I like the high setting and baby blue just fine which is the default.
Focus zoom is really handy too and almost unnecessary because the peaking function is so good. I didn't think I would ever say that. The rear articulating OLED monitor is very sharp and clear. It's OLED like the GH3 but again higher resolution and just plain better. Monitoring is really so much better on mirrorless cameras than DSLR's.
A few nice improvements are with white balancing. No longer do you have to take a picture and set the WB. You simply go to the white balance function with the top WB function button and navigate to one of the four available WB custom settings. Click up on the Control Dial and a box appears. Pull out your gray card and hit the select button. Done. Really fast. Very video camera like.
The added Cinelike D and Cinelike V custom picture settings are great! Another example of how Panasonic is making the GH4 more of a video camera than just a hybrid. Cinelike D is flatter and gives you more detail in the shadows. It does need to be graded to get the most from the image. I like this option and yes the 4K Cinema 100mbs can be graded. It doesn't fall apart unless you push it pretty hard. 8 bit 4:2:0 has come a long ways my friends. You also  have master pedestal settings to play with. Crazy right? More on this in my full review.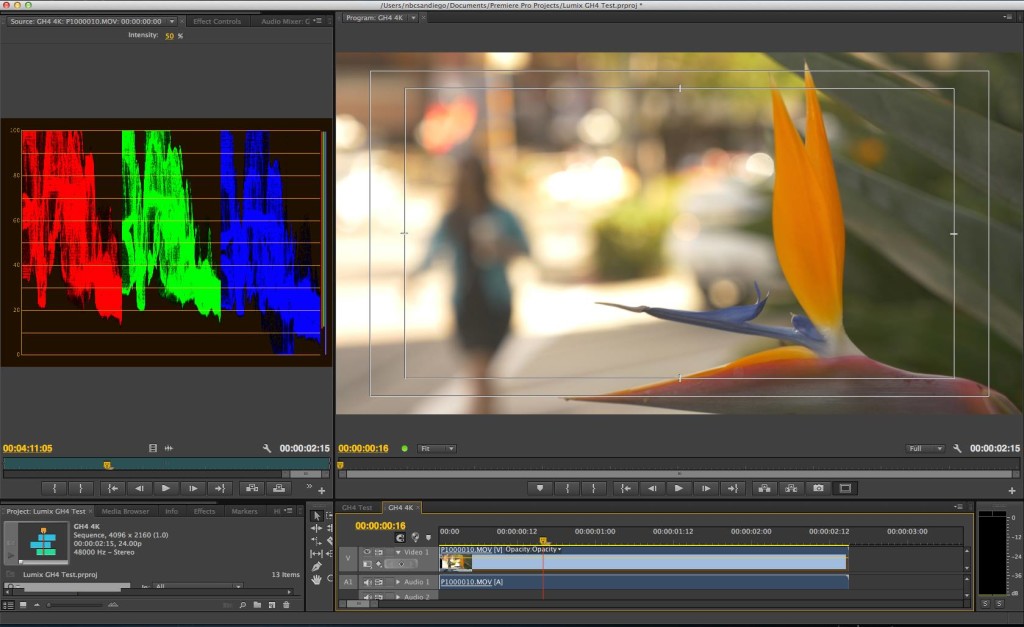 I did a highlight test in all my spare time today. (sarcasm) and I'm very pleased how the camera clips. No yellow yuck! Wow Erik that is one compelling shot!

I did a quick grade and I mean a real quick one. Its a tad more blue in the shadows than I like and I kind of jacked up the green on the leaf but hey I'm moving fast today! As you can see the highlights hold on and have a nice white color. Thats a big deal and I'm really excited to push the GH4 around. I like that blown out look for certain shots but I want it to be white. No post processing will fix that ugly yellow or at least make it easy. I like easy. I did do a rolling shutter test and it's better. I did some fast pans and it does show up but I don't do fast pans in the real world. I need to let the objects move fast to see how they look and that test will be coming in the full review soon.
One thing worth mentioning is I do wish Panasonic would continue developing the AF-100 digital cinema camera. I loved mine and would have bought the next generation in a heart beat. If Panasonic's idea is to give us a really tricked out hybrid instead I think they dont understand what DP's and filmmakers prefer. I like the GH4 a lot but I still don't see it as my "main" camera. Even with all the improved features and video friendly settings it's still a hybrid and I'm not. I'm a DP and I need a video camera. Not to say I won't use the GH4. I will and I see it as a major player but a proper video camera is just easier to use. I do see a rig in my future…..
I scratched the surface and shared a few of the features I like. Is the GH4 worth upgrading to from a GH3?  I think so. The internal 4K alone is such a big deal and image is very good. Add a Atomos Shogun in if you need the extra codec power and you have a very powerful inexpensive 4K camera. I know broadcasting in 4K isn't going to happen soon but acquisition in 4K is just like it was when HD came along. Our DVD's looked really good when we downscaled them. Much better than if we shot it in SD. Thats a big deal.
Okay and to cap this first look off I had to show my GH4 Dream Team. I love these lenses. The Lumix 7-14, 12-35 and 35-100 are workhorses. I also have some Rokinons Cine and Canon EF lenses but without an electronic adapter I wont be getting much use from my Canon glass. I sure hope a Metabones SpeedBooster with EF electronics comes out soon. I think they will because the Panasonic GH4 is going to be a big seller and I cant wait to to get out and shoot with it for the full hands on review. I'm also putting together a "What Lens Should I Buy" post. This one is going to be HUGE! The GH4 can practically accept any lens with an adapter.
UPDATE 5-29-14
I went out today and shot some 96fps shots. Interesting shoot. More on the shoot HERE. I think the image is a little soft and I dont know why. I need to figure out this out but I do like the look of the high frame rate and the GH4 performed perfectly as far as writing to the media card goes just a little soft.
Follow me on Twitter @eriknaso and check out my page on Facebook.
Thanks for coming by! Please help support my site by using the links on this page or bookmark these from my favorite retailers, B&H, Adorama, Zacuto, Amazon.com & Think Tank Photo. Using the links cost you nothing extra, but it helps offset the cost of running my blog. Thanks again for coming by eriknaso.com!
Filed in: 4K • Equipment Reviews • Featured Post • GH4 • Micro Four Thirds • Panasonic
Tagged with: 4K • Cinelike D • Cinelike V • GH4 • MFT • Micro 4/3 • Panasonic GH4
I'm a broadcast DP In San Diego. I enjoy sharing what I'm working on and testing new equipment. This blog is also part of giving back. I've learned so much from so many people.