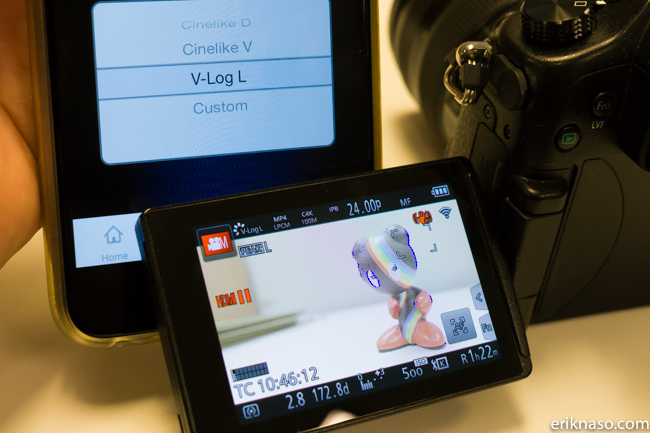 If you haven't heard by now the V-Log L profile that was included in the GH4__V23.bin firmware V2.3 had a backdoor when using the Image App.that let you get the profile installed for free. To learn more about this please read my post .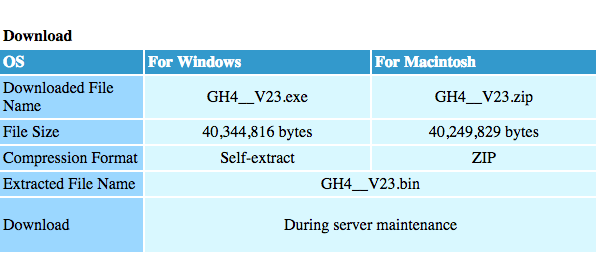 This is what you get this morning if you want to download the GH4__V23.bin V2.3 firmware.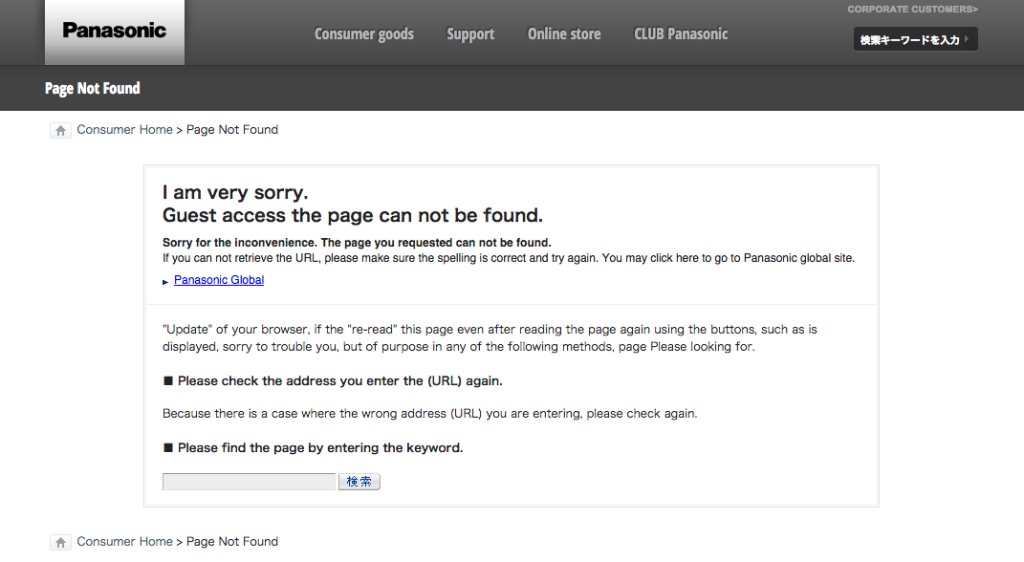 Now Panasonic has an issue that they are going to have to deal with quickly.
As of yesterday firmware version 2.3 has been pulled from Panasonic's website. This obviously means they have to close the door on the free version but how long will it take to get it fixed? This is going to put some people out if they bought V-Log L and didn't download V 2.3 yet. The V-Log L profile key code will be arriving any day now. I ordered direct from Panasonic and was told it would arrive mid September. Just what comes in the mail is still a little bit of a mystery. I think it's basically a letter with a access code in it that you use. Just how will people be able to get the firmware?

My best guess is somewhere in the 5 step process you have to be able to access and download the firmware. Maybe the Key Code is a password to the firmware. Even then they don't want the original version released again. It has to be fixed first.
I'm not sure how long it will take Panasonic to fix the exploit. I'm no code writer but it could take several days or weeks to get it right. At this point they really cant afford to not get it right. This has to be a pretty embarrassing thing to happen. I do feel bad for Panasonic. It took them over five months to figure out how and if they where going to charge for V-Log L and when they finally have the system up and selling the profile it gets available for free from their own free Image App product. No hacks here this was all done without breaking in or changing the code. Crazy easy. So in the next few days those folks including me are going to get a small package with a Key Code in it and wont be able to get the profile loaded unless you installed the V2.3 before yesterday. Sure you can find it on the internet from people that are more than willing to give it to you, but that's not an official way that Panasonic is going to handle it. What a mess!
UPDATE: 1:30pm Sept. 16th
Today Panasonic has issued a statement regarding the Issue.
ACTIVATION ISSUES – LUMIX GH4 V-LOG L WITH FIRMWARE V2.3

Many thanks to those who have recently purchased the LUMIX GH4 V-Log L upgrade. We are aware of an oversight in our Panasonic Image App which allows enabling of V-Log L as a "custom" setting without purchase. This was not our intent, and our apologies for the oversight.

We appreciate the many messages of support for the continuing development of innovative new products and features, and Panasonic intends to stand behind your investment in V-Log L and the LUMIX GH4. Therefore, it's important to know that future LUMIX GH4 firmware upgrades, including mobile app upgrade pushes, will disable unlicensed activations of V-Log L. In addition, it's Panasonic's service policy to upgrade firmware during warranty claims, thereby eliminating unlicensed features. Thank you again for your continued support of Panasonic and the LUMIX G camera system and innovations yet to come.

NOTE

A new firmware V2.4 will be available starting Sept 17th. Use of the V-Log L workaround associated with firmware Version 2.3 runs the risk of the Zebra Function not working and the Histogram reading improperly.
As stated we will see a new version on Thursday the Sept 17th that will disable the App from letting you use V-Log L for free. An interesting note that the zebras and histogram don't function correctly is interesting because I think that is a bug they just realized and fixed it in V2.4. Either way I'm glad to see Panasonic is back n track.
Follow me on Twitter @eriknaso and check out my page on Facebook.
Thanks for coming by! Please help support my site by using the links on this page or bookmark these from my favorite retailers, B&H, Adorama, Zacuto, Amazon.com & Think Tank Photo. Using the links cost you nothing extra, but it helps offset the cost of running my blog. Thanks again for coming by eriknaso.com!
Filed in: 4K • Featured Post • GH4 • Micro Four Third Lenses • Micro Four Thirds • Mirrorless • NAB • Panasonic
Tagged with: GH4__V23.bin • V LOG L
I'm a broadcast DP In San Diego. I enjoy sharing what I'm working on and testing new equipment. This blog is also part of giving back. I've learned so much from so many people.