I've updated this post twice since it was published so if you've already read it go to the bottom of the post starting with UPDATE header for new info. I'm not sure the faster cards are helping. Today's testing was crazy and I was getting wildly inconsistent results. Please go to Test In Progress  in red below for new info.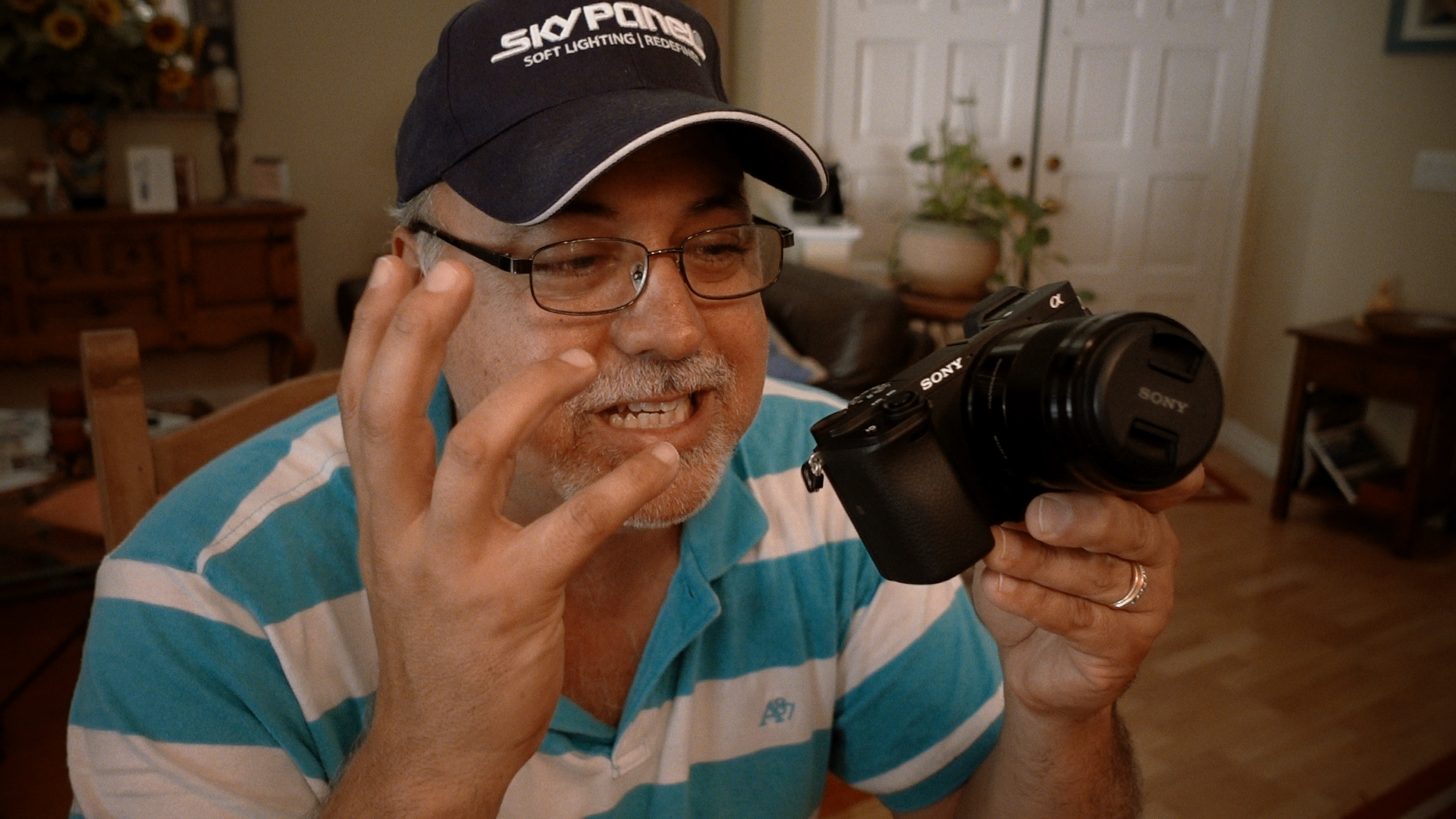 As you may know I've been pretty vocal about my Love Hate Relationship with the Sony a6300 and I've also been on the fence about selling it. Why? Well primarily the issue for me is with overheating and especially in 4K. Even in a cool 75 degree room it would overheat. I stopped using 4K and was shooting in HD. Auto focus is really great on the a6300 and my main purpose for it was on a gimbal. Check out my YouTube Vlog on using the a6300 with Came-TV Mini 2.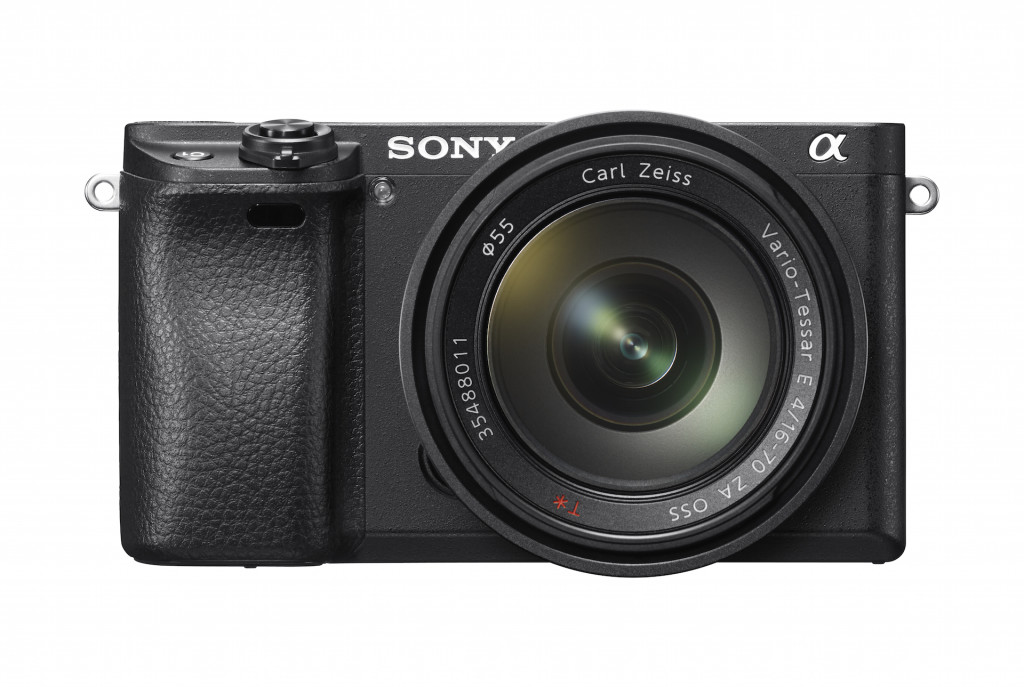 Instead of selling it I decided to try a few things. First I tried a dummy battery powered with external battery pack. That didn't stop the overheating because the electronics are inside the dummy battery and would heat up.
I then found and ordered an IndiPRO Tools 69SA7 2.5mm to Sony a7s Dummy Battery Cable (24″, Regulated) dummy battery with the electronics in-line. Since this design is suppose to take the heat out of the dummy and in theory not add heat inside the battery. This product has arrived but my external battery doesn't have the 2.5mm plug needed so I have to get an adapter for it to work. Some of my friends have used something similar and said it does help. I'll update this post when I get the adapter.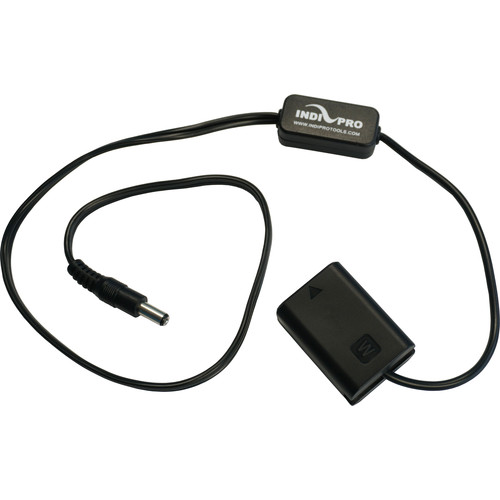 Another theory I had was that the camera was working really hard down sampling the 6K image to 4K and struggling to write it to the SD Card causing it to get hot. I liken it to rendering video on your computer. When it starts crunching the fans on the computer kick in to cool it down while it's grinding away. With the Sony a6300 no fans are available inside to cool it down. So what if the camera could write files faster? Or if the card was faster maybe it won't heat up because it has more headroom. Would that help?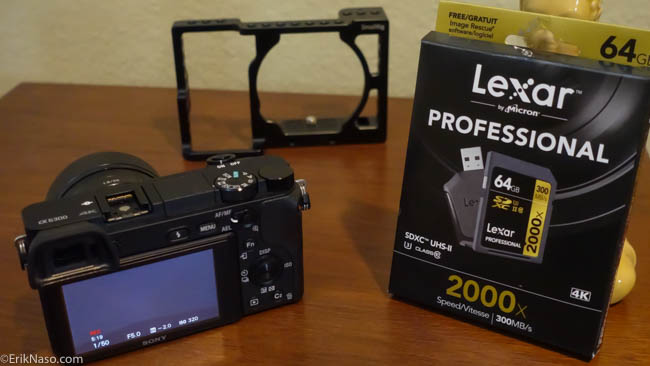 Well… YES IT DOES! I purchased a Lexar Professional 2000x 64GB SDXC UHS-II/U3 (Up to 300MB/s Read)
I ran two test. It was 80 degrees in my house. With a SmallRig cage on the a6300 and the LCD flat on the body. Below is the first test record times.
Each clip recorded for the following lengths.
1st. 19:49
2nd. 19:00
3rd. 14:47
4th. 19:12 (Started to get hot around 16 minutes in and shut down)
5th. 01:45 (Battery died)
Not bad right? Why the strange record lengths? Because I was taking temp readings with a laser and kept accidentally hitting the record button but I would then within a couple of seconds re-trigger the camera. Ugh! The a6300 usually shuts down around 107 degrees. I pulled the card out and took a temperature reading. The card was 101 degrees. With a slower card the temperature was 109! 8 degrees cooler. That's a lot! This test gave me over an hour of continuos recording (30 minute intervals because the a6300 max record is 30 minutes) before the camera's temperature warning came on. This is HUGE! I wasn't able to get more than 15 minutes with my other class 10 U3 SD Cards before it would overheat and shut down.
So this could explains why we are seeing so many different results from people and why some are not having any or much less overheating issues. Safe bet is the faster cards don't get as hot and or are able to take some of the load off the camera stoping it from overheating.
The Sony qualified cards are as follows.

SD
SDHC
SDXC
Memory Stick Pro Duo
Memory Stick PRO HG-Duo
No mention of speed. Now I'm not sure how fast the a6300 can write to the SD Memory Card but I can tell you that if you get the fastest ones your overheating issues will be drastically reduced.
For my second test I pulled the LCD away from the body about a 1/4 of an inch. Sony recommends doing this to help with overheating. I recorded 4K continuously until the battery died with NO OVERHEATING.
How cool is that!
Just to make sure I put a Transcend U3 Class 10 R65 W60 MB/s SDXC I card in and it overheated in 16 minutes.
I don't have other fast SD Cards to test but I can recommend the one I have and tested with. The Lexar Professional 2000x 64GB SDXC UHS-II/U3 (Up to 300MB/s Read). Since the SanDisk 64GB Extreme PRO SDXC UHS-II memory cards are also very fast I would think they would also not overheat when shooting 4K.
UPDATE
I've learned that the a6300 writes to the SD card at only 32MB/s max. This isn't very fast and in theory most cards shouldn't be an issue however I'm starting to think that the Lexar 2000x memory chips are modern and more efficient and don't heat up as much compared to other brands. Lexar is a Micron company so I would assume they are Micron chips.
I decided to test my newer 128GB 90MB/s SanDisk Extreme SDXC I U3 Class 10 Memory Card but with and without the cage on the a6300 and the LCD was flat against the body. Here is the results.
First Test with the Cage
a6300 with cage shutdown at 112 degrees 30min + 12min = 42 minutes then overheated and shutdown with SanDisk 128gb SD Card. My house is 80 degrees inside during all tests. 
Second Test without the Cage
a6300 without cage and same SanDisk 128gb SD Card at 15:38 recording temp warning came on and then 2 minutes later it overheated and shutdown.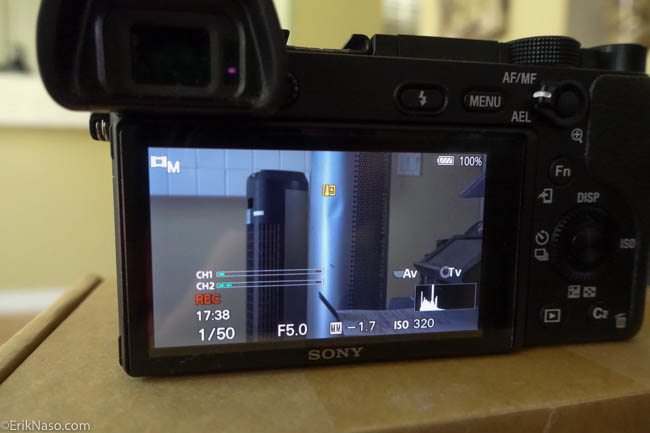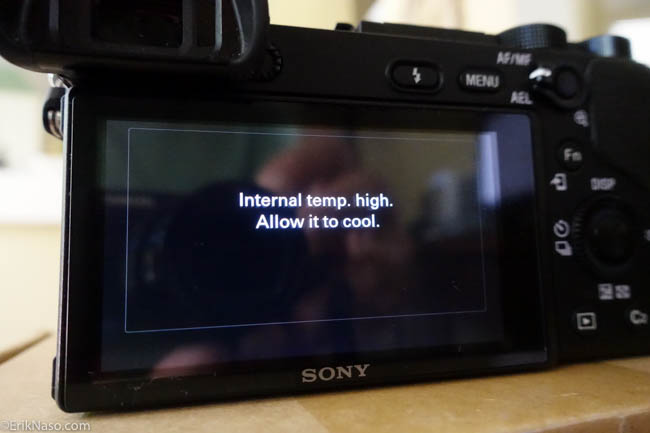 The cage cooled the camera enough to get an additional 24 minutes of continuous recording. That's a little less than double the recording time without the cage on the a6300. It also took longer to overheat after the high temp warning came on. The SanDisk performed better than the Transcend 60MB/s SDXC I U3 Class 10 card.
Okay now with the cage off let's try the Lexar 2000x SDXC card again and see how it performs. Things get strange from here….
TEST IN PROGRESS….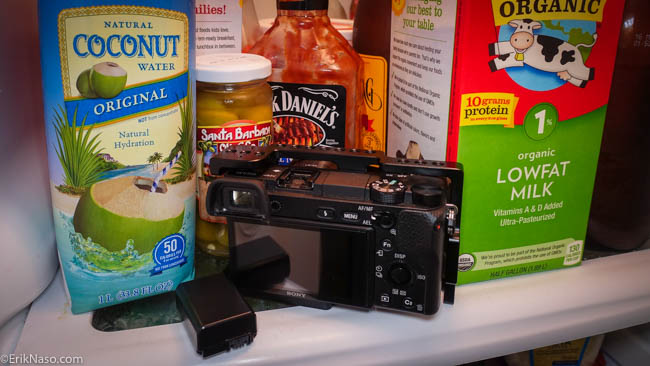 I have to say the a6300 is wildly inconsistent on when it gives a high temperature warning and the true temperature reading when it overheats and shuts down. After retesting the Lexar and Sandisk Extreme 90MB/s SDXC cards I was overheating pretty much in every configuration. I was floored! WTF is going on here? The camera was shutting down at temperature readings off 112 degrees on the back no matter what card I used.
Here is what I did and again it makes no sense! I put the cage back on and ran the same test and never could get past 17 minutes before it would shut down. Strange. Not really having any more options I decided to try a forced Pixel Remapping by forwarding the year to 2017. Exiting and powering down then restarting. You can here a long shutter sound and the camera powers up. I did this when I had a dead pixel on a a7s ii last year and it fixed it.
I can't believe it but now the a6300 is recording continuously without even getting a temp warning. Even at it's highest temp reading of 119 degrees. Not even a temp warning! No settings on the a6300 are different. Nothing changed. Strange, very strange. Plus I used the Transcend card and got 2 full 30 minute recordings and no overheating.
After reading this long messy post I feel like the camera is flawed in some way causing the shutting down. After the Pixel Remapping it's going strong. What else does this do? Could performing the pixel remapping actually reset the temperature gauge?
As for the super fast SD Cards? I'm not sold now that this alone will fix the issue. Sorry to say. Something else is going on and it's really baffling.
My suggestion to you is if you get hot just do the force pixel remapping thing and see if it helps. It did in this test but who knows what will happen the next time and to be honest I'm getting a little overheated myself……
I hope this help! Please leave a comment if you find these solutions to help .
Thanks for coming by! Please help support my site by using the links on this page or bookmark these from my favorite retailers, B&H, Adorama, Zacuto, Amazon.com & Think Tank Photo Using the links cost you nothing extra, but it helps offset the cost of running my blog. Thanks again for coming by eriknaso.com!
Interested in buying a new camera? Well I have a course on Lynda.com you should watch that will help you pick the right one for the job.


Filed in: a6300 • Featured Post • Mirrorless
Tagged with: a6300 • overheating • Sony
I'm a broadcast DP In San Diego. I enjoy sharing what I'm working on and testing new equipment. This blog is also part of giving back. I've learned so much from so many people.