When I got the Canon C300 EF at work and recently bought a C100 for myself I had the same question we all have. What lenses to buy? I got lucky when I rented the C100 for seven days to shoot a series of news image spots. I already owned a few Canon lenses that I bought for my original 5D stills DSLR. Great camera.
I didn't have many. the Canon 24-105 IS F4 L, Canon 70-200 F4 L and the fast cheap but very sharp Canon 50mm F1.8. I supplemented with a Zeiss 85mm ZF F1.4 with a Nikon to EF adapter from Fotodiox. It worked very well and the Zeiss is a sharp fast lens. A favorite of mine. The Zeiss is also available in a EF mount as a ZE version. I bought the Nikon mount because I used it with an AF-100 and the focus rotation would match my other Nikon mount lenses. This drives me crazy that Nikon chose to have the focus rotation direction go the opposite direction than all other lenses. Why? I have no idea. Nowadays I decided to move away from Nikon mount lenses and have sold all my Nikon lenses.
Owning the AF-100 I had to experiment with different lenses to find the right ones. It's hard to figure it out since the crop factor for MFT and s35 sensors are different. With MFT your full frame 50mm has a filed of view of a 100mm so to get a normal 50mm you need a 25mm full frame lens. Then the issue of lack of shallow depth of field kicks in with a 25mm being a wide angle lens. S35 is a little bigger so you get more from your full frame lenses. Add about 15mm to your lens to get a good idea of the field of view. I also have native MFT lenses for my GH3/AF-100 that wont work on the Canon Cinema EOS cameras. So what lenses should I get? Here is a list and why I like them. Everybody has different needs for what they shot so keep this in mind when you look for the right lenses to buy. Shoot handheld a lot? Get IS. I recommend you rent the ones your not sure about. It's cheap to rent and will give you the confidence that your making a good decision. Lenses are a good investment. They will outlast your camera that you have now unless you move to a totally different mount like PL. I say dont buy cheap lenses. Its worth it to buy once and be happy. Not to say their arent good third party lenses. Their are. Again Zeiss is fantastic and Tokina makes a great and one of the sharpest ultra wide zooms available. The Tokina 11-16.  I like to look at Canon lenses first then see if another brand has something that might be interesting. Canon usually cost more but they will last a long time and yield top notch results and hold their value better. Zooms are a good choice for digital cinema cameras. It's a pain to constantly change lenses if you need to move quickly. The issue with zooms are they generally have lower IQ than primes so that's why getting a good one is important.
If I was going to buy today these are the ones I would consider and some I would dream to get. Lets start with the zooms.
Zoom Lenses
The Canon 24-105  is a great lens for handheld and run and gun documentary shooting. Pretty darn sharp and has a nice range. It's parfocal but you have to zoom to 105mm and focus then pull back and your good. I use this lens a lot. Great for interviews when you need to change the framing during an interview for variety. Nothing worse when a producer asked you to widen the shot with a fixed lens attached. The speed is only F4 but wide open it looks very good and the DOF is easy to control at F4. Need a more shallow look just shoot at 85mm or 105mm. The Cinema EOS Cameras are so light sensitive and have very clean High ISO that F4 really isn't a concern.
Another very sharp lens with IS. I own the older non IS version and would love to upgrade to this one but to be honest I dont handhold with a lens this long. I would use the Canon 24-105. The 70-200 focal range is a standard and will give y0u a nice reach when needed. Has nice bokeh and contrast. Top notch! The faster and heavier F2.8 is also a great lens but it's bigger and heavier. If you dont need the speed then go for the F4. If you have the 24-105 then the Canon 70-200 F2.8 IS version might give you another option for low light shooting but at a premium since it's an expensive lens.
Very popular standard zoom lens. This isn't an L lens but has constant F2.8 aperture. I wouldn't buy a lens that doesn't. What a pain getting the proper exposure when the F-stop changes in the zoom range. Has IS and it's fast. I have heard that the focus ring is a problem so be aware that it could be an issue, also the lens seems to collect dust inside easier than most. Another option is the EF 16-35mm f/2.8L II USM. It doesn't have IS and is shorter on the zoom end but IQ is very good and heck! It's an L lens. The Tokina AT-X 116 PRO DX-II 11-16mm 11MM-16MM f/2.8 Lens for Canon Mount is also a very good choice and it's a better value if your short on cash. $699 for the latest version. I have the Duclos version in a PL mount so I cant use it on the C300. I can have them change the mount to an EF for about $250.00. Tamron 17-50 VC is also one to look at if you want to save some cash. The RED Pro Zoom 17-50 is supposedly a rehoused Tamron 17-50 non VC. I loved the RED PRo Zoom on my AF-100.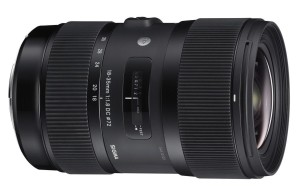 The Sigma 18-35 is the new kid on the block and it's getting great reviews. I finally got my copy and I love this Sigma! It's super sharp throughout the range and the Sigma 18-35 is the fastest zoom lens ever made at 1.8 and it's constant through the entire range. Amazing! Very tough to get this one since it's back-ordered due to it being very popular. The lens sells for $799. Great price for a fast zoom so I had to order one. 
After waiting for over a month the lens has finally arrived. Here is my first impressions unboxing video.
I'm adding the Canon 24-70 f2.8 since it's the most popular zoom lens ever and for good reason. It's amazing! Why it's not available yet with IS is strange. Rumors have it that we could see an IS version in the near future. I keep hearing Sigma is going to make a version with IS as well. The 24-70 F2,8 is a wedding/photojournalist work horse. Super sharp and high IQ. It's heavy but yields amazing images. Down side is the price. $2089.00. Ouch! I would wait it out for the IS version if you don't need one today.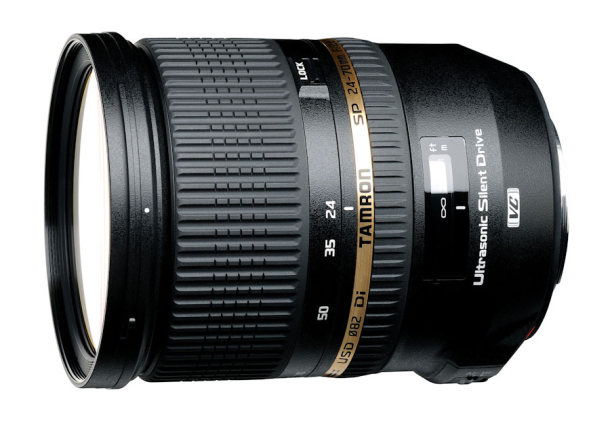 Tamron SP 24-70 DI VC USD. (Such a catchy name right?) This Tamron lens is high on my want list. Gets great reviews all around. It's a good choice if you can't afford the Canon version and need image stabilization that the Canon doesn't have. It's still an expensive zoom lens costing $1300. Great for handheld video shooting. If you are primarily a video shooter image stabilization is a must and should be considered a priority when looking for a zoom lens making the Tamron an excellent choice.
I want to try this crazy lens out. The Canon EF 8-15mm f/4L Fisheye USM delivers 180 diagonal angle of view images for full frame EOS SLR cameras. I wouldn't use it very much since it's a fisheye but I have a similar lens for my GH3/AF-100. The Panasonic 7-14mm f/4.0 Micro Four Thirds. It's a very fun lens to use and since it's native it's even wider than this one is on the C100 and C300. That's it. I'm going to rent one!
Prime Lenses
If you fancy the sharper and faster variety then your a prime guy! I like several and yes they're Canon L brands, however Zeiss ZE are also a great choice. The ZE or newer ZE.2 are manual lenses and have a very smooth focus ring. Perfect for a follow focus if you add a gear to them. The ZE and ZF line have the same optics in them as the CP.2 line but at a fraction of the price. Very nice build and nice and sharp. You cant go wrong with these if you need a fast prime, but Canon would be my first choice especially if you have a C100. The C100 has push to focus auto focus feature that works very well. No AF on the C300 now but it will in October with a firmware update.  I do like push to focus and miss that on my C300. If you dont care for about AF Zeiss ZE models are great lenses. Fully manual and have silky smooth and longer focus throw. I think AF and IS are more important on a zoom lens. I will grab a Canon 24-105 F4 every time I need to work fast and get more shots so having image stabilization and quick auto focus makes a lot of sense. I use primes for on-camera lines and some interviews. I like having a zoom for interviews to change up the focal range for more variety
This is one great lens and it's super fast and super sharp. A heavy little bugger but is solid! The focus ring is tight but the throw is small. This is always the case with Canon L lenses. At least the ones I have used are. Another option would be the Rokinon 35mm Cine T1.5. I have that one, well sort of. It's at the post office because I'm not home to sign for it. I hate that! The Rokinon retails for $549.00 Amazing price and some say its the best of the bunch. I soon will know.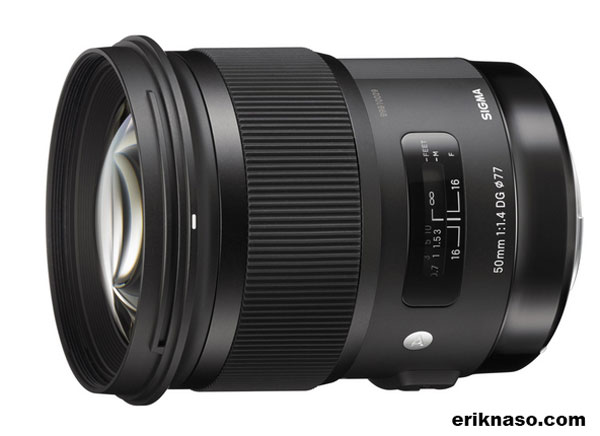 I just received the Sigma 50mm f1.4 ART  lens and I'm in love with it! Great image quality even wide open and the bokeh is beautiful. Believe the hype about this lens. Sigma is really on a roll now. The Canon L is faster but also way more expensive. This Sigma has been compared to the Zeiss OTUS. That's kind of crazy but yes it's really good at a fraction of the price. If you're interested in the ART line then another great lens is the Sigma 35mm f/1.4 DG HSM Very popular and will match well with the 50mm.
 I need a fast 50mm bad. I dont have a high quality one and I use that range a lot. Everybody needs a fast 50mm in the bag. Great for video portraits and interviews that you need a shallow depth of field look for. Interviews so good when shot wide open. The Canon EF 50mm L has a strange love hate relationship with many users. Users complain that it back focus in auto focus so many shots are lost. That could be a problem for photography but for cinema use on the C100, C300 and 5D MKII maybe less of an issue. Either way on B&H it's a 5 star rated lens.
With prime lenses its all about speed and sharpens. The Canon EF 85mm f/2.1L is both. This is very popular stills lens for portrait work. I love using 85mm lenses. The Bokeh you get is just awesome. On a crop or S35 sensor the lens is a little long roughly has the field of view of 100mm. When I was using the AF-100 I had a Zeiss ZF 85mm. Loved it! Was my favorite lens in the bag. I like Zeiss glass. Solid sharp lenses. Cant go wrong with them either. The mechanics are a better than the Canon L lenses since they are designed as manual lenses. No auto focus. The Nikon is popular with cine shooters because the aperture control is also manual. The Canon mount uses the cameras electronics to change the aperture. Also Nikon focus the other way. Why? I have no idea. Zeiss ZE Lenses are a good choice. They are a little cheaper but not by that much.
I have lusted for the Canon EF 100mm macro for many years and still don't own one. I have used it several times and it's an amazing lens for portraits or interviews. Even product shots look great with macro. Speaking of macro the 100mm is probably the best lens for macro work. Gets you a little farther away so you don't have to be on top of the subject and you avoid getting in the way of the lighting.  The tough one is you have to have space to get a nice framing with the s35 sensor or a 7D cropped sensor camera. Its super sharp wide open and the compressed backgrounds look amazing. I have to buy one but should I get a IS version? They cost $1049 with image stabalizaton or you can save a lot buying the non L version for $549. Half the price. Tough call.
Cine Lenses
Cine lenses offer the best all around experience for film making. The focus has a nice long throw and silky smooth for precise focusing with a follow focus. The iris is also declicked and smooth. Most cine lenses have precise markings on them making focusing more acurate if your measuring from the camera to the subject. All these features add up to a very expensive lens. The Zeiss CP.2 cost $4000 each and go up from their.
The Zeiss CP.2 line are the least expensive cine lenses available. They use the same optics found in their ZF and ZE stills lenses but are hand picked so are the best of the bunch optically. I have the 85mm and it's a nice lens. I like the look of Zeiss lenses. Sharp with nice contrast. The big plus for the CP.2 line is the interchangeable mount. Five different mounts available (PL, EF, F, E and MFT mount) These lenses will move nicely with new cameras in the future. If you can swing the price it's a home run.
Canon Cinema Primes
These are the new kids on the block and they are getting lots of attention. I first saw them at NAB 21012 and they look nice. I since have had the opportunity to try the 24mm and 85mm out for a week. Check out my hands on review here. At NAB I wasn't able to touch the primes but I did get o play around with Canon 30-300 on an Arri Alexa. So cool. Downside for some people might be that the mount is only available in an EF for the primes. The big zooms are PL. More focal lengths are coming to make a complete set this year. The 50mm cost $4950 which for a cine lens is very competitive. I'm going to get my hands on the Cinema Zooms as well very soon. Stay tuned!
I hope someday I can rent a set of Cooke Cine Primes. They have a pretty big reputation and the renowned COOKE LOOK I just want to see.
Now the real value lens is…..
Rokinon Cine Lenses
The new Rokinon cine lenses are taking off big time. I recently purchased the 35mm because I liked the 85mm so much. These are nice lenses. I'm still testing it out and working on a review that will be coming out soon. Word is the 35mm is the best of the bunch. The 24mm is getting mixed reviews on sharpness. The set is 8mm T3.8, 14mm T3.1, 24mm T1.5, 35mm T1.5 and 85mm T1.5, No 50mm yet but I'm sure they will make one soon. These are still lenses that have declicked aperture and added dampening for smooth iris adjustments and gears for follow focus.. They are a great deal and for the most part fast lenses. The 85mm retails for $350. Crazy! Check out this article I'm working on now comparing the Zeiss 85mm CP.2 to the Rokinon Cine 85mm.
I barley scratched the surface with these selections but you cant go wrong with any of them. Do your research and find the best lenses you can afford, but remember that lenses out last any camera you will buy so get good ones. I think it's worth it!
I'll add more lenses in near future. I have already updated this post five times!
Thanks for coming by! Please help support my site by using the links on this page or bookmark these from my favorite retailers, B&H, Adorama, Zacuto, Amazon.com & Think Tank Photo Using the links cost you nothing extra, but it helps offset the cost of running my blog. Thanks again for coming by eriknaso.com!
Interested in buying a new camera? Well I have a course on Lynda.com you should watch that will help you pick the right one for the job.

Filed in: 35mm Lens • C100 • C300 • Canon • Canon Cinema EOS • DSLR • Featured Post • Lens Talk • Sigma
Tagged with: C100 • C300 • Canon • Cine Lens • CN-E • EF Mount • EOS • Sigma • Sigma ART • Tokina • Zeiss
I'm a broadcast DP In San Diego. I enjoy sharing what I'm working on and testing new equipment. This blog is also part of giving back. I've learned so much from so many people.