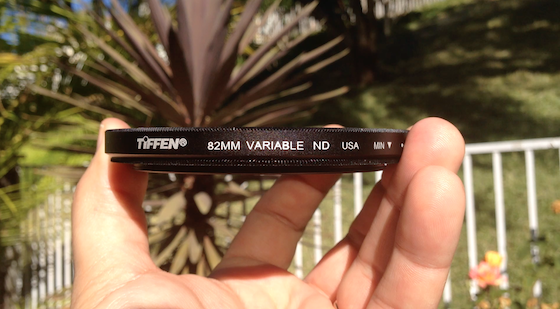 I wanted to get one variable ND filter to fit all my lenses, so I went for this massive  Tiffen 82mm Variable ND Filter. It is BIG but for a reason. The wider outer optic  helps reduce vignetting at wide angles. I have several step down rings so I can use the filter with all my other lenses too. This is a very economical approach. Check out the quickest video I've ever done for YouTube. This thing is a beast!
Okay maybe it's not a beast but it is a very big filter and the build is nice. I like the feel of the filter. It has a nice dampened feel to it when rotating and will stay in place. Much better than the insanely expensive Heliopan that feels like two ND filters on top of each other. I forgive the Heliopan because it's a very good filter, but at $489 for the 82mm I had to look elsewhere. I would've compared them but I have a 58mm version for my MFT Lumix lenses. If you really want me to do it I'll buy a huge step up ring. It would have to be a 52 to 82mm for the Canon 40mm 2.8 STM! That alone would be fun to see! Okay! Why not. I ordered it. Update to this post is pending.
A friend on Facebook asked me if the Tiffen 82mm Variable ND Filter made the image soft, so I decided to go ahead and see if it would and how much if any color shift I would get. I mounted the Tiffen 82mm Variable ND Filter on the Sigma 18-35 and did a custom white balance without the filter on. I set the f-stop at 5.6 and ISO to 1250. I changed the shutter to get exposure.  Here is the full size image or click on the image to see them full size. I shot these in RAW with the Canon 70D and cropped the images at 100% in Photoshop's RAW converter.
As you can see a slight color shift is showing up. Pushing a shift green, but the sharpness is very good. I'll take that! Very easy to fix color but not good if sharpness is affected. I also tested with auto white balance and the two shots look identical. In short if you white balance with the filter on no color cast will appear. Below is a sample shot with a normal ND filter.
I also tested a B+W 1.8 (6 stops) on the Canon 40mm 2.8 to see if it gets a color shift and yes it does. I white balanced without the filter on the lense and kept the same balance when the ND was used. The shift is even stronger but this could also be from using a 6 stop ND. I do feel all neutral density filters will shift the color, so always white balance after you add a filter and if you aren't going with a variable I would at least get a set from the same brand to keep it consistent.
I feel pretty good about the Tiffen 82mm Variable ND Filter, and it isn't the most expensive one on the market. For the 82mm it cost $154.95. One thing to watch out for. When shooting stills you will get a X in the image when the filter is at full HD. This wont occur in video mode. This is a common issue– it's the law of physics when combining two polarizing filters; however, this issue can be eliminated. First, adjust your focal length and then reduce the density (stop value) setting by rotating the filter ring until the color shift disappears.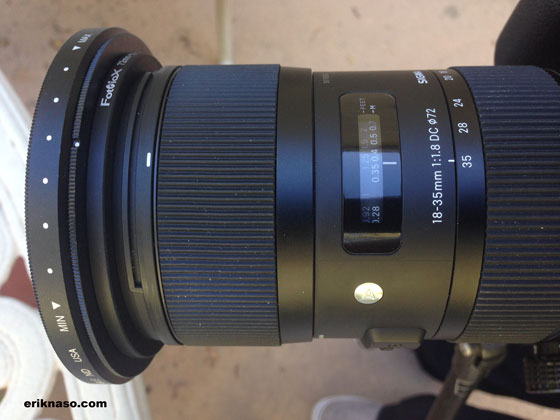 The small indexed dots on the filter ring between "MIN" and "MAX" density settings are intended for reference only. They are not representative of a specific density (stops).
A few features that stand out.
Provides 2 to 8 stops of light control
Thin profile 9mm ring
Wider outer optic to help reduce vignetting at wide angles
Eliminates Buying Many ND Filters
Comes with padded black nylon pouch
Made with high quality optical glass using Tiffen's ColorCore™ technology
10 year warranty
Available from B&H for $154.95
Available from Amazon.com for $154.95
Thanks for coming by! Please help support my site by using the links on this page or bookmark these from my favorite retailers, B&H, Adorama, Zacuto, Amazon.com & Think Tank Photo. Using the links cost you nothing extra, but it helps offset the cost of running my blog. Thanks again for coming by eriknaso.com!
Filed in: Canon • Equipment Reviews • Lenses
Tagged with: Tiffen • Tiffen 82mm Variable ND Filter • Variable ND Filter
I'm a broadcast DP In San Diego. I enjoy sharing what I'm working on and testing new equipment. This blog is also part of giving back. I've learned so much from so many people.