B&H was gracious enough to send me a Sony A7rII for review. The tough part is I only have 30 days to play. The camera arrived on the same day I had a road trip up to San Fransisco. I unboxed the A7rII and stuck it in my Think Tank Photo rolling case with a few Sigma, Canon and Sony lenses. This trip was mainly for personal reasons and I didn't have a lot of time to shoot a lot. Nobody likes being with me when I'm on a mission to get footage! I tend to wonder off and take forever to get from one place to another, but I managed to find a few nice shots and decided this would be a good time to give IBIS (In Body Image Stabilization) a test plus S-log2. So that is what I will mainly be talking about in this review. I'm going to do a full write up too, but want to do a series of smaller mini reviews as well.
Please watch this in 4K on Youtube!
I own a A7s and the menu system is very similar so getting to know the camera is very easy. Good news for US buyers the A7rII is a world camera! This means you have the option of either NTSC or PAL.
The record trigger can now be assigned to the center dial on the back making triggering record much easier. Thank you Sony! I still would like the shutter release to do this. Don't understand the reasoning why it cant.
The camera mode dial on top is now locked. You push the center button to change the cameras mode. This is a good thing. How many times have you pulled a camera out of the bag and had the dial set to the wrong setting because it was bumped while in the bag. Not anymore.
I highly recommend using a custom user presets that the A7rII has. I like to make "1" on the camera dial my video settings. I set the camera up for S-log2 and S-Gamut with ISO set to 800. Every time I go from Aperture priority to my custom user video setting I know exactly what the base settings will be. I can change them if needed but it will always revert back to what I set them at if I change back to say Manual or Shutter Priority. This is done by setting the camera up and saving it in the menu under Camera/Item 9/Memory. Very handy.
In S-Log2 we now have the option to shoot at lower ISO values instead of having to use 3200 ISO. This is a big deal. If you are shooting outdoors you need really strong ND filters. Now you can go as low as ISO 50. Does it lower the DR of the camera? I would think it does. I went with ISO 800 since with most cameras that seems to be the base ISO. I also exposed about a stop or two over (ETR or Expose To The Right on the histogram) This helps keep the noise lower and gives you more info in the shadows so when you go to grade you have more room to bring the image down and craft the image. Just protect the highlights if they are important but clipping a little in the background is fine.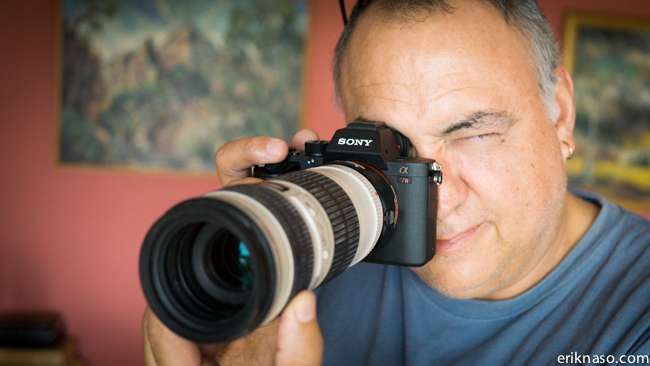 The new 0.5″ 2.36M-Dot XGA OLED Tru-Finder EVF made focusing easier than the A7s. It's a very nice EVF. It still has the issue that most do if you don't look right in the middle the image can appear soft. I set the peaking to high to help with focusing in S-Log2. I didn't notice any issues with it being too generous like the GH4 does. I've shot plenty of soft footage with the peaking on that camera.
IBIS is a very cool invention. The idea of having all lenses now stabilized is just great. I used the very sharp Sony 55mm F1.8 and the Sony 35mm F2.8 (Both now available for $100 off) in this little test video. Both are full frame lenses and I was shooting S35 since the A7rII yields the best image in this mode for video. It's also the default setting when you get the camera. I Had the A7rII set to SteadyShot Auto (Menu/Camera/8/SteadyShot Settings) I didn't try manual setting. In manual you can set the lens length. I believe this is for non-Sony lenses. SteadyShot works very well in video mode.
The entire video was shot handheld with IBIS on and it was very windy making it harder to hold the camera steady. All the micro jitter was removed by SteadShot. As you can see I had a few bumps in some of the shots. Adobes Warp Stabilizer would take that out and make it all look like it was shot on a tripod. Very impressive indeed. If you are using a tripod Sony recommends you turn SteadyShot off. If you are using a Sony lens that has IS and it also has a switch to select it it will turn both body and lens IS off simultaneously. When the camera cant obtain the lens length correctly then using manual SteadyShot will correct the issue.
I was surprised by how well the in-camera microphone recorded the guy playing the string instrument. It was very windy at Pier 39 & Fisherman's Wharf and the sound recorded was very usable.
I do like the new feel of the camera. It's less shiny and has a smooth texture to it. It feels good in the hand. The battery life is still a bit of an issue but the camera comes with two batteries and I highly suggest getting several more and an extra charger like my favorite Watson Duo LCD Charger with 2 NP-FW50 Battery Plates and Watson NP-FW50 Batteries. You will thank me for this one! You're welcome 😀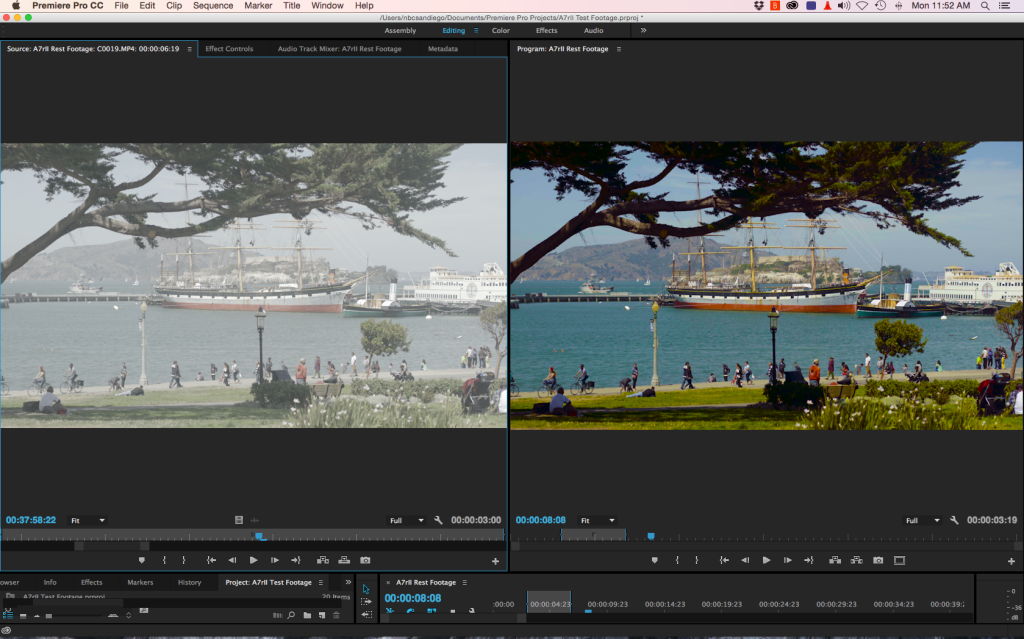 The S-Log2 footage was very easy to work with. I used Premiere Pro CC2015 and the Lumetri Color tool to grade the image. I decided to not use a LUT just go by feel and get an accurate looking image with not a stylistic look. I didn't find a color cast present. No green push or anything unusual. It graded pretty easily. You have to remember this is 4:2:0 so don't expect to get crazy with saturation. It will break and banding will show up. If you want a more punchy look it might be best to get that in camera instead of shooting S-Log2. I do feel the color is better than what I was getting in the A7s. Maybe it's just more accurate. I'm going to play around with LUTS and of course Film Convert too but for this test I wanted to show what a more natural look is like.
New Features I like
SteadyShot is awesome!
Locking setting dial
Video record trigger can be set to the center dial. HUGE!
Slog2 is now not locked at 3200 ISO
EVF is much better.
Color seems more accurate.
Metabones EF to E mount adapter ver. IV works much better for stills but not so much for video
Peaking is accurate
Extra preset button option
42 MP stills are impressive and AF works very well with native E-Mount lenses
So far I haven't had any overheating issues while shooting in 4K. I did run a continues record test on a tripod and the camera didn't overheat. The temperature indoors was 68 degrees so I do believe two things can contribute to the issue. Higher heat in the environment and shooting handheld with SteadyShot on. I need to do more testing on this and will for the full review.
Not a bad first day out with the Sony A7rII. It's a impressive little camera and I like the color I'm getting from it. It does have a little different look to it than the A7s. Not sure exactly what that is yet. Seems more accurate. I'll need to run them side by side to see. More coming soon!
Follow me on Twitter @eriknaso and check out my page on Facebook.
Thanks for coming by! Please help support my site by using the links on this page or bookmark these from my favorite retailers, B&H, Adorama, Zacuto, Amazon.com & Think Tank Photo. Using the links cost you nothing extra, but it helps offset the cost of running my blog. Thanks again for coming by eriknaso.com!
Filed in: 4K • a7RII • Equipment Reviews • Mirrorless • Sony
I'm a broadcast DP In San Diego. I enjoy sharing what I'm working on and testing new equipment. This blog is also part of giving back. I've learned so much from so many people.